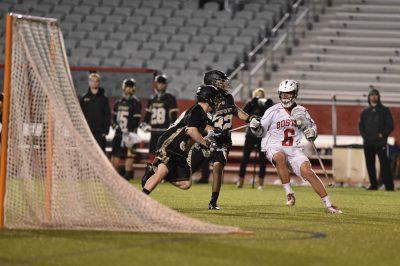 The Boston University men's lacrosse team fell to Bucknell University 16-9 Saturday afternoon in its first of three of three road games.
The Terriers (4-4, 0-3 Patriot League) have now lost two games in a row and continued their winless streak in Patriot League play.
BU had two impressive back-to-back wins prior to Saturday's loss — an 8-7 overtime thriller against Bryant University on Feb. 27 and a 15-9 win over the United States Air Force Academy on March 3.
However, one intractable facet of the Terriers' game appears to be inconsistency. In many of their losses, they have surges of offensive momentum, which are often succeeded by periods of tempered production.
This inconsistency was something that BU head coach Ryan Polley noted following the contest.
"We've been unable to put up a complete 60 minutes of play," Polley said. "It's been haunting us as of late. We aren't playing well on either side of the field and we're having break downs."
The Terriers' loss to the Bison (5-2, 3-1 Patriot League) was a similar story.
BU started the game strong, controlling the tempo as well as efficiently and effectively moving the ball. The Terriers had 14 shots on goal in the first half, nine of which were converted into goals, as their signature "six hands" technique was quite prominent in this half.
Freshman attack Chris Gray and senior attack Jack Wilson each notched hat tricks while junior attack James Burr collected a pair of goals and senior midfielder Hayden Ruiz grabbed a tally.
BU also did a good job of containing Bucknell's offense.
Sophomore goalkeeper Joe McSorley was a dependable presence in net, and racked up nine saves in the first half, but the Bison were still able to score seven times.
The second half, however, featured a much more bleak reality.
On offense, the goal proved quite elusive for the Terriers as they went scoreless on eight shots in the final 30 minutes.
Additionally, BU turned the ball over 12 times in the second half, further impeding its ability to score.
BU also went 2-for-5 on clearing the ball in the third quarter, something Polley noted that impeded his team.
"We failed four or five clears in the third quarter," Polley said. "It's hard to win against a good team like Bucknell when you have that many mistakes."
The defensive end shared a similar outcome.
The Bison scored four times in the third frame and did not relent as they comfortably put up five more unanswered goals in the final quarter.
"This was one of the worst third quarters we've played this year," Polley said. "We just have to play better."
BU was thoroughly outplayed in the second half as the team appeared to have no energy or fight.
This was similar to the Terriers' previous 16-9 loss to Colgate University one week earlier. They commanded the first half of play, but surrendered their momentum and were outscored 10-5 by the Raiders (5-3, 1-2 Patriot League) in the second half of the matchup.
"We have to stay focused," Polley said. "When we have an opportunity to make a play, we have to finish. We have to not offensively settle for things and find ways to score."
Polley said he recognizes that the team needs to address its weaknesses promptly.
"We have to prepare our guys better," he said. "It's on our coaching staff, really."
BU will have a chance to renew its momentum during its game against Harvard University this Tuesday night. This will be the Terriers' last non-conference game before five consecutive games of league play.