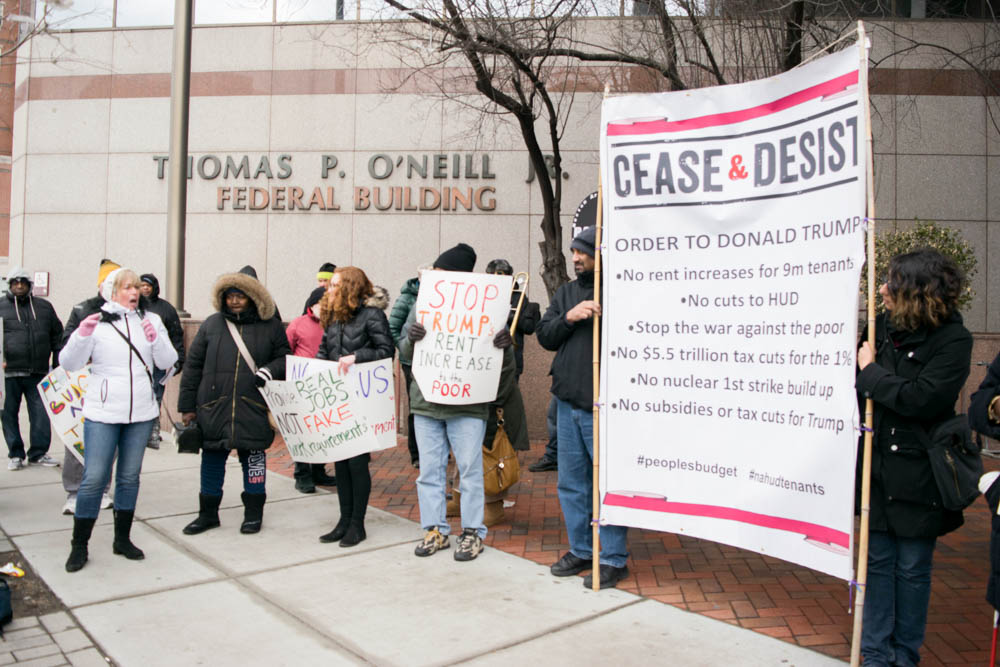 More than 40 people gathered in front of the Tip O'Neill Federal Building Friday afternoon, despite below-freezing wind chill and light snow, to protest President Donald Trump's proposed 2019 budget plan. The plan, they said, would make cuts to welfare programs and implement work requirements for housing assistance.
The protest was organized by the Massachusetts Alliance of Department of Housing and Urban Development Tenants, an organization that works with low-income tenants who receive HUD-subsidized vouchers to pay for rent. Prior to the rally, Michael Kane, the executive director of the National Alliance of HUD Tenants, said the group wanted to gather in solidarity for low-income residents who will be harmed by budget cuts.
The proposed budget is designed to cut spending on welfare benefits including housing assistance and health care programs. The revenue generated from cutting funding would go to increased Pentagon spending, including a new generation of nuclear missiles and tax cuts for the top one percent of Americans, among other things.
Dan Luker, a Vietnam War veteran and coordinator for Veterans for Peace, spoke to the crowd about the harm that an extended wartime economy would bring to working people's ability to survive, referencing the increased defense spending included in Trump's proposed budget. He said voters should use their electoral power to bring focus back onto the needs of working Americans. 
Cherai Mills, a member of the Boston Homeless Solidarity Committee, said in a speech that Trump's budget proposal would fund the president's businesses and mansions at the expense of Americans already trapped in the poverty cycle.
Fenway resident Conrad Ciszek attended the protest in solidarity with the working Americans whose ability to survive he thinks is threatened by this budget proposal.
"The problem is not that people are freeloading or lazy," Cizek, 44, said. "It's just that they're not getting compensated properly and the cost of living has far outpaced the meager wages that people are being paid."
In a speech during the rally, Ciszek said to fulfill Trump's goal of "making America great again," the president should focus on ensuring workers received decent wages and health benefits.
Molly Hannon, another member of the Boston Homeless Solidarity Committee, said her father's financial stability is threatened by the proposed 2019 budget, an experience other people may be going through.
"My father came over here 50 years ago, worked hard his whole life, paid his taxes [and] took care of a family," Hannon said. "And now he's 85 years old, and he's in jeopardy of losing his housing, losing his social security [and] losing his Medicaid? He's 85. What the heck do you want him to do?"
HUD funding in Massachusetts would be cut by more than $100,000, causing over 8,000 families to lose housing assistance, according to an analysis by federal housing database Affordable Housing Online.   
Quentin Davis, of Jamaica Plain, said she attended the protest because the subsidy for her building, which primarily houses senior citizens, is set to expire in a year, and she hopes to convince the government to extend it.
"We're not asking for rent control," Davis, 74 said. "We're not asking for socialism. We're asking to be able to stay in our homes. We've worked all our lives, we've reached senior citizen status and now we're going to be homeless in one year if something isn't done."
Doug Spalding, member of Boston Area Brigade of Activist Musicians, a group of musicians that performs at protests, said he chose to play at this rally because the Trump administration is undoing progress that has been made in previous years.
"Donald Trump is stripping away many of the areas [where] we have grown and achieved a lot of strides, and we're going backwards," Spalding, 65, of Brookline said. "These cuts have to stop, and the voice of the people needs to be heard."
Kane said while he believes most of Trump's proposals won't be implemented this year, the fact that such social programs were targeted indicates they will probably be targeted again in the future.
"We're not by any means out of the woods around these Draconian, cruel budget cuts," Kane said.