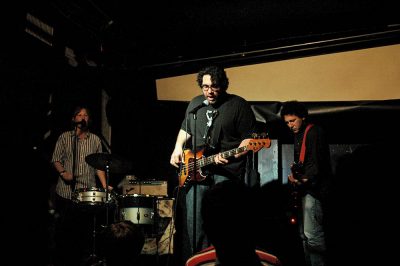 If there's any band that can still surprise listeners after more than a quarter of a century on the mics, they better get their moves ready because Yo La Tengo is sure to take them down in any fight. Thirty years into their career, the cult-favorite indie rockers explore a softer sound on their first full original album in five years and 15th studio album, "There's A Riot Going On."
Since 1984, the singer/guitarist and drummer/singer duo of Ira Kaplan and Georgia Hubley have weathered the storm of the ever-shifting indie rock scene, taking their sound from alt-rock to experimental and back, going shoegaze and pop-rock, churning out original hits and covers of classics and even some Hanukkah songs. Through their extensive career, the pair, along with bassist James McNew, has evolved and collaborated all while staying true to their core emotions and resolute desire to be, if nothing else, a challenge to listen to.
And what a challenge "There's a Riot Going On" is. Taking its title from the hard-funk, politically conscious 1971 Sly and the Family Stone album of the same name, the album is surprisingly un-riotous. Quiet percussion and hushed vocals come together in stark contrast to the brief, explosive wails featured heavily on so much of the band's other music, and it seems oxymoronic to the album's title, especially in today's contentious social climate.
But perhaps this is the point Yo La Tengo wants us to understand. The melodies are an exercise in meditation, in sitting with what surrounds and terrifies, enrages, engulfs and inflamed us, and saying, "Yes. Yes, this is happening, and it is happening to me, and inside me there is a riot, but outside me I will be the force to stop them all."
There are brief moments of struggle against the calm. Early on the tracklist, the teasingly enchanting "She May, She Might" and decidedly pop-influenced "For You Too" injects a little energy into an album that otherwise wants you to drift off into sweet, inspired sleep.
The dreaminess of the album feels almost candlelit or maybe like Sunday afternoon, warm light drifting in through half-opened windows.
This is a certain degree of disappointing. While there's always more room for softness, there is a connotation, a politically and socially poignant attitude, attached to an album title so steeped in a history of revolution, that it's hard to not feel slightly deflated when faced with so much gentleness.
That said, there is no questioning the beauty of the band's fresh sound. Slightly more electronic-based than they ever have been but still acoustically skilled, the tracks don't flow into one another so much as they do bleed, mixing up and getting messy, leaving you a little bit shaken but hungry for more distortion, more swooping sounds, more gentle whispers up against your ear calling you to let your guard down.
They still know how to get playful in their own YLT way that garnered such an intense following, as seen on the instrumental "Esportes Casual," which sounds so much like a commercial for bossa nova that it's almost funny. Still, it's very complex and carefully crafted, almost like an interlude in between dreams.
And it's not like Kaplan doesn't know what he's doing either. He has to know, with a song as blatantly titled as "Dream Dream Away" sitting starkly in the middle of the track list. This is a wistful song, a porch-sitting song, thinking about the way things have been, how they used to be, how they could have been. Haunting and gut-wrenchingly simple, the strum of Kaplan's guitar dissolving into soft, warm reverberation is a comfort much needed in a world lacking tenderness.
This album is a not just a pillow, but rather a full bed to lay down in and a blanket to which you can wrap yourself up.