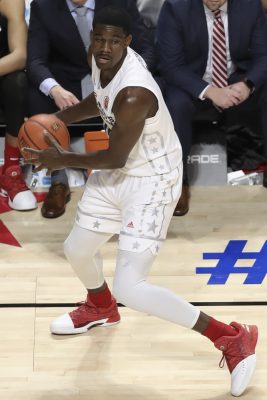 We call it March Madness for a reason. The 64-team tournament that frequently produces upsets, Cinderella stories and teams with an "us against the world" mentality is undoubtedly mad, but that doesn't mean that it's good.
It all started last Thursday with the No. 4 seed University of Arizona falling to the No. 13 seed University of Buffalo in the first round.
From there, the floodgates opened and brackets continued to get busted.
The next day, the No. 1 seed University of Virginia was gone — a No. 1 seed lost to a No. 16 team for the first time, and by 20 points.
But the madness didn't stop after one of the biggest upsets in tournament history.
This weekend, No. 4 seed Auburn University, No. 3 seeds Michigan State University and University of Tennessee, No. 2 seeds University of North Carolina and University of Cincinnati and No. 1 seed Xavier University have all been overtaken by the madness.
While this March's upsets have shaken up everyone's brackets and undoubtedly increased ESPN's Tournament Challenge Second Chance participants, too much of anything can be a bad thing and too many upsets are bad for the NCAA Tournament.
So far, there have been a few truly entertaining upsets — Syracuse University's two-point win over Michigan State and Loyola University Chicago's nail-bitter over Tennessee come to mind. But the blowouts that North Carolina and Virginia suffered are the types of games that have made this year's tournament unenjoyable.
Now, I may be biased and reactionary to UNC's utter embarrassment, or just upset that my bracket is completely busted, but this year's tournament has almost entirely lost my interest.
UNC couldn't figure out Texas A&M University's zone, and Virginia abandoned its paint clogging defensive identity and was subsequently carved up by the University of Maryland, Baltimore County who was successful from behind the arc early on. Their opponents both played into their strengths, and that resulted in early round exits, meanwhile still being better teams than A&M or UMBC.
However, I understand the excitement around this year's tournament. Any team can win any game against any opponent in March.
But no matter how many upsets there are and how much buzz surrounds the tournament, I'm pouring a bucket of cold water on it all — it's not as great of a tournament as everyone is saying.
Watching your Twitter feed fill up with March Madness GIFs and memes is actually more entertaining watching the full games.
Many of these games haven't been that close, with the exception of the University of Michigan's buzzer-beater win over the University of Houston, and most of these games have been pretty dull. Bad shot selection and low shooting percentages are running rampant, the referees have lost their minds when calling charging fouls and no team can seem to figure out how to beat a 2-3 zone defense.
We've missed out on potential matchups like the University of Kentucky versus Arizona, or the potential of a UNC versus Virginia rematch, which would both be far more intriguing than a 20-point victory for Kentucky over Buffalo where Buffalo shouldn't have even been on the same floor as John Calipari's team.
So far, these are not good games. Good stories? Maybe. But that doesn't mean it is a good basketball product on the court.
For college basketball fans who care more about the season than just their brackets, this sucks. We just want to see competitive basketball games, not how far can a school that you didn't know even had a basketball team can go because the answer is not far.
These upsets are also taking college basketball's best players away from us earlier than they need to. It wasn't just top 2018 NBA draft prospect DeAndre Ayton of Arizona either.
The University of Missouri's Michael Porter Jr., Michigan State's Jaren Jackson Jr. and Miles Bridges, University of Alabama's Collin Sexton, the University of Texas' Mohamed Bamba and the University of Oklahoma's Trae Young will likely all be NBA lottery picks, but all suffered early round exits. These are the majority of the stars of college basketball, and now they are gone in the blink of an eye.
One school that has many of its own star players and is truly exciting to watch that I've given my best effort not to mention until this point is Duke University.
The reason being — I hate Duke. Just as much as I hate the New York Yankees, New York Giants or Los Angeles Lakers. All these teams have stolen sports enjoyment from my life over the years, and Duke is set to bring me dread yet again this March.
The Blue Devils have four top-recruit freshmen in their starting lineup — Trevon Duval, Gary Trent Jr., Marvin Bagley III and Wendell Carter Jr. Then to round out their starting five, there is All-American tripper Grayson Allen who is the evil minion to Coach Mike Krzyzewski's evil genius.
Bagley is one of the most dominant college basketball players I've ever been alive to watch, and he has the opportunity to push himself into the top-three lottery pick conversation if he can lead Duke to a title, which seems likely at this point.
As much as it pains me to say it, even before the tournament started, Duke was the most talented team in the country. And now, it seems inevitable that they will win the title in 2018.
But after Virginia's loss to UMBC, nothing can surprise us. This year, no school is safe, and no coach or player can automatically punch their ticket to the Final Four. So the only thing we can expect from the Sweet 16 to the national title game is that the madness will continue.