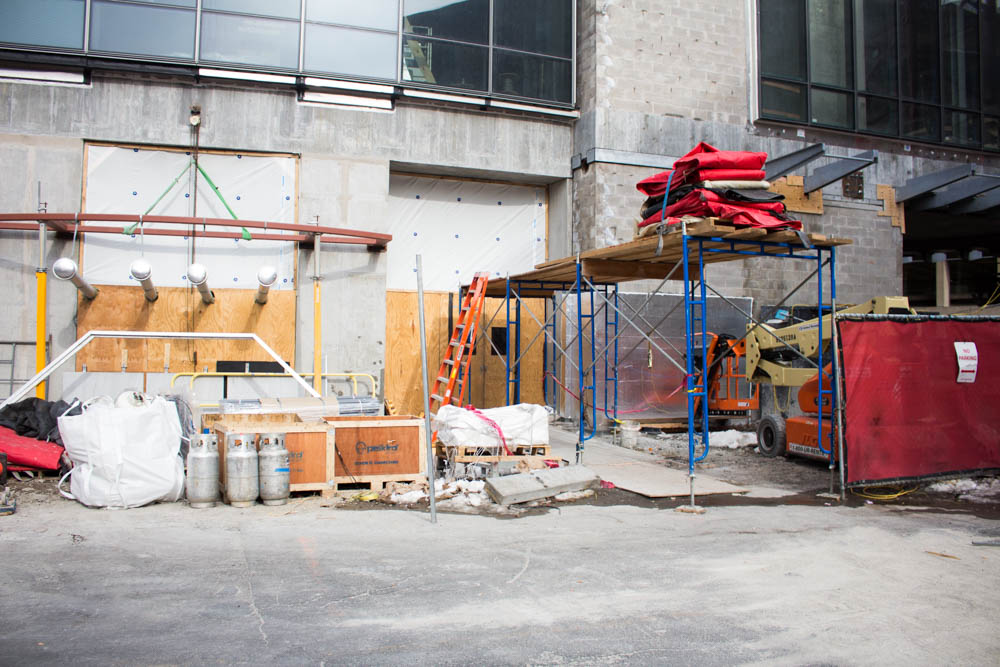 The Boston City Council is in its beginning stages of consideration for standards that would require net zero carbon emissions from new buildings.
Formal discussions surrounding net zero carbon emissions requirements first arose during a public hearing in December, after which the issue was referred to the City Council's Committee on Environment, Sustainability and Parks.
Matt O'Malley, city councilor and chair of the committee, told The Daily Free Press that the City must take the lead on net zero carbon emissions standards, especially due to the serious flooding it experienced this past winter and the lack of federal support for environmental issues.
"We have seen obviously the devastating effects of global warming and climate change here in Boston," O'Malley said. "There is an utter lack of leadership coming out of Washington, D.C., so it is up to cities, towns and states to really lead on this."
Wilhemina Agbemakplido, a Dorchester resident, said flooding this past winter demonstrated that Boston is unprepared for climate change, and the City needs to be working faster to find sustainable solutions.
"As we have already seen over this winter, Boston is not very prepared for climate change," Agbemakplido, 29, said. "We need to be really explicit about building policies to make it clear that we want to tackle climate change … I think we should already be on top of it and we should be working faster than we are working right now."
As Boston proceeds with its consideration of net zero carbon emissions standards, O'Malley said the committee plans to hold bimonthly working sessions. These meetings will bring together experts, including academics, architects and government officials from other cities, such as Cambridge, that have implemented net zero carbon emissions requirements. The committee's first working session was held Tuesday.
Currently, buildings in Boston are required to submit documentation proving their compliance with Leadership in Energy and Environmental Design standards verifying whichever green practices they use. However, Joan Fitzgerald, a professor of public policy and urban affairs at Northeastern University, said this zoning code does not go far enough.
"The standard of LEED-certifiable may have been leading in 2008, but it's not now," Fitzgerald said. For Boston to catch up to cities such as Cambridge and Palo Alto in terms of sustainability, she said City Council must implement net zero carbon emissions standards.
Michael Prokosch, 69, of Dorchester, said he agrees that Boston must take initiative on environmental issues before deeming themselves a green leader.
"We need to do much more than what we have been doing while we're claiming we're number one," Prokosch said. "We need to step up both the efficiency of buildings and particularly the transition to renewable energy, about which the City has done almost nothing. It's way behind other places in the globe, so [this] is a really crucial initiative the City Council is starting."
One concern raised during the past working session was in regards to additional costs associated with constructing net zero carbon buildings. In response, Declan Keefe, strategic director at Placetailor, said their sustainable construction firm has brought its costs of construction down over the past 10 years to a rate comparable to its non-sustainable competitors.
"It's not to say there aren't additional expenses," Keefe said. "But, a lot of the actual expense comes from the fact that [sustainable buildings are] different than normal, and so because there's been so few of these projects built to this high standard, the numbers we are seeing are people's first shot at it. Everything costs more on their first time around whereas … we've gotten it [to] a comparative number to the rest of the market."
Next year, O'Malley said he plans to have a complete, robust ordinance requiring net zero carbon emissions for new buildings to present to the City Council. After its passage, he said he hopes to then develop ordinances for municipal and existing buildings to transition to net zero carbon emissions.
Jacqueline Royce, 84, of Back Bay, said while Boston has a long way to go in terms of sustainability, she appreciates the quick timeline under which current city councilors are working to reach climate action goals.
"They have a lot more work to do," Royce said. "[The] City Council, under Michelle Wu and Lydia Edwards and Matt O'Malley, particularly, [is] trying to move the process of reaching net zero and implementing net zero strategies [and] action plans more quickly."