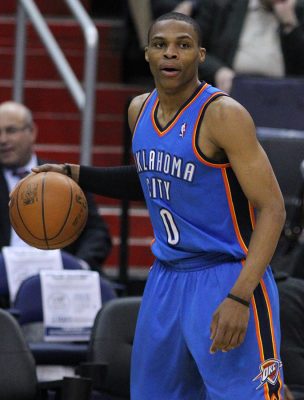 As the Western Conference playoff race heats up, one of the many striking storylines down the stretch is Oklahoma City Thunder's relative lack of success despite its new additions, as the Thunder are currently slated 14 games behind the Houston Rockets for the No. 1 seed.
After what many viewed as a successful off-season for Oklahoma City — the team acquired All-Star Paul George and veteran forward Carmelo Anthony — NBA fans across the world were excited about the team's potential. With the reigning MVP, Russell Westbrook, and now two other talented players to compliment him, many believed the Thunder had the talent to compete with Houston and the Golden State Warriors atop the conference.
But this season, that hasn't been the case.
Those who doubted Chris Paul's ability to mesh well with James Harden are eating their words as Oklahoma City continues to look lost on the floor every couple nights. Westbrook and George don't seem to have found any chemistry together, and Anthony remains the ball-stopper and defensive liability he was in New York with the Knicks.
In a game a few weeks ago against Houston, we watched the Rockets isolate Harden on Anthony on countless possessions, taking advantage of his age and lack of defensive ability. As long as he's on the floor, I anticipate that teams will continue to go at him on the perimeter.
But what about the players Oklahoma City parted with this off-season? After an average season with the Thunder, Victor Oladipo is putting up career highs in most statistical categories and has propelled the Indiana Pacers into the No. 4 seed in the Eastern Conference. Sophomore big man Domantas Sabonis has also nearly doubled his scoring output in only four more minutes per game, and has seen an uptick in field goal percentage and rebounds.
In a trade that most considered to be in Oklahoma City's favor, there is no doubt that the Pacers won.
So why haven't the Thunder had more success this season? Is it head coach Billy Donovan? General manager Sam Presti? Russell Westbrook?
While I believe it is a combination of the three, I think the greatest burden falls on Westbrook's shoulders. I've always been skeptical about his ability to make other players better, but this season has turned me into more of a believer than a skeptic.
Paul George is having a good statistical season, sure. But what about wins? I can guarantee that if asked, Westbrook would say he's far more concerned about winning games than statistics. And for a team that has comparable talent to some of the league's best teams, being 14 games out of first place is embarrassing.
Sure, the Thunder are coming off a six-game winning streak (broken by the Boston Celtics Tuesday night), but only one of those wins was against a legitimate finals contender in the Toronto Raptors. I could argue that being 14 games out of first place after a six-game win streak is even further evidence of the team's struggles this year.
Westbrook's undeniable passion and emotion has always also come with poor shot selection and tunnel vision. While some nights we see Westbrook take over games in the fourth quarter, other nights we watch him miss shot after shot, refusing to integrate his teammates in the flow of the offense.
Despite shooting an abysmal 28.9 percent from behind the three-point arc, Westbrook is attempting 4.1 three pointers per game. We've all seen Westbrook hit some big threes, but this team cannot win if he continues to shoot shots he's not statistically good at making.
More importantly, Paul George's free agency looms at the end of the season. Just as much as Westbrook should want to win a title, keeping George in Oklahoma City should be as much of a priority. If he departs and the Thunder is unable to sign another superstar, the team's future looks much bleaker.
If the Thunder are able to figure out some of their chemistry issues come playoff time, they are a threat to any team in the NBA. If not, they are at risk of losing in the first or second round to a lower-seeded Western Conference team.
Despite success against teams like the Warriors and Raptors, the Thunder have a 9-12 record against the current playoff contenders in the Western Conference, which I feel captures the essence of this team well. Oklahoma City has the talent and personnel to contend with the best, yet is not consistent enough to play at a high level on a nightly basis.
Until the team finds chemistry and consistency, it will struggle in a competitive Western Conference. This year's playoffs may have the slimmest margin for error in recent history, and the Thunder have a lot of work to do to be considered a finals contender.
But with Westbrook leading the charge, I don't see them making it past the second round.