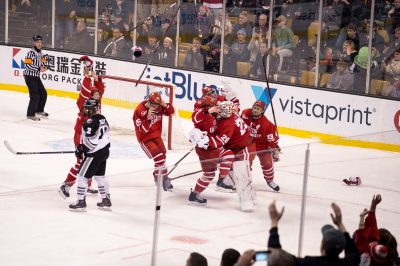 When the NCAA men's hockey 2017-18 season kicked off at the end of September, the No. 13 Boston University men's hockey team found itself ranked No. 2 in the national polls.
After winning the Hockey East championship 2-0 on March 17 against No. 7 Providence College, the Terriers (21-13-4, 12-8-4 Hockey East) punched their ticket into the national tournament where they will take on No. 4 Cornell University in the Northeast Regional.
The two teams played back on Nov. 25 in the biennial Red Hot Hockey game at Madison Square Garden. Then-No. 7 Cornell (25-5-2) downed then-No. 19 BU 4-3.
The Big Red took a 3-0 lead going into the third period, but the Terriers put up three goals in under 11 minutes, including twice on the power play.
"It's funny, we're watching the game and I can't tell you how many times I said to myself 'Well, we don't do that anymore,'" BU head coach David Quinn said on the difference between his team now and his team in November. "… A lot of our freshmen have played a lot more hockey games and so have theirs … I think both teams are in a different position."
The Terriers come into the matchup riding a wave of momentum after upsetting then-No. 14 Boston College in overtime and Providence (23-11-4, 13-7-4 Hockey East), and have not lost a game since Feb. 16 to the University of Connecticut in Hartford.
Quinn added that playing the Friars recently will help his team Saturday afternoon.
"[Providence and Cornell] do play similar styles," Quinn said. "We're going to be in a position where it will be that strong, tough, down-low grind that we faced against Providence."
From Feb. 16 to March 17, junior forward and assistant captain Jordan Greenway led the Terriers in points with eight and graduate transfer forward Drew Melanson led the squad in goals four.
Melanson cemented himself in Terrier lore last weekend by scoring the game-tying goal against BC (20-14-3, 18-5 Hockey East) and the game-winner the following night against the Friars.
Melanson has scored three out of his five season goals during the Hockey East playoffs.
After spending his last three seasons at the Rensselaer Polytechnic Institute, this will be Melanson's first time playing in his first NCAA tournament.
"It's amazing. Honestly, I really didn't think I was going to [play in the NCAA tournament] with the way the season started out," Melanson said. "I'm just really happy that I get this opportunity, and we like where we're at as a team and hopefully we get to go to Minnesota [for the Frozen Four]."
Despite playing a crucial role in securing BU's ninth Hockey East championship, Melanson did not receive Hockey East Tournament MVP, as the honor went to sophomore goaltender Jake Oettinger.
The Lakeville, Minnesota native recorded the first shutout in the title game since 2014 with his 30 saves.
Like the Terriers, Oettinger rebounded from a rough first half of the season.
During the first half, Oettinger boasted a 2.91 goals against average and a goal save percentage of .902. However, since Jan. 6, the Dallas Stars first round draft pick sports a 2.01 goals against average and a save percentage of .929.
The goaltender has also won 13 out of the 19 games the Terriers played while recording three shutouts.
Cornell's freshman goaltender Matthew Galajda, who will be tasked with stopping the BU offense, has had a solid presence in net all season, and has been named a Hobey Baker Memorial Award and Mike Richter Award finalist.
Galajda leads the country with in goals against average (1.49) and shutouts (nine), and is third in goal save percentage (.940).
Junior forward Anthony Angello leads the Big Red with 13 goals and 26 points. He scored 17 points during the second half of the season.
Quinn added that freshman defenseman David Farrance, who moved back to the blue line last weekend, will be playing defense in the NCAA tournament.
Despite the teams already facing off against one another earlier this season, Quinn added that it will not be the same game this weekend.
"I think it's going to be a completely different hockey than the one people saw in November," Quinn said.
The Terriers are playing in their fourth consecutive NCAA tournament, which is the third-longest streak in the nation behind the University of Denver and Providence.
"It certainly feels good. Year in and year out you want to give yourself a chance to win a national title and that's how you eventually win one [and] the only way to have a shot is to get there," Quinn said. "Without question, [having] some BU faithful out there will give us extra incentive … I know we'll have a great group of students heading out to Worcester and I know we'll have our fanbase out there."