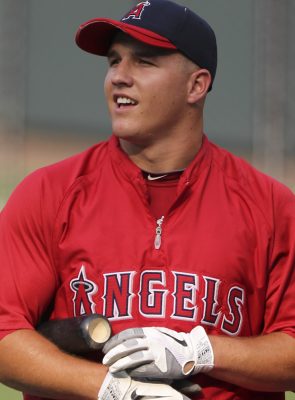 Mark your calendars — Opening Day is March 29, the earliest Opening Day in history, and I couldn't be happier that baseball is coming early this year.
Winter meetings, free agency and spring training are all finally behind us, and we can now get to the games that actually matter. So as we inch closer to Opening Day, here are my 2018 MLB season predictions:
American League East
New York Yankees

Boston Red Sox

Toronto Blue Jays

Tampa Bay Rays

Baltimore Orioles
The Yankees finished two games behind the Red Sox last season, but the addition of Giancarlo Stanton in New York should flip that outcome this season. Toronto looks to keep former MVP and free-agent-to-be Josh Donaldson around, but look for them — as well as Tampa Bay and Baltimore — to fall behind early.
American League Central
Cleveland Indians

Minnesota Twins

Chicago White Sox

Kansas City Royals

Detroit Tigers
The Indians won 102 games last season, and I think they will best that record this year, yet that won't be enough for the league's best record. The Twins will likely regress from their 2017 playoff campaign amidst pitching uncertainties, while Chicago, Detroit and Kansas City are in the midst of big rebuilds.
American League West
Houston Astros

Los Angeles Angels

Seattle Mariners

Oakland Athletics

Texas Rangers
The Indians improve in the win column, but the Astros will best them this year for the best record in the MLB thanks to a full season with Justin Verlander and newly acquired Gerrit Cole stabilizing their already dangerous rotation.
The Angels should drastically improve after making big splashes this offseason, re-signing Justin Upton and signing Ian Kinsler, Zack Cozart and Shohei Ohtani. Seattle will hang around the playoff picture longer than most expect, while Oakland and Texas will begin evaluating young prospects early on.
National League East
Washington Nationals

New York Mets

Atlanta Braves

Philadelphia Phillies

Miami Marlins
This year could be World Series or bust for the Nationals. Four division titles in the last six years, but no playoff series wins mean if they want Bryce Harper to return to Washington, D.C., they will have to win a lot of games — and they could likely win close to 100 of them. The Mets' best days are behind them. The Braves and the Phillies are only a year or two away, and the Marlins are in full-tank mode.
National League Central
Chicago Cubs

St. Louis Cardinals

Milwaukee Brewers

Cincinnati Reds

Pittsburgh Pirates
The Cubs will have some new faces on the mound, but Joe Maddon's team will produce the same results. The Cardinals and Brewers will fight it out all season for a wild card spot as the Reds and Pirates can only sit back and wonder how they have fallen so quickly.
National League West
Los Angeles Dodgers

Colorado Rockies

Arizona Diamondbacks

San Diego Padres

San Francisco Giants
The Dodgers are still the team to beat despite the Rockies additions this offseason. The Diamondbacks losing J.D. Martinez will drop them out of the postseason while the Giants get older and Padres continue to get younger by way of rebuilding.
MVP
American League: Mike Trout, Los Angeles Angels
National League: Bryce Harper, Washington Nationals
Trout is the best player in baseball. He could end up being one of the greatest to ever play baseball. If he is healthy, there is no debate. Lock this one in.
While Trout is the best player in baseball, Harper might have the best hair in the sport. But Harper is pretty good on the field too. The former MVP will continue to carry the offensive load in Washington and lead the Nationals to the best record in the Northern League as he approaches free agency at the end of the season.
Cy Young
American League: Chris Sale, Boston Red Sox
National League: Stephen Strasburg , Washington Nationals
Sale is as consistent of a pitcher as they come. And six consecutive top-six finishes in the Cy Young voting proves that he is not just consistent, he is consistently great. But this is finally the year he will place first in the voting as he leads the Red Sox into the postseason.
Like his fellow Ace in D.C. Max Scherzer last season, Strasburg  should be able to stay on the mound and pitch more than 200 innings after a healthy spring. Every pitch in his arsenal is a strikeout pitch and he will rack up plenty of them in 2018.
Rookie of the Year
American League: Willie Calhoun, Texas Rangers
National League: Ronald Acuna, Atlanta Braves
Arriving in Texas as part of the Yu Darvish trade in 2017, Calhoun — who had 69 home runs during his three seasons in the minor leagues — will get plenty of opportunities to start on a Rangers team that is somewhere in between the back-to-back World Series years and a complete rebuild.
Acuna will not break spring training with the big league team, but that doesn't mean he won't see plenty of action in the MLB this season. MLB Pipeline's No. 6 overall has some scouts comparing him to Mike Trout. Asking for Trout 2.0 is too much, but Acuna will provide the new look Braves hope for the future.
Manager of the Year
American League: Aaron Boone, New York Yankees
National League: Dave Martinez, Washington Nationals
Lock this in immediately. Aaron Boone is the AL manager of the year. The media likes him and he has a young, talented lineup filled with some of the league's most dangerous hitters. Heck, if I had Aaron Judge, Giancarlo Stanton and Gary Sánchez in my lineup, I could win manager of the year too.
Martinez arrives in D.C. with expectations through the roof. He was brought in to get the Nationals over the first-round exit from the postseason they have become so used to and in 2018, Martinez will get them over that hump.
Postseason
Wild Card
AL: Red Sox over Twins
NL: Cardinals over Rockies
Divisional series
American League
Astros over Red Sox in five
Indians over Yankees in seven
National League
Nationals over Cardinals in five
Cubs over Dodgers in seven
Championship series
American League: Indians over Astros in seven
National League: Nationals over Cubs in six
World Series
Indians over Nationals in seven