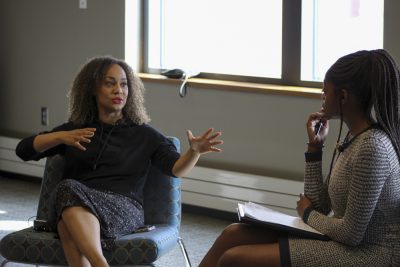 With cutthroat competitions and vying markets, it is hard for many to come out on top in the corporate world. For people of color, the struggle is even fiercer. The percentage of senior level positions held by black men is staggeringly low at 1.6 percent, and the percentage held by black women is even lower, at 1.5 percent, according to a 2016 Fortune article.
Morgan DeBaun, CEO and the founder of Blavity, shared the story of her journey creating the online media company and her experience as an African-American entrepreneur in Silicon Valley with Boston University students at Friday's fireside chat, co-hosted by BU's Questrom School of Business, BU's Dean of Students Office, and a nonprofit called Next Wave in Business.
Launched in July of 2014, Blavity, an online media platform tailored to black millennials, is one of the fastest growing media companies, with seven million total subscribers. On their website, Blavity offers users content ranging from news to original videos. Now, the company owns five separate brands including Blavity, 21 Ninety, Afrotech, Travel Noire and Shadow and Act.
DeBaun met her future co-founders Aaron Samuels, Jonathan Jackson and Jeff Nelson at their alma mater, Washington University in St. Louis. It was there the name Blavity came into being, combining the words "black" and "gravity." After moving to California, DeBaun said, she was inspired to use her experience connecting with others to make something of her own.
"I felt that sense of community was missing [in California]. There was a lot of friction, trying to recreate those emotions of feeling connected and being part of a conversation," DeBaun said. "As black folks, I felt that it should be easier [for us], easier to find other people to have conversations about stories and things that are going on."
Nadiyah Humber, a Questrom professor and civil attorney, said she often calls racial bias in the workplace "discrimination with a smile" due to its less overt presentation.
"The thing about racial bias and discrimination in the workplace these days is that it is not as blatant as it used to be," Humber said. "For the most part, people are either unaware of their implicit bias and how it affects the people around them, or they are very much aware of their bias but tend to be more covert about it."
Despite how low the number of people of color in executive-level positions remains, Humber said, she's optimistic about the people, like DeBaun, who are currently in those positions.
"I think people of color who make it to the top need to do everything they can to pay it forward and expand the views of young people of color," Humber said. "I do hope that minorities who have the resources and opportunities to climb the socio-economic ladder become leaders, sponsors and mentors to those who may not be as familiar with the variety of opportunities available in different industries."
DeBaun's journey to Silicon Valley to launch and realize her dream is something Humber said she hopes might inspire other people of color who aspire to work in the tech world.
"I really liked how she used the drive and all of the attractions [in Silicon Valley] to her advantage as a black woman because I think that's really important," said Jordan Fessehaie, a senior in Boston University's School of Hospitality Administration. "And seeing that she created something to her advantage is really powerful."
To tech-hopefuls, DeBaun offered words of encouragement, telling them to make their dreams come to life and not let obstacles, racial or otherwise, hold them back.
"Reality is harsh. But I think once you accept it, it's 'so what?' I'm still here and I'm still crushing it. I think you give yourself a permission to keep it going," DeBaun said. "When somebody else don't see what you see, you move on. You'll have to protect yourself and your vision."