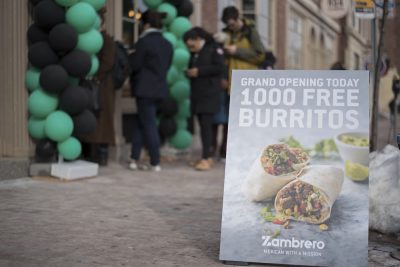 Hanging within Zambrero's newly established Harvard Square location is a sign displaying a tally well into the millions, shining bright. The number shows how many meals have been given to people in need, courtesy of the chain's initiative to end hunger, Plate4Plate.
The Australian-based restaurant chain, which specializes in burritos and other Mexican cuisine, opened its first American locations on Wednesday and gave away 1,000 free burritos to hungry customers willing to brave the line.
First established in Australia in 2005, Zambrero has opened stores around the world, finally coming to the United States with locations in Cambridge and Warwick, Rhode Island. A lot of work as gone into bringing the chain to the states, said Bianca Azzopardi, general manager at Zambrero.
"We carried out significant market-fit and location research, which started over a year ago," Azzopardi said. "The support office in Australia has been regularly visiting the states to make sure everything is running smoothly."
Zambrero was originally established by Sam Prince, an Australian philanthropist and trained physician, while he was in medical school. Prince aspired to create a restaurant that was as healthy as it was delicious. In addition to considering his customers' health, Prince wanted to improve the health of those who didn't have easy access to food, too.
Prince established Zambrero's Plate4Plate initiative with the goal of ending world hunger. For every burrito or bowl purchased, the restaurant donates a meal to a country struggling with hunger through partnerships with local nonprofits. In 2013, they partnered with a nonprofit called Rise Against Hunger, which aims to eradicate hunger worldwide.
"They were looking for an organization that's not just going to be putting a Band-Aid on the issue," said Pattie Mackenzie, the global partner relations manager for the organization. "We really believe we can end hunger."
Rise Against Hunger was established in 1998 and began their meal packaging program in 2005. Since then, they have packaged more than 315 million meals for 74 countries worldwide.
Rise Against Hunger's volunteers package food all over the world to give to communities in need, and all purchases from their partnered businesses, like Zambrero, help pay for the packaging and transportation, and of course, the food itself, according to Mackenzie.
The meals they distribute, Azzopardi said, include rice, soy, dehydrated vegetables and a vitamins and minerals package donated by another organization.
"We also felt secure in the knowledge that they would ensure the meals donated through our Plate4Plate initiative would be securely delivered to where they are needed most," she said.
Mackenzie said Rise Against Hunger is currently building connections with other restaurants, communities of faith and universities around Boston, in the hopes of attaining new partnerships that would further their mission to end hunger.
Zambrero proudly displays a meal counter, both in their stores and on their website, showing how many meals have been donated thus far.
Madeline Laing, PR and communications specialist at Rise Against Hunger, said that since the start of the partnership with Zambrero, 21 million Rise Against Hunger meals have been donated and the two organizations hope to reach 1 billion by 2025.
"It's [also] important to note that we aim to show that it is possible to end hunger in this lifetime," Laing said. "We recently launched a new campaign, 'This is possible,' which is our global movement to end world hunger."
Zambrero is taking the place of Boloco, another Mexican-style burrito restaurant that closed its doors last summer.
"Honestly, Boloco leaving was a letdown," said Adam Smith, a student at Harvard University. "But it's a little hard to complain when my money is going to a place that needs it. It somehow makes the food taste better."