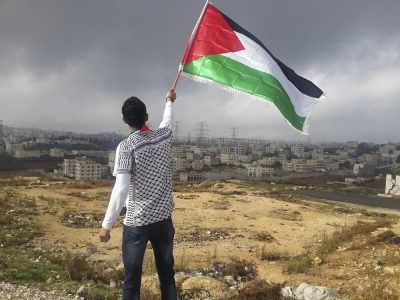 While many students are aware that conflict exists between Israel and Palestine, far fewer understand the complex origins of that political tension.
Thursday, Boston University community members gathered to hear Boston College professor Eve Spangler lecture about Palestine and recount her experiences visiting there. The event, "Palestine 101," was hosted by the Boston University Students for Justice in Palestine in the College of Arts and Sciences.
Barbara Wilhelm, an alumna of the School of Theology who graduated in 1975, lives in Brookline and frequently helps with BUSJP events. She said she hopes students left with solid knowledge of Palestine's background.
"There's been a lot of historic information that's inaccurate [about Palestine], so [I hope] they come away, and they understand that foundational history," Wilhelm said.
Spangler began the discussion by providing her perspective on the Israel-Palestine conflict.
"I want to argue most assertively … that the framework for evaluating what's going on in this conflict is the human rights framework," Spangler said during the presentation. "The conversation always seems to be about Jewish safety, Jewish aspirations, Jewish ambitions — and it never gets around to Palestinian rights."
Spangler also connected events happening in Palestine to U.S. current affairs, showing attendees a picture from the 2014 protests in Ferguson, Missouri. She said Ferguson's then-chief of police, Thomas Jackson, was trained by Israelis two years prior and utilized a model similar to that of an occupying army when deploying his officers during the protest.
"That's the place where there's a bridge between what is happening in Israel-Palestine, and what is happening in the United States, and very specifically locally here," Spangler said.
She said members of the Tufts University Police Department and the Boston University Police Department were recently trained by Israeli officials.
"The Israelis position themselves in arms expos as being particularly worthy of doing business with because, as they say, all of their security protocols have been tested on human subjects," Spangler said. "Those human subjects are of course the Palestinians."
Despite the turmoil between Israel and Palestine, Spangler said, their cultures share many similarities. Combined, their populations are slightly bigger than that of New Jersey, she said.
"We have in this New Jersey sized place, two almost equal populations both highly educated and both highly entrepreneurial. So this should be the land of milk and honey … It's not."
What divides them, Spangler said, is a fundamental imbalance of power.
"One is a nuclear armed regional hegemon that enjoys virtually unlimited American diplomatic financial and military support," the lecturer said. "The other community are stateless people, more than half of who are refugees."
Later in the lecture, Spangler said the desire for a Zionist state in Israel was problematic.
"To be Jewish, to be democratic and to have all the land, those three things can't go together," she said. "Pick any two, but those three things just don't go together unless you completely eliminate the Palestinians."
She closed the lecture by encouraging students to examine the relationship between campus police forces and Israeli officials.
"We need to think about the relationship between Israeli securitization and militarization and policing and what's going on our campuses and in Boston," she said. "My argument would be that human rights are the criteria, and we need to think about how that plays out even here."
Michael, a freshman in the Pardee School of Global Studies and member of BUSJP, said he hopes people will have new conversations with each other regarding the conflict. Michael requested only his first name be included due to reasons relating to the conflict.
"[I want] conversation with other people and making the narrative more present," Michael said.
Brian Stanley, a junior in the College of Arts and Sciences, said he came to the lecture to be surrounded by other people who want to be involved in this discussion.
"Just being in community with other people is really important, so people who want to learn and discuss," Stanley said.