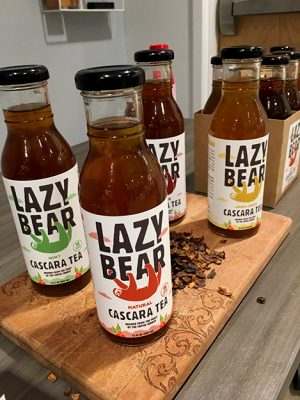 When envisioning the future, we often imagine great feats of engineering, like flying cars and jetpacks. But what great innovations await us in the kitchen?
Hosted by Branchfood, "The Future of Food Products" panel held in Downtown Boston on Thursday aimed to forecast the future of rapidly changing food technology.
"Branchfood is really excited about all the innovation that's happening in the food industry, particularly what's coming out of the New England area," said Lauren Abda, founder and CEO of Branchfood. "We decided to do this panel series this year as an opportunity to spread word about what local companies are working on in terms of the future of food."
The event included a tasting and networking session with local food companies and startups. Samples up for grabs included bean-to-bar chocolate, popped water lily seeds and tea brewed using herbs from the Andes Mountains.
The session was followed by a panel discussion moderated by Janelle Nanos, a business reporter for The Boston Globe, featuring commentary from local food experts.
"I've been a chef for about 23 years," said Adam Melonas, founder and CEO of Chew. "I think it's more about old-fashioned ingredients with modern technology, versus some of this farm-to-table stuff [where] people think old-fashioned ingredients and old-fashioned cooking and somehow people are gonna find it interesting. It's not."
Marty Kolewe, director of research and development at Incredible Foods, said he's most interested in the "snackification" trend.
"[People] are not eating at home as much," Kolewe said. "The word snack has traditionally been not a good word. You don't think of healthy food. But one of the big trends has been turning new foods into snacks and making snacks better for you."
Consumers, Melonas said, are far more fickle than ever before.
"The rate of change of consumers has never been so fast," Melonas said. "There'll be a story [that] drops in some of the newspapers around the country and around the world, and all of a sudden nobody's eating whatever [kale] anymore."
But some consumer behaviors never really change. Despite the growing "brandless" trend, where some consumers prefer more generic looking items made by grocery stores and select startups, brands are here to stay, Kolewe said.
"In a sense, that [brandless] is the brand," Kolewe said. "I think there is some truth to that, but it's always are you looking at niche people, you know the food tribes … or are you looking at the average consumer, because Oreos are still selling well."
After answering questions from Nanos, panelists answered questions from attendees, many of whom were entrepreneurs. Nanos said Branchfood's event was a great opportunity to facilitate conversation between food industry professionals and the general public.
"[The panelists] all came from real interesting backgrounds," Nanos told The Daily Free Press.
"We have a scientist, you've got someone working from a social responsibility, you've got a chef. And having them all talking about these kinds of things on stage and being able to feed off each other makes for great conversation."
Bonded by their love of food and drinks, the event's attendees were a mixture of entrepreneurs, food sector veterans and foodies.
Caroline Winslow, media planner at MullenLowe Mediahub, put herself in the foodie camp.
"[I'm] super into food," Winslow said. "I'm gluten-free and dairy-free so I'm always interested in all the new innovative products that people are coming out with. I also want to support local businesses, too."
Eileen Gonthier, senior brand manager at Hood, said she came hoping to find some inspiration.
"I've worked in [consumer packaged goods] brand management … for about 15 years, and I'm looking to do something a little different," Gonthier said. "So I just came to hear these folks talk and get some ideas."
All in all, Abda said, she felt the discussion was productive.
"We intentionally chose these people to compare and contrast what the future of food is becoming," Abda said. "You never quite know what roads they're going to go down … but I thought it was a good overview of what's shifting in terms of what people are eating."