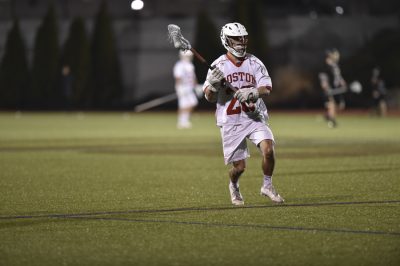 The Boston University men's lacrosse team will look to keep up its momentum this weekend against Lehigh University at Nickerson Field during the third annual Lax-A-Palooza.
While the Terriers (5-5, 1-3 Patriot League) got their first Patriot League win of the 2018 season, in the form of a 12-8 win over Lafayette College, they will face no easy test against Lehigh (7-3, 4-1 Patriot League).
"[Lehigh is] an excellent team and they're very well coached, and I just expect them to play a great game," BU head coach Ryan Polley said. "So for us it's just that we've got to be focused for 60 minutes and just make one play at a time."
The Mountain Hawks recently saw their first conference loss of the season last weekend, a 10-7 loss to the United States Naval Academy.
Lehigh led in almost every facet of the game statistically — shots, ground balls and faceoffs — but was unable to get through Navy's (5-4, 4-1 Patriot League) sophomore goalkeeper Ryan Kern, who made 18 saves.
The Mountain Hawks' leading trio of starters — junior attack and midfielders Andrew Pettit and Lucas Spence and junior attack Tristan Rai — were also limited to only three points apiece.
"[Spence is] a great dodger who's playing really well this year," Polley said. "He's much improved, and certainly we have to be ready for him to dodge hard. If we need to slide and support our guys on the ball, we need to do that."
Pettit currently leads the team with 45 points (consisting of a team-high 27 goals and 18 assists) while Spence and Rai follow closely behind with 37 and 33 points, respectively.
"I think that the biggest thing for us is being very disciplined off [the] ball," Polley said. "They're great cutters. They work very well together so I think it's most important that we communicate and that we're all on the same page."
The defense will be imperative in stopping these offensive forces.
However, sophomore goalkeeper Joe McSorley will be the man tasked with making the final stop. McSorley currently owns a .511 goal save percentage and 11.18 goals against average over 10 games this season.
He also made 13 saves against Lafayette (2-8, 0-5 Patriot League).
His goalkeeping counterpart, freshman James Spence, sits on a .503 goal save percentage and 8.14 goals against average over 10 contests.
Another key aspect for the Terriers in halting the Mountain Hawks' offense from gaining possession will be their performance at the faceoff X.
BU freshman midfielder and faceoff specialist Sean Christman went 14-for-23 at the dot over the weekend.
Sophomore midfielder and faceoff specialist Conor Gaffney has remained a strong presence for the Mountain Hawks at the X, sporting a .618 win percentage and going 13-for-21 in the team's last outing.
As a team, BU has only been successful on 45 percent of its faceoffs, and Polley said it will be a team effort to maintain possession.
"I mean it's important every single game," Polley said of his team's faceoff performance. "Ball possession is key. I think we have a really good offense [that] when given possessions can be very effective. [Gaffney's] one of the best preseason faceoff guys in the conference so he's one of the best in the league…"
Coming into this matchup, the Terriers' offense has found their groove offensively after putting up 18 goals against Harvard University and 12 against Lafayette.
Junior attack James Burr spearheads BU's offense with a team-high 26 goals on the season. Senior attack Jack Wilson has contributed 22 goals while sophomore midfielder John MacLean has also seen the back of the net 18 times.
However, freshman attack Chris Gray, with a team-leading 46 points and 28 assists, will remain the Mountain Hawks' biggest threat as the Terriers attempt to avenge last season's 10-6 loss.
"Just a grinding mentality," Polley said regarding what his team needs to bring against Lehigh, "and that we continue to make that one extra play and certainly just find a way to win the game."
Matthew Martin contributed to the reporting of this article.