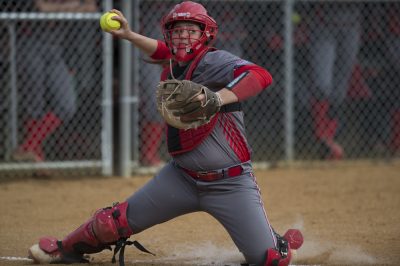 The Boston University softball team is the last Patriot League team to begin conference play, doing so against one of the top teams, the United States Military Academy, in West Point, New York.
The Terriers (16-15) have won eight of their last nine games, but are coming off a tough 1-0 loss to Commonwealth Avenue rival Boston College.
BU head coach Ashley Waters said she knows there is a different mentality when league play begins and has high expectations for the team's conference performance this season.
"They know there is more at stake," Waters said. "I think the first goal is to make it to the tournament, the second goal is to host the tournament and the third goal is to win the tournament. I just hope they are excited with positive energy and not excited with hesitant and nervous energy."
BU's loss Wednesday afternoon spoiled an outstanding effort from freshman pitcher Ali Dubois, who threw seven innings and only surrendered three hits against BC (13-15).
The Terriers only managed four hits against the Eagles' redshirt junior pitcher Allyson Frei.
On the other hand, the Black Knights (11-17, 2-1 Patriot League) won their first Patriot League series two games to one, defeating Bucknell University in the final two games of the series.
Army only conceded four runs over the three game set, and freshman pitcher Courtney Springman appeared in all three games, giving up one run in 13.2 innings.
Springman started games one and three, both 1-0 finishes. The Norco, California native tied her career high with eight strikeouts in the 1-0 loss and then topped that mark in game three when she fanned 12.
"They have a freshman pitcher [Springman] who mixes her changeup in a little bit," Waters said. "I think moving forward, we'll [start] watching film and just try and prepare ourselves the best we can with some offensive drills."
However, besides Springman, the Black Knights' pitching staff has struggled.
Of pitchers who have thrown significant innings (at least five), none have an ERA below 5.00 besides Springman (1.77).
Offensively, Army relies on freshman pitcher Taylor Drayton and sophomore outfielder Amelia Trotter. They are the only Black Knights to have hit over .300 this season.
This series should be a battle of two freshman pitchers, who have both started the season nicely.
Dubois has appeared in 25 of the 31 games the Terriers have played this season.
The freshman is coming of her fifth complete game of the season and her second in three games. Dubois has not surrendered more than four runs in any appearance for BU.
Offensively for the Terriers, senior outfielder Emma Wong extended her streak of being on base at least one time to 17 straight games.
Wong is joined by junior infielder Madi Killebrew and junior catcher Alex Heinen as the only BU players who are hitting .300 or better in at least five at bats.
The Terriers have enjoyed success over the Black Knights as of late, winning the last six matchups against Army.
BU outscored the Black Knights 23-1 in a three game sweep at home last season, and eliminated Army in the first round of the Patriot League tournament.
While the Black Knights swept the Terriers in the 2016 regular season, BU exacted its revenge in the postseason, beating Army twice en route to a league title.
Waters said she admires how close-knit her team is and how they support each other and pick each other up when someone makes a mistake.
"I think cohesiveness," Waters said when talking about her team's biggest strength. "We had a few miscues, but somebody is there to pick it up and back it up. I think that's the part, for me, is probably one of the best traits we have. We just continuously fight and stay together, which just gives us a shot. We're never out of a game."
Laura Guerriero contributed to the reporting of this article.