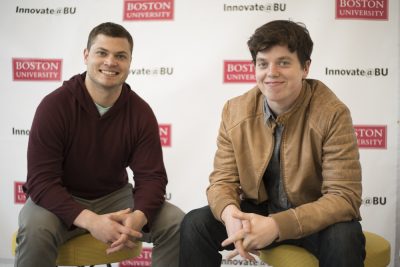 An app developed by recent Boston University graduates aims to change the way residents interact with their elected officials.
The free app, Involved, uses a setup its creators call "micro polling" to allow representatives at all levels of government to send their constituents a question through mailing lists, social media or the app itself. Constituents can answer "yes" or "no" with the simple click of a button.
Involved was recently highlighted by StartHub — a platform developed by the City of Boston to support Boston startups — as the "Startup to Watch for March 2018." This recognition increased the app's profile in Boston, garnering it a supportive tweet from Mayor Martin Walsh.
"To have the mayor's support from his tweet was really validating for our team and the people that believe in our mission," said Caleb McDermott, a co-founder and the current marketing director for Involved. "His position and the people who work for StartHub are really influential people … as far as what gets presented to the general public."
The app was originally envisioned by Jacob Dansey, now Involved's CEO, when he was in high school. While he was discouraged by the polarizing effect of politics at the time, he said he was not at all involved and did not know who his representatives were or what issues were most prominent.
That, coupled with a desire to help his community, led him to design a way for the average citizen to be involved in local politics and share their opinions, even if they did not have time to go to every town hall meeting.
"It's a way for representatives to gather opinions and understand what residents are thinking about the issues without having to host town halls," Dansey said. "And [it's] also about being able to reach more people."
He described a recent instance when a local representative in Newton used the app to ask her constituents whether they thought each resident should be responsible for shoveling the sidewalk in front of their property. The representative received over 500 responses in the first day, Dansey said.
"This was our first validation that, hey, people want to have their voices heard on issues if it's easy enough," he said.
McDermott said that in order for the app to reach the most people as possible, constituents have to use the app and ask their representatives to use the app as well. Dansey agreed, saying that representatives tend to take on new things only if enough of their constituents ask for it.
"If you want to make change it's important to have your voice heard and actually be part of the conversation, or else not much will be getting done," Dansey said.
John Knollmeyer, a co-founder and the chief technical officer for Involved, said the app increases communication between representatives and constituents by bringing constituents closer to the information about what is going on in their local governments.
"[Without the app,] people would be in the dark about what's going on, what the representative is thinking and what they plan to do," he said.
Looking to the future, the Involved team is planning to use the current election cycle to grow their reputation as a tool for local representatives and their constituents.
While congressional representatives have budgets for advertising and polling, Knollmeyer said, local officials often do not. Involved aims to fill that gap, working with local representatives from the beginning of their campaign process to the rest of their term in office.
"The near future is those lower level representatives because they're the ones who can benefit the most from us and the lower level constituents are the ones who'd like to hear more," Knollmeyer said.
After the election cycle, the Involved team plans to continue expanding nationally and use the increased user base to attract federal representatives. There is also talk of expanding beyond the micro polling platform.
"Five years [from now] we'd like to be [a] virtual office for government officials at every level of government," Dansey said.
McDermott said another long-term focus is for Involved to become self-sustaining through word-of-mouth from both constituents and representatives.
No matter how far Involved goes, the team said they will always remember their start as students at BU and the many resources they gained from the university.
During their time at BU, they took advantage of entrepreneurial resources such as BU SPARK!, The BUzz Lab and the Summer Accelerator program, as well as the engineering, business and political science departments.
"We've participated in just about everything they've got," Dansey said.