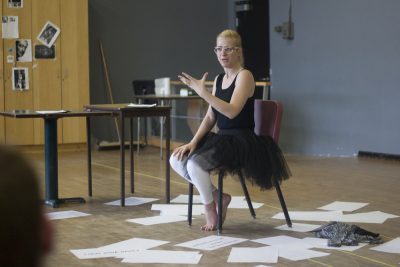 Her left leg shaking, Nataly Zukerman struggles to put on her black tutu. She takes a breath, steadies herself and quickly lifts up her left leg, but misses the hole and her left foot slams back down on the hardwood floor. She takes another breath and tries again, and again, until she finally gets it. She pulls the tutu up to her waist and bows.
Zukerman, who grew up in Israel and studied in Scotland, performed her piece "The Other Body" at the College of Fine Arts on Thursday afternoon as part of her residence at Israeli Stage. The event was presented in partnership with the BU Arts Initiative, the Sargent College of Health and Rehabilitation Sciences and CFA's dance program.
In 1990, when she was 12 years old, Zukerman had an accident that broke a vertebra in her back. As a result, she stayed in a hospital for six months, walked with crutches until age 16 and now has a limp. She can't run, dance or jump, but she still majored in performance in college and currently tours the world advocating for "art-a-bility," her term for accessible performance art.
"There aren't enough roles for disabled people to play, but I don't care. We need to make our own roles," Zukerman said during the talk. "Other bodies need to take center stage."
Her performance involves strenuous outfit changes, telling stories about her experiences with doctors and psychiatrists and holding up signs that have words like "You don't look disabled" and "I think your scars are beautiful" — things people have said to Zukerman since she was a young girl that have contributed to her confusion surrounding her disability.
She said she identified as "almost disabled" until about five years ago, when she was 34 years old and realized she needed to take center stage instead of working behind the scenes in theater and dance. Since then, she's been doing lecture series like Thursday's because she said she wants to spread awareness about "invisible disabilities."
"It's important for me to bring these stories to life and share the stories with people because even now, people will say, 'that's exactly my story — thank you,'" Zukerman said in an interview with The Daily Free Press. "We are a community."
Yo-EL Cassell, a professor of movement at CFA, offered his Movement 1 classroom as the venue for Zukerman's lecture-demonstration. One of his favorite ideas, Cassell said, is that the body is the solution, not the problem, when figuring out dance and movement challenges.
"I was most impressed with the sense of embodiment — her spine wasn't getting in the way, it was showing the way, allowing her to communicate," Cassell said.
Brian Perry, a CFA freshman who takes Cassell's Movement 1 class, said Zukerman's performance spoke to him because of her discussion about struggling to find a place in the disabled community and the dance community at the same time.
"Seeing how she just took whatever life gave her … and she found drive within her to find a way to take what she had and make it into everything she wanted, it was just amazing," Perry said after the performance.
In addition to Cassell's class, occupational therapy classes also attended the event. Karen Jacobs, a clinical professor in Sargent, said she wanted her class to attend the event because she is interested in exploring the intersections of art and subjects that don't lend themselves to art.
"My students are learning how to be advocates for change … and so this is another medium for them to understand what they could do with what's out there," Jacobs said. "Infusing the arts into the curriculum everywhere is really important. People will look at me and they'll say, 'How does that relate to occupational therapy?' Well, it relates to everything."
Micki Taylor-Pinney, director of dance at BU's Fitness and Recreation Center and professor of dance at CFA, said she was excited to participate in an event that brought together different departments from across campus.
"What a great opportunity for the students to have a chance to interact with someone," Taylor-Pinney said. "It's so great for our students here, learning things on a theoretical basis, to see how what they're learning can be applied outside and to see people doing the work."
Zukerman said she's glad she could share her story with college students specifically because it's important for them to understand issues they can act on futuristically.
"This is the age that you form your views, your beliefs, and I think it's very important to address those issues because you're the people who are going to change the future," Zukerman said. "As a child you're really sheltered, and then you go to university and you start realizing there's other people around you, doing things outside your comfort zone. It's the right time to share it."
CORRECTION: A previous version of this article said Zukerman currently lives in Scotland. It should say Zukerman studied in Scotland. The current version reflects this change.