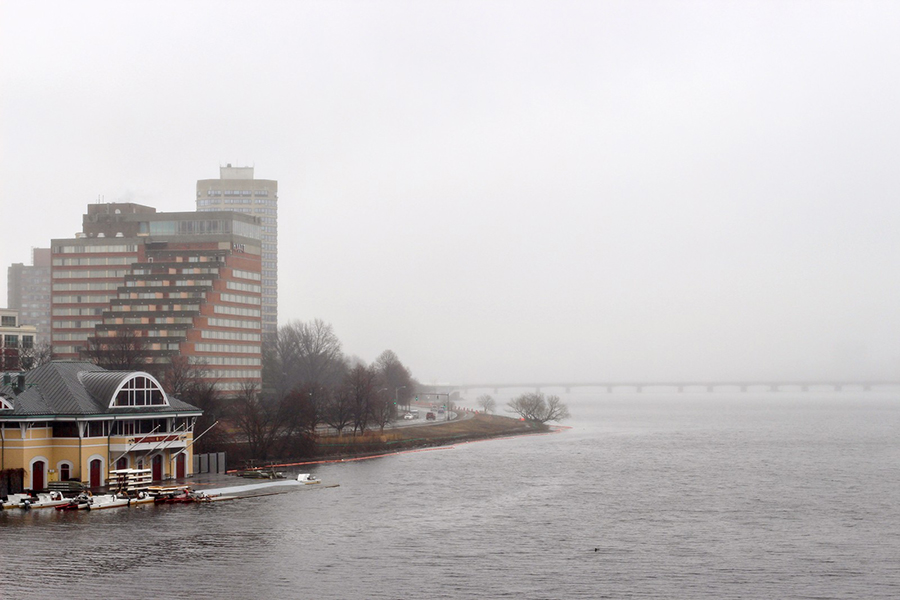 As sea levels rise, researchers predict that Boston's roads are going to have to increasingly withstand high tide flooding, costing drivers millions of hours in traffic delays annually.
Currently, over 7,500 miles of East Coast roadways are vulnerable to high tide flooding — or "nuisance flooding" — causing more than 100 million hours in vehicle delays every year, according to a recent study from The Infrastructure and Climate Network.  
William Sweet, a co-author of the study and an oceanographer with the National Oceanic and Atmospheric Administration, said thermal expansion, the expansion of the ocean due to warming temperatures, and ice melt from land bodies, including Greenland and Antarctica, have contributed to sea level rise along the East Coast.
In Boston, sea levels have been rising since the turn of the century, and the trend is expected to continue, Sweet said. The study predicts that by 2060, there will be between 50 days of flooding to nearly daily flooding in a year in the city.
As a result, the study said, vehicles can expect to experience up to 1.2 billion hours in traffic delays every year by 2060.
These delays will likely prevent businesses from functioning efficiently, as seen in Boston during high tide cycles early last month, said Jennifer Jacobs, lead author of the study and University of New Hampshire professor of civil and environmental engineering.
"Businesses that need to have deliveries made or have customers that need to get to the business are not able to do so, and so effectively it can shut down businesses in those areas even if it doesn't necessarily flood the business property itself," Jacobs said.
In light of the recent Nor'easter storms, Andrew Dost, 32, of East Boston, said vulnerable areas require attention to its flooding-related damages.
"The past few storms we've had really hit some places hard in Boston, and it's only going to get worse," Dost said. "Building more sustainable roads isn't just about the traffic, but it's about keeping Boston a safe city to live in as well."
Moving and raising the height of roadways are viable long-term solutions reducing damages related to high tide flooding, said Lia Cattaneo, study co-author and research associate for energy and environment policy at the Center for American Progress.
Jodi Lehman, a 43-year-old South Boston resident, said she agrees Boston must invest in raising its roads to be prepared for rising sea levels.
"I most certainly don't believe our infrastructure is ready for rising sea levels," Lehman said. "There is no reason why the city shouldn't spend money on something like raising the roads because a big part of the city is right at the water's edge. They'll be spending less in the long run if they take care of the problem now before the damage even happens."
However, Mike Flow, 37, of Dorchester, said people may not be willing to pay for more maintenance projects, while he supports measures to address the effects of flooding on the city's roads.
"The effects of flooding on the infrastructure are very frustrating to see, especially since this is something that could have been avoided if we chose to be more planet-friendly," Flow said. "What's more frustrating is that many people I know are sick and tired of paying more money to infrastructure only to see the potholes return, the construction never end and traffic to build up again. I'm not sure they'd be willing to pay more, even if the measures proposed are good ones."
Moreover, Cattaneo said, the federal government must invest in studying high tide flooding to determine the most effective ways to address it.
"Under this administration, there has been a reduced emphasis on understanding and mitigating the impacts of climate change, so while there has been great work done at the federal level, the responsibility is waning," she said.
The good news is Boston has already taken steps to address the impacts of high-tide flooding, said John Cleveland, executive director of the Boston Green Ribbon Commission. He said for example, Climate Ready Boston, an initiative to prepare the City for climate change, requires that infrastructure adapt to its climate resiliency standards during maintenance periods.
"The idea is if you're going in and you're doing routine maintenance on a road, and the road has a 30-year life span, that maintenance ought to make sure that that road is resilient to whatever the level of flooding and sea level rise that is likely to happen in that 30-year time frame," Cleveland said.
Camille Mojica contributed to the reporting of this article.