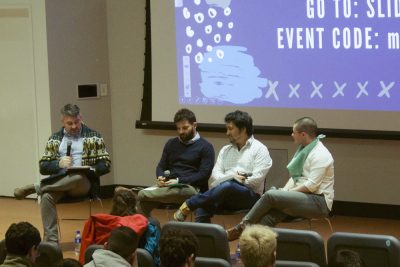 As part of Boston University's Sexual Assault Awareness Week, the BU Sexual Assault Response and Prevention Center and at least six other BU organizations co-sponsored the screening of a documentary and a panel focused on masculinity and the #MeToo movement Tuesday night.
Before the screening of episode three of PBS's "#MeToo, Now What?" docuseries, attendees mingled in the Alumni Auditorium lobby in the School of Law and were able to speak with organizers or submit questions for the panel.
One wall in the lobby had posters that read, "Imagine A World Without Sexual Violence" and "What's Different?" Surrounding the posters were brightly colored sticky notes written by organizers and attendees, some of which read, "I wouldn't have nightmares," "Women would be confident in their own skin," and "Happier, healthier, safer, students."
Moderated by SARP Crisis Intervention Counselor Nathan Brewer, the nearly hour-long panel included commentary from sociology professor Max Greenberg, English professor Takeo Rivera and SARP peer educator LB Moore.
Before the event, Greenberg, who co-authored a book about men's engagement with anti-violence and feminism, told The Daily Free Press he hoped the panel would start a conversation for attendees who might not have already been talking about issues related to sexual harassment, masculinity or the #MeToo movement.
"I think it can be tricky for folks to know where they stand," Greenberg said, "and I think it's helpful for us to be in dialogue and conversation, to talk to each other, to hear each other out and to try to work through some of these things together."
The panel discussed various topics, one of which was the intersectionality of oppression in modern society.
"The image that we are fed of sexual assault in this country is a cisgender, straight, white woman," Moore said. "As a person experiences multiple identities that are also marginalized and oppressed, the likelihood of experiencing violence — sexual and others — increases."
Moore said that women of color, for example, are more likely to experience violence than white women.
Masculinity, Greek life and the responsibility to socialize men to avoid violence were among the other topics discussed throughout the night.
Rivera, who worked as a rape crisis counselor before working in academia, said that even men who have never been involved in sexual assault have an obligation to change the society around them.
"You shouldn't be like, 'Oh, well that sucks, but I'm nothing like that guy,'" Rivera said. "Any time that we're engaging in normative masculinity, we're a stockholder in that corporation … We should be ashamed of ourselves any time any man is acting like that."
Several attendees said they decided to go to the panel because they saw community involvement as integral to promoting cultural change.
Matthew Cron, a junior in the Questrom School of Business and president of BU's Lambda Chi Alpha chapter, which co-sponsored the event, said he has gone to other sexual assault-related events in the past. He said attending panels and discussions about those topics is essential to promoting societal change.
"You're not going to be able to change society in one day. You're going to have to start small," Cron said. "I think starting at BU is a great way to at least impact the local community and everyone's safety at a local level."
Megan Birgy, a senior in the College of Arts and Sciences, said she believes education is an important element in male involvement with feminism and the #MeToo movement.
"I think [education] is essential for real progress to be made for men to take a step in — for everybody to take a step in," Birgy said. "They are a part of this whole society that's shaping what it means to be a woman and shaping what it means to be a man."
Birgy, an executive board member for BU's Center for Gender, Sexuality and Activism, added that panels are unique opportunities to expose people to others' perceptions of the world.
Rafael Senices, a 23-year-old student at Boston College, said it is important to start dialogues about issues that are not often talked about openly.
Senices, a member of Phi Iota Alpha, another co-sponsor, said he thinks it is especially important to remove certain aspects of hypermasculinity that can make college life and relationships toxic.
"If you really want to make yourself a better person, at the end of the day, you have to hold yourself accountable for these things," Senices said.