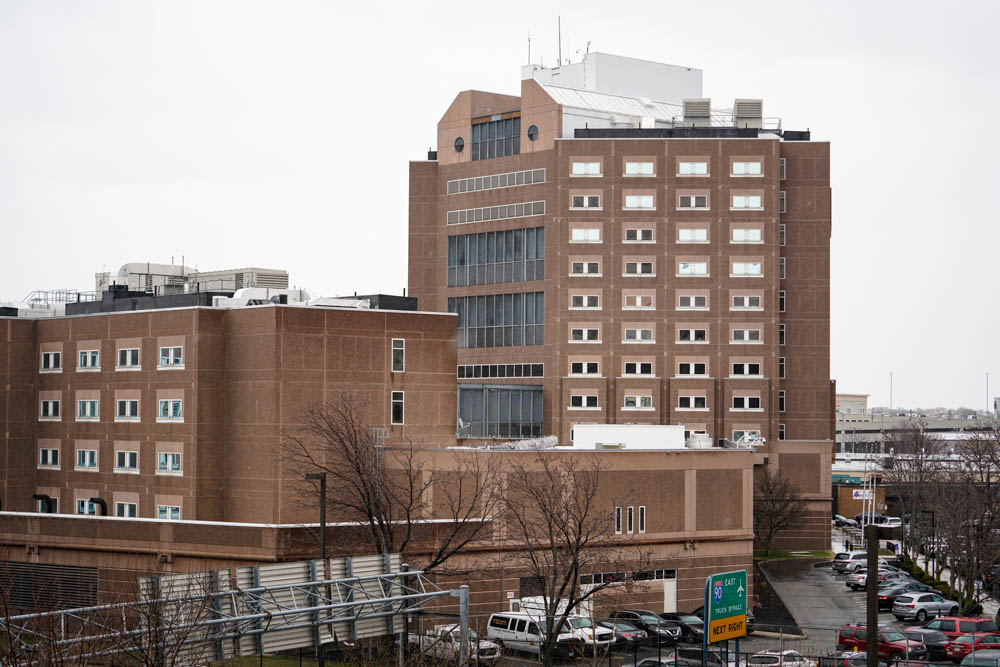 As state legislators consider a sweeping criminal justice bill, Boston city councilors too are considering the needs of inmates and providers who work with them.
The Suffolk County Sheriff's Department hosted a special city council meeting Tuesday evening to foster transparency between city councilors, the South Bay House of Correction officers, inmates and external providers, Suffolk County Sheriff Steven Tompkins said prior to the meeting.
Andrea Campbell, city council president and vice chair of the Committee on Public Safety and Criminal Justice, said the meeting held at the jail was the beginning of an ongoing conversation to address widespread issues related to incarceration.
Monet Park, 27, a first-time offender who has spent the last 18 months in the Suffolk County House of Correction, said she has valued the in-jail domestic violence and relapse prevention programs. However, there is currently no pre-release program, which she said would increase female offenders' employability.
"There are several factors working against me when I look for a job out of jail," Park said. "I am a convicted felon, I am a minority and I am not from Massachusetts … I think it would make the transition easier if there was a pre-release program for women."
Kemarah Sika, director of strategic initiatives and health programs at YW Boston, said the previously incarcerated women she works with during her empowerment seminars consider themselves forgotten.
"The system failed them before they even entered the system," Sika said.
Often, Sika said, her work bolstering ex-convicts' self-esteem is viewed as unnecessary to promoting rehabilitation. However, she said, funding self-empowerment programs is important for helping previously incarcerated women achieve their goals.
Michael Leate, another current inmate, said he's been in and out of jail at least 15 times since 1997. He said ending up in prison feels inevitable.
"Every time I get out, I want to do better, but it gets frustrating," Leate said.
If he had secure access to employment and housing, Leate said, he would feel more encouraged to break out of the cycle of incarceration.
However, there isn't enough state funding for community-based re-entry programs for incarcerated populations, said John Larivee, Community Resources for Justice president and CEO. Due to a lack of funding, he said, the organization had to shut down one of its re-entry houses, McGrath House, on Monday.
"We can't reduce recidivism without community-based re-entry programs," Larivee said.
Aimee Coolidge, director of community and government relations at Pine Street Inn, said she is discouraged by the increasing number of people who are seeking emergency shelter immediately after being released from prison. She said she doesn't want the shelter to be considered a resource for re-entry because there are few options for advancement from a shelter.
"Our two objectives are to house the chronically homeless, who have been without a home for more than a year, and the second thing is to triage and divert people away from shelter," Coolidge said. "Anything is better than shelter. If you come to a shelter, you are desperate — you have no housing [and] no job."
Prior to the meeting, Tompkins said the incarceration-associated costs to the individual, society and correctional facilities beg the question of whether low-level, non-violent offenders should actually be in jail.
While the state criminal justice reform bill would provide a pathway for low-level, non-violent offenders to be diverted to treatment facilities, there are currently not enough facilities to accommodate diverted offenders, said Jared Owen, communications coordinator at the Massachusetts Organization for Addiction Recovery.
"We need to get rid of this 'not in my backyard' rhetoric," Owen said. "Programs need to be more geographically distributed."