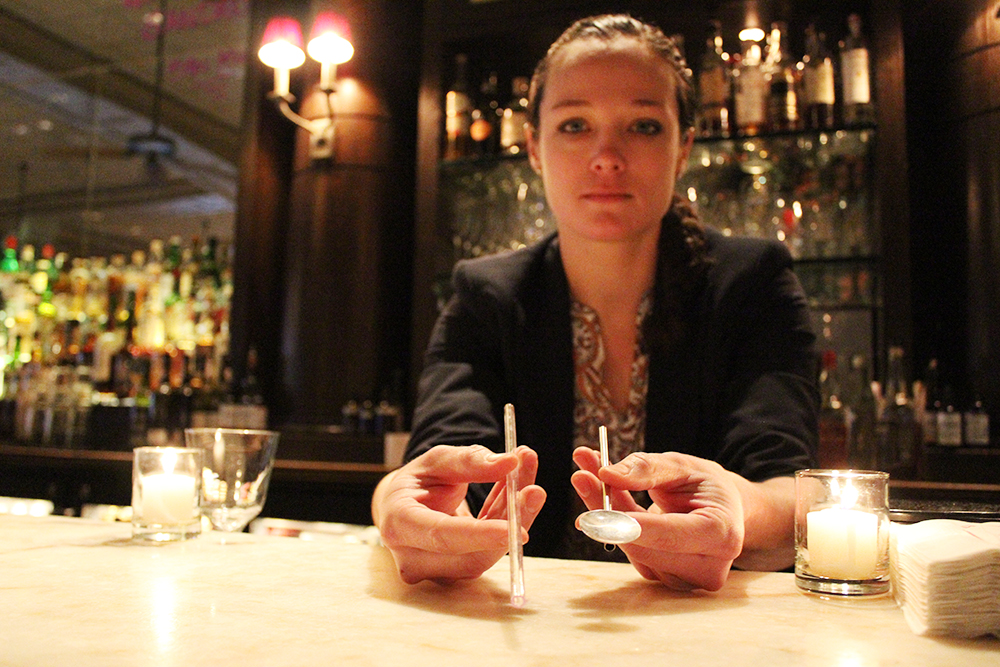 Goodbye plastic, single-use straws, hello reusable alternatives.
Eastern Standard Kitchen and Drinks, located in Kenmore Square, decided to switch to reusable plastic and metal straws after its management team found the restaurant wasted around 60,000 plastic straws annually, said Diego Alejandro Peña-Herrera, the bar manager at Eastern Standard.
The reusable straw initiative is the first of several sustainable efforts Eastern Standard and its sister restaurants have implemented, Peña-Herrera said. In recent years, Eastern Standard began composting its waste, and its sister establishments, The Hawthorne and Les Sablons, have been using reusable straws.
The implementation of reusable alternatives to plastic straws is expected to limit the amount of waste produced by the restaurant while keeping costs the same, Peña-Herrera said.
"I think that in the long run, we're probably going to break even," he said. "The biggest thing for us was to make sure that we are being a sustainable company and that we're not producing as much waste."
Andy Bean, the campaign coordinator at the Boston Climate Action Network, said eliminating plastic straws is a starting point in dismantling the culture of using disposable, plastic, unsustainable goods.
"People don't realize how few of those straws end up where you would want them," Bean said. "Plastic straws get thrown away after just one use, and they end up in landfills or out in the ocean as litter somewhere, and so they have an impact on the wildlife."
Not only is it more sustainable to use reusable straws, Bean said, but the restaurant industry can benefit from investing in reusable straws because customers respect sustainable practices.
"[Businesses should] know that customers aren't going to leave your business because they didn't get a straw with their water," Bean said. "People do appreciate restaurants being more conscientious. It's a selling point."
Straws are also oftentimes unnecessary, said Bella Tanaka, a sophomore at Boston University who works as a hostess at Eastern Standard.
"Especially if you're sitting down and you're drinking a glass of water, there's really no need for a straw," Tanaka said. "It's just kind of second nature to grab a straw, and all the plastic is piling up, so it would be great to start creating a culture [of] thinking about 'do I need a straw?' rather than just grab one because you probably will use it."
Kevin Mitchell, 31, a Somerville resident and recent patron of Eastern Standard, said the reusable straw initiative would be an effective way to change the culture of wasteful behavior in America.
"We live in a throw-away society," Mitchell said. "I'm open to whatever is sustainable and cost-effective … I'm all about eliminating waste."
The biggest concern patrons have about the reusable straws, Peña-Herrera said, is hygiene. To ensure the restaurant's straws comply with its health and sanitation standards, he said, the bar management team extensively cleans the reusable straws by soaking them in a sanitation solution and then washing them twice in a dishwasher.
"If they use the straw today, that straw probably won't see another use until maybe the third or fourth day," Peña-Herrera said.
Restaurants that can't afford to invest in reusable straws could follow Eastern Standard's lead by using paper straws, said Michael Keenan, an Eastern Standard customer and general restaurant manager at Article 24.
"I have seen paper straws before, and I think that's probably, as far as an establishment that is not as high-end as Eastern Standard, that's probably a better route to go," Keenan said. "You're still dealing with the single-use issue, but in regards to contaminating the environment with the way [plastic] straws are thrown away, I think that paper straws are probably better."
For meaningful change, Peña-Herrera said, Eastern Standard's move to reusable straws needs to be the beginning of a widespread movement toward sustainability among larger corporations in particular.
"The biggest polluters out there are going to be your big corporate entities like McDonald's, Dunkin Donuts, Burger King and all of these fast food joints," Peña-Herrera said. "I hope that we are a catalyst for other restaurants that are opening to consider these options."