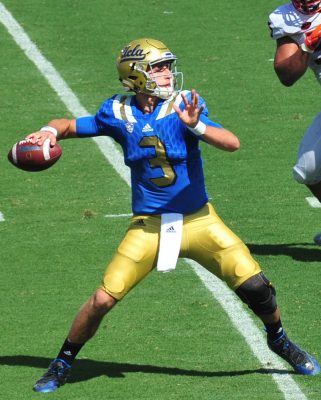 It doesn't take a detective to figure out that the National Football League is one of the least progressive leagues in sports. The NFL is the sports leader in the United States, and it acts in a controlled and traditional way.
"Traditional" is a word I have always loved. To some people, it means following a tradition or long-standing practice. But whenever my ears hear "traditional," my mind hears "old" and that is precisely what the NFL is: an old-school league, with old-school coaches and mostly an old-school fan base.
We have seen recent glimmers of youthful innovation though. Kyle Shanahan and Sean McVay are two smart, innovative and young head coaches. Every year, more players, coaches and fans are recognizing the legitimacy of the analytics revolution that the baseball world adopted years ago. But we also still have plenty of old-school influence in the league.
Oakland Raiders head coach Jon Gruden cut punter Marquette King, despite being an All-Pro level punter, because of "personality issues." Gruden even said he is "trying to throw the game back to 1998 … I'm not going to rely on all the modern technology" in his introductory press conference.
So the "traditional" mindset is still alive and, apparently, well enough to get you a $100 million contract.
As the 2018 NFL Draft nears, there is one storyline that continues to show that the NFL is the stubborn old guy in the room who wants to do everything the "old-school way." That story's protagonist is Josh Rosen.
Rosen has been a highly-touted quarterback for his entire life. He attended California football powerhouse St. John Bosco High School before being named the University of California, Los Angeles' starting quarterback as a true freshman. While Rosen's UCLA teams never had the amount of success they had hoped for, Rosen's draft stock started high even in his first year.
The evaluation was all but set, and Rosen would likely be the number one pick when he decided to declare. So when he declared for the 2018 NFL Draft in January, many, including me, believed he was the clear-cut first-overall pick.
However, questions about Rosen began to arise — questions not about his play on the field, but his actions off the field. He has frequently spoken out on social issues, and reports about his relationships with coaches came out saying that sometimes he didn't see eye to eye with them.
Others question his commitment to the game, especially after his college head coach Jim Mora recently said, "He needs to be challenged intellectually, so he doesn't get bored. He's a millennial."
Mora even said that he would take former University of Southern California quarterback Sam Darnold over Rosen because he is "blue-collar [and] gritty."
Though they are both Southern Californian guys, Darnold is viewed as the prototypical, old-school gunslinger — a Brett Favre type — while Rosen is seen more as an entitled, rich, SoCal kid who is too focused on his side hustles to succeed at football.
But Rosen hasn't been evaluated adequately, because teams and the media are too frightened by these reports and questions surrounding his personality.
Rosen is the most NFL-ready quarterback and the most polished passer in the draft this season. He may not have the "sky's the limit" upside of Darnold or Josh Allen, but he certainly has a higher floor than any of the quarterbacks entering the league. He easily has the best footwork and mechanics of any prospect. While his stats don't jump off the page, we have to remember that he battled injuries and played with below average talent throughout his college career.
A big point of contention where Rosen clashes with football culture is focused on one word: why.
Mora said, "He wants to know why." And continued saying that, "Millennials, once they know why, they're good."
Asking why to understand the reasoning and philosophy behind the game plan, concepts and plays isn't actually a bad thing. But for football traditionalist, that "why" undermines the traditional coach-player relationship, where the coach tells the player what to do and that is that. No questions. No feedback. No why.
But, I guess now we believe that millennials are the only people who have ever asked the question why, and since the other quarterbacks in the draft — Darnold, Allen, Baker Mayfield and Lamar Jackson don't have this negative trait in their personality, they aren't labeled entitled millennials like Rosen is.
In fact, wouldn't you rather have a quarterback who wants to learn more about the game, and understand all the ins and outs of your scheme? I'm sure Aaron Rodgers and Tom Brady have asked, and probably still are asking, why.
I'm not saying that Rosen is going to be Rodgers or Brady, but Rosen's draft stock continues to fall while many teams are in dire need of a franchise quarterback. The league is in dire need of more people like Rosen — not players but people.
We know he isn't afraid to speak his mind regarding social issues, so if he can establish himself as a starter in the league, he could speak out in a way that would put much-needed pressure on the league and commissioner Roger Goodell for progress.
I personally love Rosen as a prospect. He is my number one quarterback in the draft — not only because of his on the field play, but because of his intellect and personality. His carries himself on and off the field with a cool, calm and collected persona that can truly only be compared to Rodgers, which says a lot.
As the draft nears, Rosen and his agent are out to combat this narrative by sitting down with Rich Eisen to put these questions to rest and working out with Rodgers on the latest episode of "Destination Dallas" on NFL.com.
But it is unlikely that this late public relations run will change the perception of him around the league because the NFL is still the stubborn old-guy in the room and he doesn't want to deal with the only millennial in the draft, Josh Rosen.