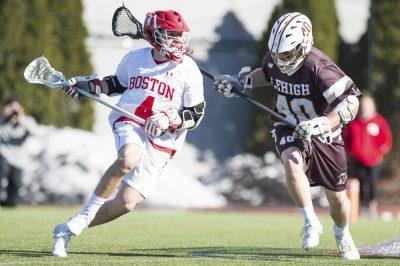 The Boston University men's lacrosse team is seeking its second conference win Saturday afternoon against the United States Military Academy at Nickerson Field.
This will be the Terriers' (5-6, 1-4 Patriot League) last home game this season and Senior Day, after which they will play in two back-to-back conference road games.
"It's crazy," senior attack Jack Wilson said. "It's gone by very fast, but this is an important week for the seniors and for everybody on the team so we're going to go in and give it our best go, and hopefully we'll end up on the right side of the scoreboard."
Following the program's first Patriot League tournament berth last year, the BU lacrosse program sought to sustain such momentum with a strong showing this season. However, the team's current 1-4 conference record narrates a different story.
The Terriers have struggled in conference play and their performance in games has been inconsistent. They have had sporadic stretches of close wins and even closer losses, with a few big losses, too.
However, BU's performances, especially in its close 7-6 loss to No. 17 Lehigh University Saturday, have shown the high level of compete the Terriers can bring.
"I'm disappointed that we lost the game [against Lehigh]," BU head coach Ryan Polley said. "I felt good about our compete level. We executed on situations well during the game. We played well and I thought we improved."
The Terriers have demonstrated a renewed sense of resilience and their previous matchup against Lehigh (8-3, 5-1 Patriot League) displayed just that quality.
Down by two goals at the half, BU commenced an offensive onslaught with four unanswered goals in the third quarter from Wilson, attacks junior James Burr and freshman Chris Gray and sophomore midfielder John MacLean. These four are the top four leaders on the team in terms of points.
The Terriers' one-goal loss was the product of two stretches of offensive persistence through a tough Mountain Hawks defense.
Although one of them was unfruitful, the determination and urgency of the effort appeared promising to Polley.
"The offense played well a lot," Polley said. "We got some decent looks [in the fourth], but just weren't able to convert."
Yet, such inefficacy during late stretches has shed light on the Terriers' inability to perform in high-pressure situations and play a full 60 minutes.
"We've put halves together and we've put quarters together, but it's time to play a full 60 minutes," Wilson said. "That's what we've been focusing on this week is taking it one possession at a time and just making we can last for that entire game and into the overtime if need be."
Both of BU's last losses against Lehigh and Harvard University have been decided by one goal. Furthermore, both games had high stakes moments that the team failed to capitalize on.
"When the pressure increases we lose our ability to play well," Polley said. "We are going to create drills include that pressure situation. We are going to simulate that scenario in practice."
With only three conference games remaining, time is limited for the Terriers.
If BU beats Army (5-4, 2-3 Patriot League) this weekend and its following two opponents, it can at best break even in league play.
That record could be enough to propel them into the Patriot League tournament as a lower seeded team.
"Our goal is always to win the Patriot League," Polley said. "It is very important for us to win [this weekend]."
The Black Knights have also struggled in the conference and are in the midst of a two-game losing streak after falling 10-7 to No. 18 Bucknell University last weekend.
Army was able to get within one goal at the beginning of the fourth quarter, but a three-goal run by Bucknell (8-3, 5-1 Patriot League) sealed the contest.
Senior midfielder David Symmes put up two goals against the Bison and is one of three Black Knights who have 20 or more points.
Junior attack Nate Jones leads the team with 25 points and 17 goals this season.
A large challenge for the Terriers' offense will be getting through junior goalkeeper AJ Barretto who posts the lowest goals against average in the league at 6.92 and has a .547 goal save percentage over nine games.
While the team faces a "do-or-die" situation against Army, Polley noted that key player injuries have affected the team's performance.
"Some of the story has been that we have lost players who were known for doing well," Polley said. "We had a really good second line early on, but a lot of them got hurt. That hurt us from a depth standpoint. Our offense is good, but they get tired. We need to figure out a way to strengthen our second line."
While there is sufficient time to right the ship, the season is winding down, something Polley and the rest of his team remain strongly aware of.
"We have no room to lose," Polley said. "For us, this game is our season."
Matthew Martin contributed to the reporting of this article.