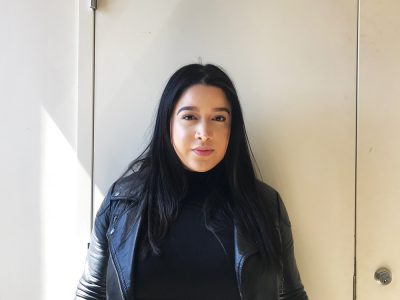 Emily Nuñez, a senior in the Questrom School of Business, is asking that Boston University reevaluate Kathleen Hynes' position as the director of Student Accounting Services and that Hynes be placed on leave while that reevaluation takes place.
In an April 2 Facebook post, Nuñez recounted her unsuccessful attempts to obtain an official copy of her transcript to include in her application to Teach for America. She wrote that Hynes told her that if she was not able to pay her tuition balance she should not be at BU. The public post received over 400 reactions and over 150 shares within three days.
In an emailed statement, BU spokesman Colin Riley said the university has reached out to
Nuñez to make sure she has the transcript and support needed to continue her application process.
"In looking into this, it is clear that the university was not as flexible or sensitive as we should have been with [Nuñez]," he wrote.
Nuñez told The Daily Free Press she spoke to Hynes after speaking to two other people at Student Accounting Services who were unable to help her.
When she spoke to Hynes, Nuñez said, her request for her transcript was immediately denied and she was told that if she could not pay, she should not attend Boston University and perhaps ought to consider public education.
"That's really where I blew up," Nuñez said. "I couldn't believe that someone in her position had just told me I should not be at Boston University because I hadn't paid my balance. Like [as] if my hard work — all of the effort I'd put in to get good grades — didn't matter at that moment."
Nuñez said she was so frustrated and upset that she began crying and screaming at Hynes, who she said did not respond.
"I said, 'How dare you? How insensitive of you to say that to me,'" Nuñez said. "I have every right to be here just as any student who has paid their full tuition. I said, 'You can't base this off my inability to pay because I have every right to be here and I've worked hard to be here.'"
Hynes could not be reached after multiple requests for comment.
Nuñez is a first-generation college student and the daughter of immigrants. She said BU had been her dream school since her sophomore year of high school and that her interaction with Hynes "shattered" her belief that attending BU was her best academic decision.
"For her to tell me that I shouldn't be at BU, it's not fair," Nuñez said. "My whole family has worked so hard to put me through BU. She doesn't know my story, she doesn't know me."
Explaining policies to students in distress can be a difficult task for university employees, Riley said, but they do their best to help students manage whatever struggles they face.
"[Student Accounting Services] employees work really hard to be as helpful as possible in explaining the university's policies," Riley said, "and I know how that can be troubling to people, particularly students dealing with stress from classes or from their personal financial situations."
Marissa Ostrovitz, 22, graduated from the College of Arts and Sciences last year and is a current graduate student at the University of Haifa in Israel. She commented on Nuñez's post saying that the same thing had happened to her.
Ostrovitz told The Daily Free Press that when she was admitted to BU as a transfer student, she knew she would struggle to pay for her education because she alone would be responsible for paying her tuition. But, she said, she thought a BU education would be a way for her to break out of the poverty cycle.
While most employers accepted unofficial transcripts if official ones were not available, Ostrovitz said, it is embarrassing for students to begin an application process by explaining that their financial struggles were so great that they could not get a copy of their official transcript.
"We're doing the best that we can," she said. "Most days we're proud of ourselves, but there are some days it seems like we're on the hamster wheel."
Ostrovitz said she doesn't know how much BU can do to help students in a similar situation aside from removing the financial hold on transcripts, but that it would be nice if there were more acknowledgement of the lengths some students go through in order to attend BU.
Marc Prophet, a sophomore in CAS, said he is not personally familiar with the financial hold policy, but that it was "not cool."
"You worked for these grades and you should have access to those grades no matter financial holdings or other stances," he said.