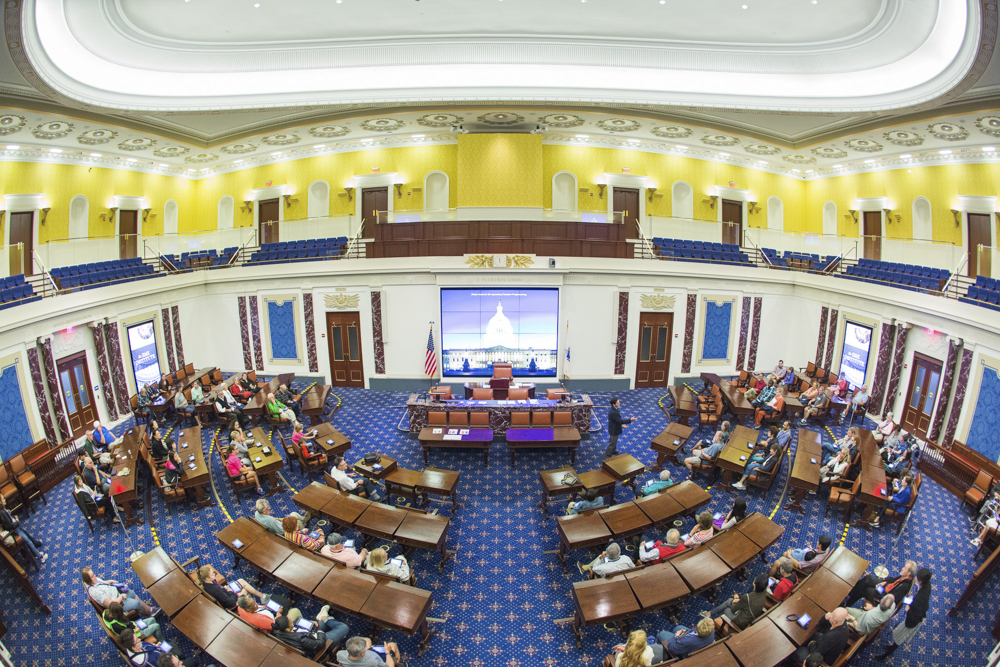 The Edward M. Kennedy Institute for the U.S. Senate is offering visitors the chance to participate in a mock legislative session regarding the Assault Weapons Ban of 2017 during April and May.
The faux legislative hearing, part of a continual program hosted by the Kennedy Institute called "Today's Vote," allows visitors to take on the role of a senator to examine a bill currently before the U.S. Senate, according to a press release from the Institute. Previous bills that have come across the Kennedy Institute include the Paycheck Fairness Act, which strives to implement equal pay across the United States, and the regulation of advertising on social media platforms.
Natalie Boyle, director of communications for the Kennedy Institute, said the Today's Vote program has a goal of informing and training visitors to discuss vital democratic matters.
"The Institute is really dedicated to inspiring more people to participate in our democracy," Boyle said. "This particular program will really allow people to learn about the critical legislation being debat[ed] in communities across our nation right now.  Hopefully we'll be better prepared to raise our voices on important issues."
Opening up the gun debate now is appropriate given the violent tragedies involving firearms that have rocked the country over the past few months, Boyle said. One particular point of inspiration to talk about this legislation was the recent March for Our Lives, she said.
"From the Institute's perspective, we really want to give visitors of all ages the opportunity to absorb the issues underlying this complex legislation, and a lot of other pieces of other complex legislation as well," Boyle said.
The event is housed in a room at the Kennedy Institute that appears as a replica of the U.S. Senate Chamber and a different bill is passed through the mock chamber every two months, she said.
If they choose to participate, visitors will learn about the proposed piece of legislation, debate it and then vote on if it should be passed or not using digital tablets. For this particular bill, attendees will discuss prohibiting military-style assault weapons from being manufactured and sold to the American public.
The Assault Weapons Ban of 2017 proposed banning the sale, transfer, manufacture and trade of military-style assault weapons and high-capacity ammunition magazines. The bill has several exceptions, including antiques and firearms manually operated by bolt, pump, lever or slide action and that individuals who have previously purchased an assault weapon or magazine are permitted to grandfather them in and keep them.  
Assault rifles was used in the Aurora movie theater shooting and the shooting at Sandy Hook Elementary School both in 2012, the 2016 shooting at Pulse Nightclub in Orlando and the mass shooting at a concert in Las Vegas that killed 58 people in October.
Mary Ellen Mastrorilli, associate chair of applied social sciences at Boston University, said allowing participants to debate this bill in a respectful manner will enhance discourse over the legislation.
"When we talk about these divergent views, no one seems to listen," Mastrorilli said. "One camp is speaking their opinion and the other camp is speaking theirs and no one is willing to listen to each other carefully, so I think those kinds of things can really help promote the discourse in helpful, civil ways."
Assault weapons are military-grade firearms that have no place in society except in battle, Mastrorilli said. These types of weapons go beyond the original language and intentions of the Second Amendment, she said.
"When you think of the languages and the militia back in those days, there were these weapons that were like muskets that had high powered magazines," Mastrorilli said. "To compare the militia of those days to assault weapons nowadays goes far beyond the scope of the Second Amendment …"