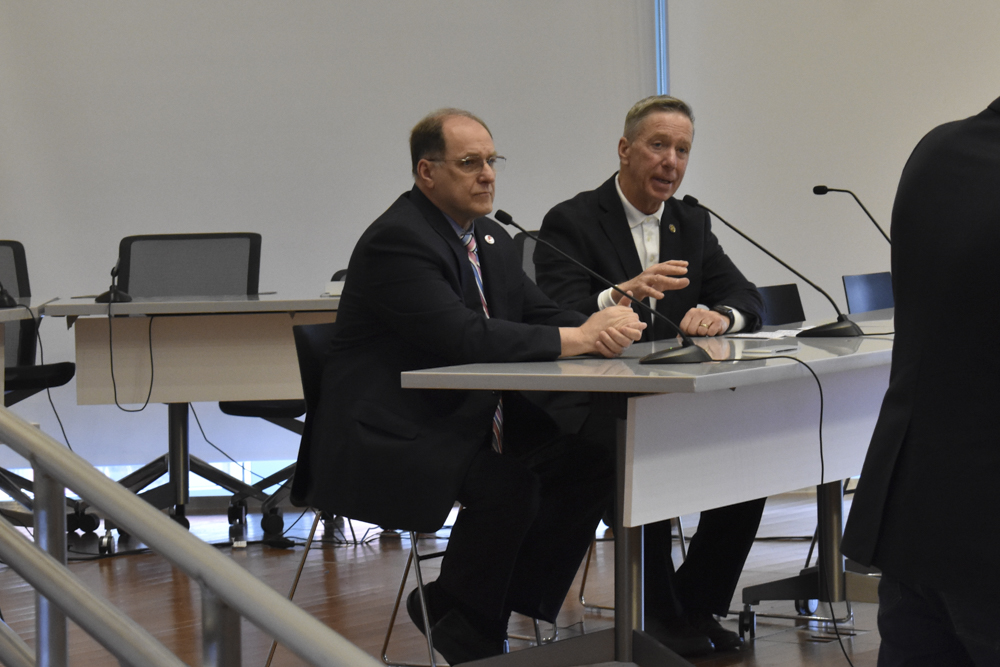 Town Hall for Our Lives was held Saturday afternoon in Roxbury for students and members of the community to question elected officials about their support for the gun reform movement.
Born out of the March for Our Lives movement, Town Hall for Our Lives was meant to continue the conversation following marches across the country by allowing constituents the ability to converse with their elected representatives about what matters to them.
Jimmy Dahman, founder of the Town Hall Project, who partnered with the organizers of March for Our Lives to hold these meetings across the country, told The Daily Free Press he first started the project last year to inform friends and family members of meetings in their neighborhood. These meetings encourage conversations and can hold elected officials accountable on various issues, he said.
Rep. Michael Capuano, who spoke first to the crowd of over 100 people, thanked the audience for keeping the gun control issue alive.
"I have been saying this for a while now and I want to be clear in this room — I have no idea if we are actually going to be able to succeed in this effort, but I know one thing: The NRA is counting on you on giving up," Capuano said. "Don't let that happen. Don't let them win again."
The marches bring a level of victory on what the elected officials have been working on, Rep. Stephen Lynch said, but he said the "NRA is back on their heels."
Solomon Steen, 30, of Cambridge, said he was interested in seeing how different legislators approach this issue.
"Part of the reason that these events are important or can be important is when they are put in the context of a broader movement of bringing together the communities, we can understand and politicize the structural issues we are facing and start to articulate these specific solutions," Steen said in an interview.
Attendees brought up the question of victim and survivor care, handgun violence, domestic violence and police licensing.
Congressional candidate Monica Cannon-Grant, a Roxbury community member and a mother of five children, spoke at the meeting, asking where the guns are coming from.
"We are able to track meat back to the warehouse, we are able to tell you how many groceries stores received it, we are able to tell you how many people will be affected, but we can't tell you where the guns are coming from," she said.
Capuano said he agreed with everything Cannon-Grant said and believes it is an issue that should be looked at on a federal level.
District 7 City Councilor Kim Janey spoke briefly about her personal relationship with Roxbury and how she believes it is important that this conversation be inclusive of street life and not just schools.
"Young people who are out here, many of them who possess weapons, are not necessarily active in a gang," Janey said. "People are scared and they are hurt. There are young people in our schools today in Boston who carry weapons because they are scared because getting to and from school is a danger."
Sen. William Brownsberger, another legislator featured at the meeting, told The Daily Free Press that he is hopeful about the future of Massachusetts gun reform.
"I think we in Massachusetts are on a continuing path of improvement in trying to do a better job in protecting the public from gun violence, so this may help us further in one direction or another," Brownsberger said.
Kristine Acevedo, 46, of Dorchester, said in an interview she was interested to see how the criminal justice reform package will play out if it is put into law by Gov. Charlie Baker.
"We got most of the demands that we asked as a community and I know there are a lot of coalitions that were part of that," Acevedo said. "My question, I guess, to them is, if the governor signs it, how does that get put into practice?"
Town hall organizer and moderator, Jack Torres, 15, told The Daily Free Press that his goal for this meeting was to make sure there was a productive conversation between the legislators and elected officials and constituents.
Torres said he believes there can be a change this time around since the movement is being centered around young people.
"We have been registering and pre-registering a lot of young people at the various walkouts, at the marches, the different lobby days — that has been a central focal point," Torres said. "So, I think that they know that they're being watched closely and I think that young people being at the forefront of this movement is definitely an important aspect."
Amy Slemmer, 54, of Hull, also a staff member at St. Stephen's Youth Programs, said she thought the fact that the youth are now taking a lead is important.
"It surprised me that folks in Massachusetts who are marvelously progressive and have been at the forefront of creating safe gun laws have not spoken to New Hampshire, Vermont and Maine and I'd like them to hurry up with those conversations," Whitcomb Slemmer said in an interview. "Those seem vitally important."