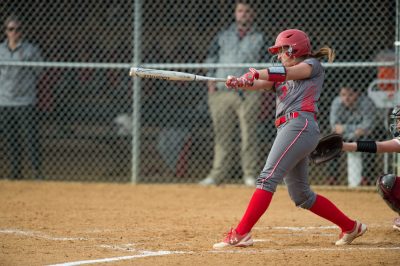 Patriot League play has been kind to the Boston University softball team so far this season, with the Terriers (20-17, 4-2 Patriot League) taking two out of three games from both the United States Military Academy and Lehigh University to begin conference play.
Before the team competes with Turnpike Trophy rival the College of the Holy Cross this weekend, BU will have time off from Patriot League competition with a doubleheader against Central Connecticut State University Wednesday afternoon at the BU Softball Field.
"Every game we play, we play to win, but for us going out there tomorrow, it's as much of a game as it is practice," BU head coach Ashley Waters said. "We can improve and get ourselves to a better spot going into the weekend against Holy Cross."
The Terriers have already beaten the Blue Devils (14-20) once this season. BU emerged victorious when two teams met in the Nor'easter Invitational in New Britain, Connecticut on March 25.
Senior outfielder Emma Wong got the Terriers on the board early in the first inning with an RBI single and the team kept the momentum from there.
Junior infielder and outfielder Jilee Schanda knocked in junior infielder Madi Killebrew to round out the first inning, and senior infielder Brittany Younan struck an RBI triple in the second inning.
In the third inning, BU broke the game open as Wong singled and stole second to put a runner in scoring position with one out.
Schanda proceeded to knock in her second run of the game with a double before junior catcher and infielder Alexa Ponce increased the lead to 5-0 with an RBI double in the ensuing at-bat.
Freshman pitcher Ali Dubois was lights out throughout the game, silencing Central Connecticut State to the tune of just two runs on five hits in a complete game. Dubois fanned eight in the performance, a type of showing that has become commonplace as of late for the Terriers' pitching staff.
In a Sunday sweep of Lehigh (11-19, 6-3 Patriot League) in this weekend's series, BU allowed just one run in 14 innings of softball.
Dubois put up a strong performance in her team's 5-0 win in the first game of the doubleheader, allowing four base runners in seven innings of five-strikeout ball.
In the middle innings, Dubois put down 12 consecutive batters until Lehigh was able to get runners on base in the seventh.
The second game proved similar to the cold Mountain Hawks bats.
Lehigh registered one run off of the freshmen tandem of Cali Dolfi and Dubois. Dubois finished the contest, allowing two hits over four innings of work to up her record to 14-6.
"Everyone had opportunities to throw preseason and and they've been consistent and given us really great starts and really great finishes," Waters said of Dolfi and Dubois. "They offset each other really well."
The Terriers, who became the first Patriot League team to reach 20 wins with the sweep, will look to quell the Blue Devils' bats in a similar fashion come Wednesday.
Waters noted that sophomore pitchers Kali Magane and Lizzie Annerino will likely play during the upcoming matchup.
"My plan [Wednesday] is to get Kali and Lizzie some more work and kind of get them back into the mix and hope that we can have that full staff again," Water said. "People are on at different times and off at different times so all four pitchers have been in the mix at some point. We've been fortunate that the two freshmen have really been consistent."
Central Connecticut State heads to Boston on a run of its own, having won three of its last five games.
The Blue Devils swept LIU Brooklyn Sunday afternoon, winning two games 9-0 and 14-5, respectively.
Senior infielder Brittany Camara was a firecracker in both wins. In the first game, she fared 3-of-4 at the plate while scoring once and driving in a pair of runs.
Camara drove two runners in with a double in the fourth inning before hacking a three-run homer in the sixth inning to force the umpires to end the game.
The infielder kept the ball rolling in game two, going 3-for-5 with six RBIs and three runs.
"I want everybody — 1 through 17 — to be in a great spot and when you're in a situation on the weekend where you can't lose, it's more difficult to give chances and get people back into the grind and feeling good," Waters said. "We definitely utilize these games to try and get everybody a shot."
Josh Rothstein contributed to the reporting of this article.