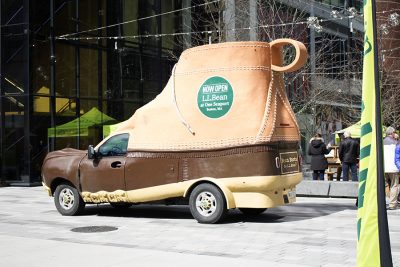 There's a new bean in Beantown.
Friday morning marked the grand opening of L.L Bean's first store in Boston. The Maine-based outdoor clothing and recreation company celebrated the launch with gift card giveaways and visits from Boston Red Sox legends Jim Rice, Luis Tiant and Dennis Eckersley.
The celebrations continued into the weekend with an extravagant party filled with live music, food and games for the public.
"We are doing a full-on block party," said Kim Devanney, district manager at L.L. Bean. "We are doing yoga. We are doing events for the dogs. The Bootmobile is here. We'll have boot toss, all types of games, food, fun. Big ol' fashion block party next door."
Boston, Devanney said, was the ideal city for L.L. Bean's first small urban storefront.
"Boston was a natural choice for us. We have a long rich history with Boston, with the people of Boston." Devanney said. "[We have] other stores in the Massachusetts market as well, but we didn't have any down right here in Boston, so this is perfect for us."
Located at One Seaport, the 8,600-square-foot store features iconic L.L. Bean merchandise alongside newer attractions like their "Lace Bar," where customers can pick one of a variety of possible shoelace colors and then watch as it is constructed for their shoe.
Outdoor equipment is also available at the new location, although the emphasis is on equipment that could be stored in the average Bostonian's apartment, said Warren Mohn, outdoor program and outreach coordinator at L.L. Bean.
"I haven't sold any kayaks yet … but no one is gonna buy a kayak here when it's snowing sideways. But as we get closer to the summer, I'm sure [we will]," Mohn said. "The paddle board we have here is inflatable because we have a lot of people around here living in apartments, so you can just lug that up and down the stairs."
Mohn, who previously worked with L.L. Bean's Outdoor Discovery Schools for many years, said his new outreach position has a personal connection.
"I grew up in this area," Mohn said. "I grew up fishing on Fort Point Channel. I grew up in Back Bay next to Fenway Park. This whole area is like my old neighborhood."
L.L. Bean's Outdoor Discovery Programs, Mohn said, have been around since the 1970s.
"It can be anything from clinics like map fundamentals [to] doing knots. We also do free outings two to four times a month as well as guest speakers." Mohn said. "[L.L. Bean has] this experiential, educational element as a part of the stores so people can come in and learn something. So, we both sell it and we do it and we teach it."
An estimated 250 to 300 people stood in line before the 9 a.m. opening time, according to Mohn and Devanney. Some showed up as early as 6 a.m.
"We gave away 100 gift cards to the first 100 people in line," Devanney said.
Standing alongside L.L. Bean's sponsored activities were two booths organized by Mass Audubon and Boston Harbor Now.
Standing at Boston Harbor Now's booth, Jane Marks, an intern with the organization and a student at Northeastern University, spoke about L.L. Bean's partnership with the nonprofit.
"We are partners with L.L. Bean a lot of the times and they are great sponsors of us and a lot of our events," Marks said. "We are promoting trying to get the community out to the islands and stating that more people should experience the islands and the waterfront of Boston."
The celebration also drew L.L. Bean fans aplenty. Nearly 7,000 people were "interested" on Facebook, and hundreds attended.
Starting this summer, Mohn said, L.L. Bean will begin offering Bostonians outdoor instructional courses in kayaking and stand-up paddleboarding on Boston's most iconic body of water.
"In June sometime — we're still working out the details — we're gonna have kayaking and stand-up paddleboarding on Boston Harbor," he said.