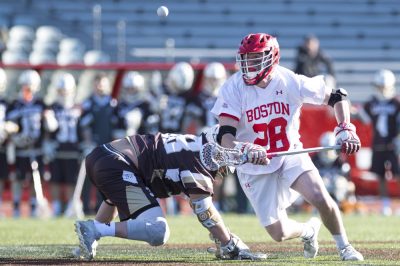 For the Boston University men's lacrosse team, which has shown that its offense can put up 18 goals in an outing, possession remains essential — and a key to attaining the ball is performance at the faceoff X.
While the Terriers (6-6, 2-4 Patriot League) went only 4-for-19 at the X against Bryant University, they were still able to pull out the 8-7 win in overtime.
However, a poor performance on the faceoffs against Colgate University — going 8-for-28 — the following week did not elicit the same result, as BU fell 16-9.
As of late, the Terriers have improved at the dot, largely due to their freshmen midfielders and faceoff specialists Sean Christman and Kevin Snyder.
"I think they're doing a pretty good job," BU head coach Ryan Polley said of the two freshmen. "I think they've been competitive in the last couple games. I think they've been able to make it a 50-50 ball and stay in there."
Against Harvard University, the Terriers went 19-for-40 with Christman winning a career-best 18 draws on 35 chances.
In BU's close 7-6 loss to Lehigh University, Snyder won eight draws against the fourth best faceoff specialist in the Patriot League, sophomore Conor Gaffney.
As a team, the Terriers have a .453 win percentage on the faceoff.
While senior midfielder and faceoff specialist Joe Stucky finished last season with a .508 at the X, he has not taken a draw since March 10 against Colgate (6-5, 2-4 Patriot League).
"Joe's healthy, it's just we decided those guys were going to give us the best shot at winning the faceoff," Polley said.
Defense limiting opponents to less than eight goals
In the Terriers' last three games, they have limited their opponents to less than nine goals.
In that same stretch, BU has gone 2-1, including its first Patriot League win of the season and two one-goal matchups against Lehigh and the United States Military Academy.
The Terriers fell to Lehigh on March 31 after junior attack and midfielder Mickey Fitzpatrick got through their defense and found the back of the net with 39 seconds remaining in regulation.
BU bounced back the following Saturday with an 8-7 win over Army (5-5, 2-4 Patriot League) when senior attack Ryan Hilburn gave his team the lead with 30 seconds left.
Much of this strong defense can be attributed to sophomore defender and long-stick midfielder Chase Levesque and junior defender Quintin Germain rejoining the lineup, as both were out due to undisclosed injuries.
Levesque and Germain missed eight and four games, respectively, and the pair's presence was felt when they both returned against Lehigh.
Levesque matched his career best after collecting six ground balls and had a career-best four caused turnovers against the Mountain Hawks. Over the four games the Ridgefield, Connecticut native has played this season, he has collected 18 ground balls, which is good for sixth on the team.
While Germain has only tallied one caused turnover since his return to the backline, Polley noted both of their roles as experienced players for the team's young defense.
"Just having their experience and communication back there I think has made a difference," Polley said. "They're both great players. I think it's been great to have those guys back."
James Burr continues scoring montage
With every passing game this season, junior attack James Burr continues to find the back of the net against top goalkeepers such as Army's junior AJ Barretto and the United States Naval Academy's sophomore Ryan Kern — who hold the top spots in the Patriot League for goals against average and goal save percentage.
The Hamilton native has yet to be held pointless in a game during the 2018 season, and recently notched four goals and an assist against Army, his fourth four-plus point performance of the year.
Throughout the season, the junior has put up two six-point performances against the United States Air Force Academy and Harvard (7-3, 2-1 Patriot League).
"James is just a really strong scorer," Polley said. "He continues to be one of our top guys."
After putting up 35 and 31 points in his first and second years, respectively, Burr has surpassed that mark with 41 points this season, which is second only to freshman attack Chris Gray's 51.
While BU boasts a highly skilled offensive group, Burr also currently leads the team with 31 goals.
"I think he's just done a great job in developing other parts of his game," Polley said of Burr. "I think he's really worked on his dodging this year and certainly last game, he was just great off ball, which kind of opened up our offense a lot."