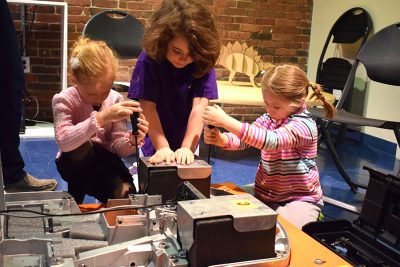 In the brightly painted and bustling rooms of the Boston Children's Museum, kids can act as little engineers in the hands-on activities stationed around the building. For National Robotics Week, they can help Amazon build its bots.
The Amazon Robotics team came to the museum Saturday afternoon, ready to teach young minds not only about Amazon's robots but also get them interested in math and engineering.
Young children equipped with screwdrivers and careful supervision helped put together what would later be used in Amazon shipping facilities to transport packages.
"We're really involved in the STEM programs, and what we're trying to do is reach kids as early as we can and get them into math and science," said Brian Davis, director of global operations and supply chain at Amazon Robotics.
The program started, Davis said, when Amazon opened its doors to give tours of their facilities to families. They realized they needed something for the kids, so they began program to teach them about their Kiva robots, and soon they were sending the bots all over.
Davis was one of the volunteers from Amazon, sitting with the kids and showing them where to put the foam block batteries and how to screw in the circuit boards to make the robots work.
The robots, or "pods," are flat orange platforms whose job is to take packages from the million-square foot fulfillment center and bring them up to the worker stations for shipment. They were first made to prevent workers from having to walk 13 to 15 miles every day.
After the kids build their robots, Amazon volunteers show them a video of the bot put into action, so the kids can see their work come to life, Davis said.
"We want to make it so they're actually building it," Davis said. "So, these kids are actually doing the same type of stuff as they're doing in the factory — we tried to replicate as much as possible."
This hands-on experience fits with the general feeling of the museum, which is filled with slides and workshops and experiments for young children to get involved with STEM, said Melissa Higgins, who helped organize the event.
"We can engage kids in STEM activities that have great corporate volunteers here and kind of bring something that's not here in the museum every day but still aligns with all of the STEAM ideas and programs," Higgins said.
The museum hosted Amazon for National Robotics Week, a weeklong series of events centered around getting students of all ages interested in robotics and general STEM fields.
Higgins said the museum goes out of their way trying to get bigger and more exciting companies to partner with them.
"The fact that Amazon robotics has a very cool and interesting robot set up that little hands can work on, it's a good fit for the kinds of skills we're trying to help kids learn here," she said. "So, it's a good fit on multiple levels, but [really it's the] fact that we're trying to get exciting companies here and also they're helping kids build skills that we want them to learn."
The kids were very excited about the experience, eagerly lined up to get their own robots.
"I want to make it go around and around and around," said David, 6, of Cambridge. "And I know how to build a robot, so I can do that."
Davis said Amazon wanted to bring their program to the museum because they want to get kids more interested in math and science through robotics, as early as possible.
"We're trying to get them to go, 'I know what that is and I've seen it and it's cool,'" Davis said. "And if we do that for six and seven year olds, that's pretty good."