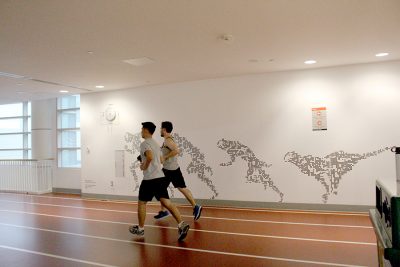 Boston University students of all experience levels have credited much of their success in training for races like the Boston Marathon to the Marathon Training class the university offers for credit.
The class usually meets once a week and includes exercises on indoor and outdoor tracks, as well as discussions on proper running gear and nutrition, participating students said. This semester marks the first in the last nine years that the class is not being held, due to low enrollment.
Rachel Poppe, a senior in the College of Arts and Sciences, said experience levels varied widely among the people who signed up for the class when she took it last semester.
"Some people were a little more casual, some people were actually training for races, some people had already run marathons and were just crazy good," Poppe said.
Poppe said she ran a marathon in December that was "super intense" and "the hardest thing [she'd] ever done," but that the opportunity to connect with other runners in the class helped her prepare.
Hannah Giffune, a junior in the Sargent College of Health and Rehabilitation Sciences, said she used the class last semester to augment her training for the Millinocket Marathon, which she ran last December in Millinocket, Maine. The Millinocket Marathon is a qualifying marathon for the Boston Marathon.
Giffune said that for her, the most helpful thing about the class was that it forced her to push herself in a way that running by herself would not have.
"People make me run faster," Giffune said. "I'm inherently a show off, so if there's other people around, I'll run faster than I will if I'm alone."
Because marathon training usually requires running four or five days a week, Giffune said, the once-a-week class could not encompass all her training. However, she said that having the opportunity to ask questions and receive advice, especially regarding what to wear for her winter marathon, was particularly beneficial.
Poppe, like Giffune, said the most helpful aspect of the class for her was being in a group setting, as it pushed her to keep up with her training.
"It helps keep you on track and keeps you true to your schedule, because then you know if you're not running you'll be falling behind everybody else," Poppe said. "You're like 'Oh man, I've got to stay on it.'"
Poppe said that as someone who was accustomed to running alone, running with a group of people forced her to change her pacing, which she said helped her in her training.
Giffune said that in addition to the physical benefits of the class, it also functioned as a support group, which she found particularly helpful during the long and grueling process of training for a marathon.
"You really get to a point in marathon training where everything's breaking down and it's hard to keep going and you need as much support as you can," Giffune said.
Priya Krishnamoorthy, a current graduate student in the Arts Administration program of the Metropolitan College, said she joined the marathon training class last semester in the hopes of finding a Boston running community and learning more about the process of running.
In India, Krishnamoorthy said, her running coach had taught her to adopt a scientific approach to running, which she said she greatly enjoyed.
"With everything that we did, there was a reason for why we did it, so that helped me build on my skill as a runner," she said. "I really enjoyed the process, because it was also the science of running that … made the process more rewarding for me as a runner."
Krishnamoorthy said she did not find the same attention to science and process in the marathon training class, which she attributed to cultural differences. In India, she said, running was more often done under doctor's orders, while in the United States it seemed to her that physical exercise was a part of people's everyday life.
"[In India] I was a runner with challenges, and therefore there was this whole process of understanding how it works and getting into it and then understanding my body and all of that," Krishnamoorthy said. "Here it was more, 'OK, we all understand our bodies,' and we just start running."
Despite the significant cultural differences, Krishnamoorthy said she did end up learning a lot in the class, although not necessarily about the science of running. She was advised to cross-train with yoga, which she said she found incredibly helpful, as it was similar to the warm-up and cool-down exercises that runners tend to use.
Krishnamoorthy also said she got a lot of good tips about the proper clothing to wear for running in Boston, where the weather is very different from what Krishnamoorthy was used to in India.
Overall, she said, the class was enjoyable and a great learning experience.
"There was a reason to get up in the morning, and you knew today that you would explore a different side of the city," Krishnamoorthy said.