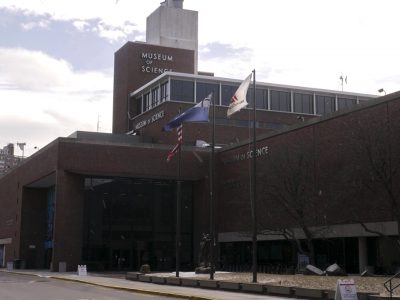 Behind every runner is a reason.
For Rudy Ruggles, it was a quest to support a cause and fulfill a dream that was taken away from him five years ago when he was stricken with appendicitis. His journey began with training for 2013's Boston Marathon.
Ruggles' illness left him unable to compete in the marathon, a seemingly unlucky occurrence that would ultimately shield him from tragedy.
But this year, he's set to run. A volunteer and overseer with Boston's Museum of Science, Ruggles, 52, decided to fundraise for the museum for this year's marathon.
"It really was about raising money for the museum, not just because I wanted to run the Boston Marathon for [a cause]," he said.
Ruggles reached far beyond expectations, raising more than $16,000, making him the team's second-largest fundraiser. In total, the team has raised more than $150,000.
"[The fundraising] is actually for one particular program that the museum focuses on for the marathon, and it's called 'Traveling Programs.'"
"Traveling Programs" is a sector of the museum that aims to expand its offerings beyond the building by bringing exhibits to schools, libraries and community centers.
Ruggles said the program benefits students who can't access the Museum of Science itself.
"For the kids who can't afford to, or their schools can't afford to, or are very far away and can't get to the museum themselves, it is a great way for the museum curriculum to get out to them."
The Museum of Science's marathon team, which consists of 20 members, is part of the larger "Marathon Coalition" group, composed of 23 Boston-area nonprofits.
The Museum of Science team began training in November.
"We have a coach who works with all of us. We have team runs on Saturday[s]," Ruggles said.
Prior to November, Ruggles said, his training consisted of the occasional run, as opposed to any organized regimen. For Ruggles, proper training hasn't been easy.
"The hardest part is just keeping my body injury-free or [injury] minimized, making sure I keep the flexibility, keep the resilience and don't try to do what the 20- and 30-year-olds can do," Ruggles said.
His cross-training included martial arts and stretching.
"I do some martial art called Aikido, which I continued to do for most of the training. And then also, occasionally, yoga or stretching or that sort of thing," Ruggles said.
The support he's received from his broader social network has been amazing, Ruggles said.
"I sent out a fundraising appeal to a very broad network of people I know, have known, over the years," Ruggles said. "It's amazing how many people have been so supportive financially as well as [in] sending good wishes."
One of those people is fellow Museum of Science overseer, volunteer and marathon running enthusiast Chinh Pham. Although he won't be running this year's Boston Marathon, having opted for the London Marathon instead, Pham has still been training with the team.
Pham thinks Ruggles will achieve his goal come Marathon Monday.
"I think, based on what I'm seeing, he's gonna be ready. He's gonna be able to complete," Pham said. "In his eyes … it looks like he is going to conquer Boston with ease."
When asked if he had any advice to give Ruggles, Pham said, "When you say you are going to run a marathon, especially Boston, everyone becomes your coach because everyone will give you advice which you may not need."
Nonetheless, Pham did have some classic advice to share with Ruggles and other runners.
"In general, Boston is a very technical course. The advice has always been to be very conservative at the beginning of the run because it's mostly downhill," he said.
Ruggles isn't quite sure what his Monday holds after crossing the finish line at Copley Square.
"We'll see," Ruggles said. "I think I'll probably be pretty exhausted but pretty happy that evening, so I think it will be low-key."