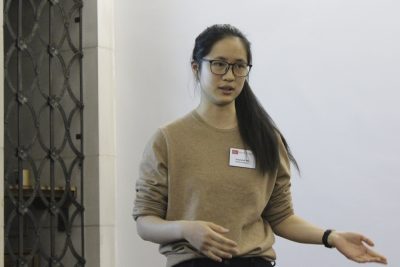 With devastating nor'easters and April showers that now include snowfall, Boston's weather has been a microcosm of broader climate change.
Savannah Wu, a senior in the College of Arts and Sciences, worked with School of Public Health alumni Jennifer Keefe to host "Are We Climate Ready?" on Sunday at Marsh Chapel.
During the presentation, Wu and Keefe shared information from Greenovate Boston, a City of Boston organization that trains volunteers to communicate facts and findings from their Climate Action Plan to local communities.
Along with info from Greenovate Boston, the presentation included a section on BU's own Climate Action Plan, which was approved last semester and aims to reduce greenhouse gas emissions while improving infrastructure in preparation for flooding and heat surges.
Wu works with Marsh Chapel and brought the program there in order to reach a broader base. She worked with Jessica Chicka, university chaplain for international students, to develop a presentation that would relate to BU's religious community.
"I'm personally interested in environmental science, and since I became chaplain here in 2011, I've been bringing climate change programs here. So when Savannah proposed the idea, I said 'absolutely!'" Chicka said. "There's an overlap between environment and faith … Religion can help remind people why we need to care."
Keefe brought a public health perspective to the conversation, discussing how issues of climate change often disproportionately affect certain populations.
According to Keefe, low-income areas and areas with higher populations of elderly people or children will have more issues with climate preparedness, especially with mobility in the case of a natural disaster. She said extra attention should be paid to these places to make sure they don't slip through the cracks.
"One thing that people can do is get to know their neighbors better –– that can make a difference in the case of an emergency," Keefe said during the presentation. "Get familiar with your neighbors who might be elderly or disabled and help them if need be."
One of Keefe's main focus areas is "ecotherapy" or what benefits spending time in green spaces can have. According to Keefe, green space can help mitigate "heat islands," or pockets of high temperature in cities, by absorbing the heat.
"Any kind of green space helps," Keefe said. "It's good for your health, for your mental health, it's all-around helpful. I hope to work with organizations in the future to encourage future green space development in Boston."
Much of the Climate Ready BU presentation focused on potential effects of flooding. As a coastal city, Boston is expected to face major flooding as sea levels rise. Flooding has already begun to impact areas of Boston, particularly in the harbor area and in South Boston.
"The conversation now tends to push climate change to 'something really bad that will happen in 2100,' but I don't think that's very useful," Keefe said. "This is something that's happening now, and it's important to comprehend the urgency."
During the discussion portion of the event, attendees raised their own issues. Thomas Batson, a sophomore in CAS and the College of Fine Arts, expressed concern about lacking recycling bins in some of BU's dorms.
"I have a lot of friends who live in StuVi, and there's been talk about how there are not recycling bins on every floor there," Batson said. "We've seen petitions going around, and in terms of getting people to recycle, having the resources right there makes a difference."
Keefe encouraged students to do what they can in their communities to shrink their environmental footprints, even if their actions are small.
"I want to look at climate change as an opportunity for change for the better, instead of a terror to be escaped," Keefe said. "We have a chance to improve our society, our health and the way we live our lives, and I think we should take it."