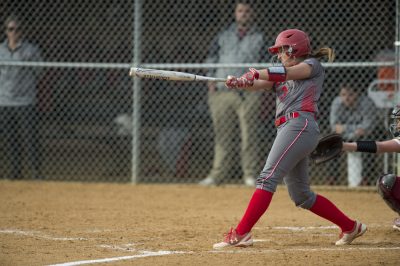 On a cloudy afternoon in Lowell, the Boston University women's softball team had a dominant performance against its in-state rival, the University of Massachusetts Lowell, to improve to 27-17 on the season and 7-2 in the Patriot League.
The 10-2 and 10-1 two-game domination of the River Hawks (12-22) marks the Terriers' eighth and ninth wins in a row.
This doubleheader set Lowell back a few games following a promising opening to their America East campaign.
However, for BU head coach Ashley Waters, she said she was pleased with her team's 20 runs.
"I was excited about where we were at offensively today," Waters said. "Alex went 7-for-8, Jilee had some great hits. When one through nine is getting on base or making something happen, obviously we're a really tough team to beat."
Game one saw freshman pitcher Cali Dolfi face off against freshman Lovina Capria.
Dolfi allowed four hits and two earned runs in three innings, leaving space for sophomore pitcher Kali Magane to come in during the bottom of the fourth and pick up the win.
Magane served Lowell three innings of work, allowing only two hits and picking up her third win of the season in the six inning game.
A two-run home run by junior catcher Alex Heinen put BU ahead by three in the first, and a sac-fly by senior infielder and outfielder Jilee Schanda and a swipe of home by senior infielder Kaitlin Sahlinger continued the run barrage in the following two innings.
Schanda added two more RBIs in the fourth and a sac-fly in the sixth to bring her RBI tally up to four for the contest.
Freshman catcher Sara Siteman was the only spark for Lowell in the first matchup with an RBI double while sophomore infielder Marianne Sparacia provided the River Hawks with their only run in the second game.
Freshman Ali Dubois pitched a full game, allowing only five hits and one run to lead the Terriers to their 27th and Dubois' 19th win of the season.
"She has the ability to throw strikes and make some great pitches with a lot of movement late in the count," Waters said of Dubois. "She loves to pitch, and the more she pitches the better she gets. She's done a really great job. When the defense steps up behind her it works out in her favor."
Heinen led the Terriers with three hits and two RBIs, which she grabbed on a third inning triple.
Junior infielder Madi Killebrew smashed one over the fence in left center to extend BU's lead to 5-0 in the third and the team never looked back.
Lowell had a lone run after the Terriers' sixth run of the afternoon, but BU put up four more for a 10-1 win.
Following this set, the Terriers have a three-game series this weekend against Lafayette College, which will be succeeded by two more Patriot League series' against Bucknell University on April 28 to 29 and Colgate University on May 5 to 6 to conclude the 2018 regular season for BU.
Sitting right below the Terriers in the Patriot League conference, the Bucknell (20-19-1, 9-3 Patriot League) set will remain an important one for BU.
"I feel like the Patriot League is always a grind," Waters said. "We come back in after challenging ourselves with a lot of different opponents. Anybody wants to take anything every game. That's the tough part, when top to bottom teams are trying to take wins wherever they can. There's a lot of parody and we try to be in the mix."