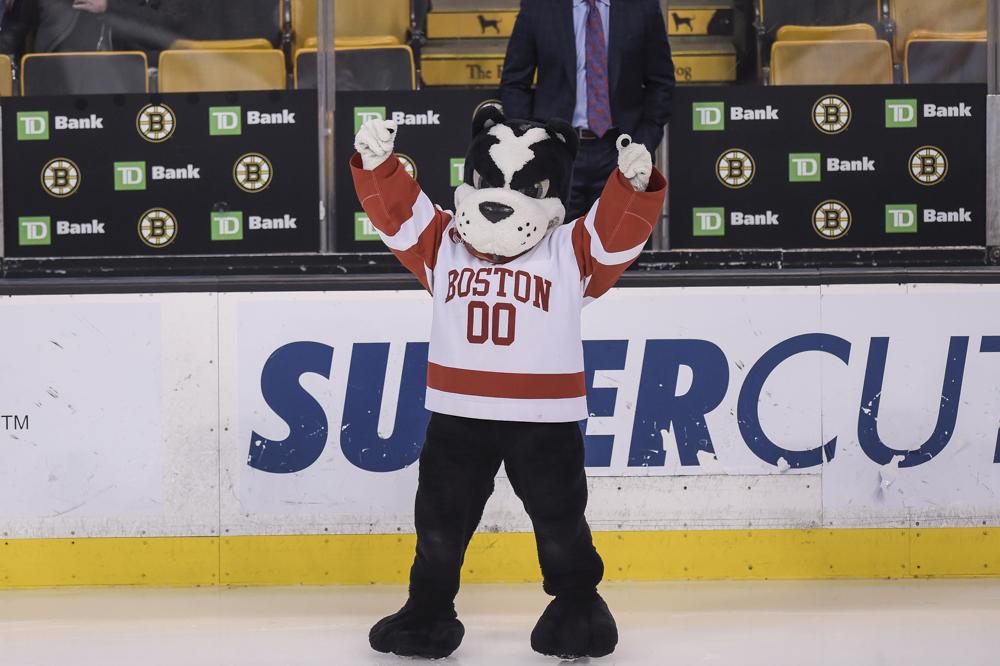 Whether he is climbing into the stands at a Boston University hockey game or parading around the George Sherman Union, Rhett the Terrier is an unmistakable figure on Commonwealth Avenue. Chances are, you have exchanged a hug or a high-five with him at some point.
"The fans, the students, they love seeing Rhett," said Nafeesa Connolly, the assistant director of Marketing and Promotions for BU Athletics. "You can always tell who the freshmen are because they get really excited when they see Rhett. I think we have a really good visual-looking mascot."
But have you ever thought of the person inside of the suit?
"The students that perform behind the mask do a really good job of entertaining and engaging with whomever — whether it's an alum, a donor, a student, even faculty or staff," Connolly said. "When he is at a sporting event, Rhett just brings fun and wants to make sure people are having a good time."
There are four to eight different BU students who share the Rhett duties, according to Connolly. Some of these students are solely responsible for handling Rhett and guiding him around when he is due for an appearance, while others are dedicated exclusively to wearing the costume and playing the role of Rhett.
For those who play Rhett, putting on the suit is a rewarding experience.
"Rhett is an icon, loved by all, and it is an honor to be able to bring him to life every day," a student who plays Rhett said. "Every time that I suit up, I know that I can expect excitement, love and support from the amazing students and fans at the games."
Students in the suit often learn to embody the persona that Rhett brings to the table.
"I get so in the zone that I forget nobody can see me," a student who plays Rhett said. "I usually find myself smiling for every photo — I think it's just instinct."
The position is paid, according to Connolly, with mascots making $12.25 per hour and handlers $11 per hour, and for good reason — being Rhett is a considerable time commitment.
Rhett is a wanted commodity at many BU sporting events and community outreach programs. Rhett also fulfills external requests outside of athletics, picking up cameos at cultural events on campus in addition to bar mitzvahs and birthday parties around the Boston area.
On BU's annual Giving Day, Rhett was parading around campus to promote those involved with BU to donate to the university. Last year, Rhett even appeared at an engagement announcement, a showing which generated local media attention.
"This isn't just a hockey game," Connolly said about the students who work as Rhett. "You're going to a lot of things and you're bringing the spirit of BU when you are in that suit. You need to be able to be organized and dedicated to the program."
Connolly said BU Athletics only had one student employed as Rhett last year, which was an obstacle at times due to the vast array of inquiries for the mascot to appear at events.
"That was a lot for him to take on," Connolly said. "You wonder, 'Where's Rhett?' He was really dedicated, but [you had to] understand he's a senior, he needs to look for jobs, he has class responsibilities. He made sure he could be where he could, but it obviously could have been more."
When this student, who graduated last spring, had class or a job interview to attend, Rhett was subsequently absent from anything that was occurring at the same time. The mascot was often only visible at hockey or basketball games.
This led to BU Athletics putting an emphasis on broadening the Rhett program heading into the 2017-18 academic year.
"This year, we have tried to do more outreach and promotion," Connolly said. "That comes from wanting to enhance the program."
With Rhett being a fixture at hockey games, having multiple students that can skate is a necessity.
Currently, two students who work as Rhett are experienced skaters, while others are in training for gliding around the ice at Agganis Arena or Walter Brown Arena.
Each mascot goes through an initial tryout to simulate what an actual game night is like.
For those who can skate, Connolly said she has them pretend to skate out onto the ice with the team and bang on the glass pretending as though fans are in the arena.
Once a student masters skating, he or she can work on learning a whole array of tricks for entertaining fans while rocking the suit.
"Besides being in the center of the arena, skating on the ice also gives Rhett the opportunity to pull crazy, fun stunts like diving across the ice, doing a shootout and even having a dance-off on center ice," a student who plays Rhett said.
Being Rhett has its perks, with appearances at TD Garden for the annual Beanpot tournament, Madison Square Garden for the biennial Red Hot Hockey tilt, and potentially Belfast, Ireland for the Friendship Four next season as part of the men's hockey schedule.
"While home games at Agganis Arena are always thrilling, the opportunity to skate at TD Garden, and even Madison Square Garden, are indescribable," a student who plays Rhett said. "The energy that the crowd brings to those arenas is so wild that it just makes me appreciate the fans, as well as the coaches and players, for all the support they have given throughout the season."
For many students, however, getting the chance to throw the costume on and cheer up children in the community is the most rewarding experience.
In December, Rhett went along with BU student-athletes to a local elementary school as part of the annual Holiday Reading Program, with the mascot spending time with kids from each classroom in the school.
The effect of Rhett on the kids made putting on the costume well worth it for the student on duty.
"Rhett's biggest fan was in the special education classroom, where this young boy climbed into my lap and began petting Rhett's head," the student said. "He refused to get out of my lap or let me leave so I stayed and the class just loved snuggling with Rhett."