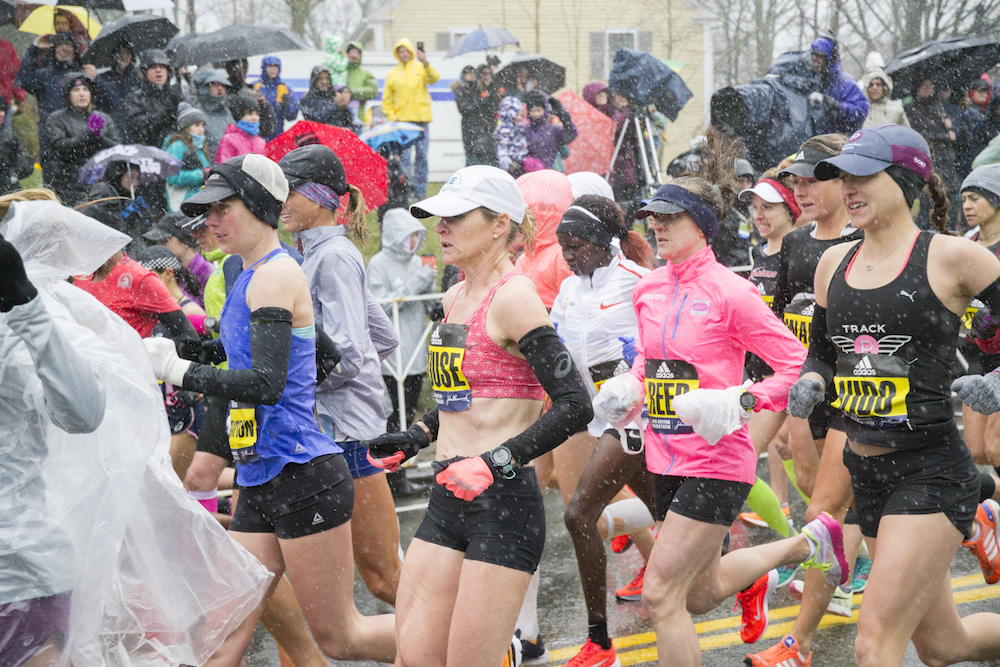 Despite the 38 degree rainy weather and a headwind of 10 miles per hour on Monday, 30,087 participants — runners, wheelchairs and hand cyclists — were signed up to participate in the 122nd Boston Marathon.
Getting to the Boylston Street finish line remained a lofty task as per usual, especially with the poor conditions, but that didn't stop this year's elite men's race winner Yuki Kawauchi from pulling off an upset and overtaking the 2017 winner Geoffrey Kirui in the final two miles of the 26.2 mile race.
The 31-year-old from Japan surpassed Kirui near Kenmore Square and didn't slow from there,  finishing with a 2:15:58 time, the slowest winning time since Jack Fultz in 1976.
Kawauchi was the first Japanese man to the win the marathon since 1987, and added this win to his many accolades as a "citizen runner."
Kirui finished two minutes and 25 seconds later for second place while Shadrack Biwott led the Americans in third with a time of 2:18:35.
Desiree Linden made history as the winner of the elite women's race, becoming the first American woman to win in 33 years. The 34-year-old, two-time Olympian finished her sixth Boston Marathon with a time of 2:39:54.
Linden was more than four minutes ahead of the second-place finisher, Sarah Sellers.
Sellers, a previously unknown runner from Tucson, Arizona, finished the day with a time of 2:44:05. For the 26-year-old, this marked just her second marathon.
Seven Americans finished within the top 10 for the women while six American men finished within the top 10.
Prior to the runners crossing the finish line, Marcel Hug of Switzerland won his fourth consecutive Boston Marathon men's wheelchair division title with a 1:46:26 time.
Hug finished 48 seconds in front of Ernst van Dyk, who holds the record for most Boston Marathon titles in any division, with a total of 10.
Tatyana McFadden claimed her fifth Boston Marathon women's wheelchair division title and her 22nd in the World Marathon Majors, the most among women in the wheelchair division.
McFadden's time of 2:04:39 was more than 15 minutes faster than two-time paralympian Susannah Scaroni, who finished in second.
Tom Davis' 1:18:41 time led the men's hand cycle division. Joerg Schneider, who finished fifth and is from Germany, was the only non-American participant to finish in the top 10.
Alicia Dana led the women's hand cycle division with a time of 1:40:22.
Monday also marked five years since the Boston Marathon bombing, when a terrorist attack, which took place at the 2013 marathon finish line, killed three and injured 260.  
Boston held a moment of silence at 2:49 p.m. — the time of when the first of two bombs went off — to commemorate the anniversary.