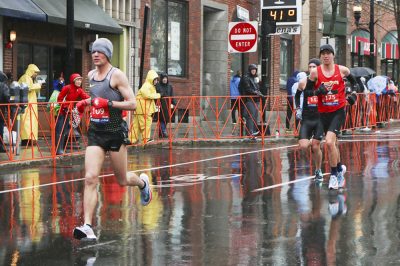 The Boston Marathon hosts thousands of athletes each year, challenging them to put their best foot forward for 26.2 miles. But it's not just their feet that feel the effects of this strenuous race.
Dr. Stephen Huang, an instructor at the Boston University School of Medicine, has worked in family medicine for several years and treated runners participating in the Boston Marathon.
"[During training] there's mostly lower-extremity injuries, [such as] tendonitis of the knee and ankle, plantar fasciitis, stress fractures," Huang said.
But during the actual marathon, Huang said, runners are at risk for acute overuse injuries, such as stress fractures of the tibia or abrasions from clothing rubbing against the skin.
Officer Richard Cronin, a former Massachusetts State Police trooper who currently works for the Boston University Police Department, ran both the Boston Marathon and the Marine Corps Marathon in 2012. Water misters located along the race courses led to abrasions.
"The shoes got wet, the socks got wet, and that caused a lot of skin irritation to my feet a month later," Cronin recounted.
Huang said runners might also experience rare injuries due to extreme heat, like heat stress or heatstroke, or resulting from extreme cold, like hypothermia or frostbite.
According to Mathias Leblanc, assistant director and staff scientist at The Salk Institute for Biological Studies who ran the Boston Marathon in 2015, all the runners faced rain and 30 to 40 miles per hour winds with cold temperatures.
"When I run a marathon, I run it at my physical limits. At that time, I collapsed because I was not ready for the temperature," Leblanc said.
Leblanc, who has also completed marathons in southern France, Italy and California, recalled feeling drained, nauseous and fatigued and being barely able to walk or move afterward.
Cronin said rehydrating is important for bringing the body temperature back to normal.
"There's shivering and fatigue. You are feeling the effects of the heat along with the effects of the distance of the road race," Cronin said.
Hydration also majorly affects the kidneys' ability to remove toxins from the blood, Huang said.
"If you do not hydrate appropriately before, during and after the marathon, then your system will not have the proper electrolytes [which will] tax your kidneys," Huang said. "They are responsible for removing toxins and cleaning your blood."
While experiencing kidney issues is rare, Huang said, major kidney problems can result in muscle failure, so staying hydrated is crucial.
"You can have muscle damage … Your kidneys are responsible for removing myoglobin from the blood and if you have an excessive amount of muscle damage and myoglobin leaking, your kidneys can shut down from doing all that work and you can get kidney failure," Huang said.
To minimize injuries, Huang recommended proper training for six to nine months, characterized by slow, gradual increases that account for geography.
"If you're running at sea level, that's different than if you're running at elevation and you have to allow enough time to acclimatize to your altitude," he said.
While there's a wide variety of physical injuries runners could face, Huang said, marathon training does come with some mental health benefits.
"The training portion is very good for the mind, body and soul," he said. "It definitely improves health, a sense of well-being and a sense of accomplishment."
However, runners often contend with mental block, a feeling that persisting is impossible. While running, Cronin mentally divides the distance into segments to make it feel manageable.
"It's mind over matter," Cronin said. "I broke it into four six-mile road races. So, I would run six miles, and say, well I have three more six-mile road races to go."
When runners hit their mental blocks, Leblanc said, it's important for them to think about overcoming feelings of pain and discomfort.
"The first three-quarters it's all about planning, and once you hit the wall, you have to work hard to go beyond what you're feeling and the last three to four miles are all about finishing," he said.
Perhaps the best defense against self-doubt, Cronin said, is trusting yourself and not thinking about everything that could go wrong directly before the race begins.
"Don't defeat yourself before you even begin the race," Cronin said. "You have point A where you begin and point C where you end. Forget about point B in the middle, just go through the motions of running."