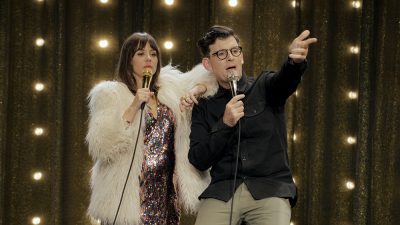 Natasha Leggero and Moshe Kasher do not shy away from taboo topics in their raunchy comedy sets. The then-newlywed couple launched their "Honeymoon Tour" two years ago to perform stand up and give advice to couples in the audience, and on Tuesday they released their performance from Austin as a three-part Netflix special.
Each part of the "collection" is 30 minutes long, which seems easily digestible, but the comedy Leggero and Kasher perform might leave some viewers queasy. Leggero begins the night by strutting on stage wearing a big fluffy white coat and sequin mini-dress that accentuates her baby bump. She starts the show by talking about her pregnancy and how she does not particularly want children.
Throughout Leggero's half-hour set, she touches on such topics as abortion, doing drugs, converting to Judaism and her van-inhabiting brother. Most of the jokes are pretty dark, but after the punchline, she usually tries to lighten the mood a bit.
Most of Leggero's jokes are genuinely, laugh-out-loud funny, but some of them come close to crossing a moral line. She has jokes about the Holocaust and Catholic Church sex scandals, but the real laughs come when she recognizes that her jokes are controversial and comments on the audience's uncomfortable reactions.
The main issue with Leggero's set is that she comes off as elitist, especially toward Trump supporters. She does, however, acknowledge that she plays into stereotypes, and her mean girl act is most likely just her comedic persona.
Leggero is definitely a more seasoned comedian than Kasher, and it shows in their respective stage presences. Leggero comes off as calm, almost too cool for the audience, telling dark jokes with a nonchalant tone and strutting around the stage in high heels that cannot be comfortable. Kasher, on the other hand, doesn't come off as nervous, but he does talk very fast, which doesn't exactly put the audience at ease.
His content, too, is much more vulgar and discomfort-inducing than his wife's. Kasher talks about masturbation a lot (first in the context of his progressive mother taking him to a sex shop when he was 13, and later while recounting visiting a fertility clinic), and while he does recognize that he is very vulgar and immature, the jokes just aren't that funny.
The best part of his solo set is when he jokes about how "woke" he is because he has a deaf, feminist mother. It's actually funny because he does have quite nuanced perspectives on things like pornography and food stamps, and he's able to strike the perfect balance between making fun of himself and proving how much he actually knows about the issues.
Throughout Leggero's and Kasher's individual sets and their joint set, it's clear that the two have a knack for improvising, and they know it. Stand-out moments from both their solo episodes come from banter with the crowd, like when Leggero has women from the audience talk about times they saw men masturbating in public and riffs off their individual stories.
The last half-hour episode of their special is a joint set that starts with the couple talking and joking about their relationship journey (which included intensive classes for Leggero to convert to Judaism). After about 10 minutes, they bring up couples from the audience to talk about (read: roast) their relationships.
Leggero and Kasher are able to make even the least interesting couples seem hilarious with their comments on each other's pet peeves and looks. At some points, they start to get a little mean, but after seeing both Leggero and Kasher's wild solo sets, the volunteers probably should have expected it.
The best part of the whole three-hour special is when one couple from the audience turns out to be exactly the kind of people Leggero makes fun of in her set: the couple met at a vegan youth hostel in Peru, and they look like "gentrifiers," as Kasher describes them.
At this point, it becomes clear that while Leggero and Kasher could be typecast as harsh and maybe even mean comedians, they're truly indiscriminate with who they make fun of.
While Natasha Leggero and Moshe Kasher's comedy might not be the most groundbreaking stand-up, they do provide new perspectives on topics like Judaism and perceptions of differently-abled people. However, their special is not for the weak-stomached.