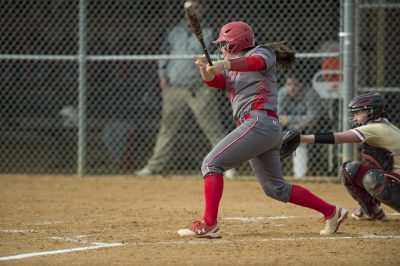 The Boston University softball team will take on Lafayette College in a three-game series starting Saturday.
The Terriers (27-17, 7-2 Patriot League) are currently on a nine-game winning streak, and are looking to extend that streak when they take the field against the Leopards (7-32, 3-9 Patriot League) at the BU Softball Field.
BU is currently first in the Patriot League, while Lafayette sits second-to-last.
The Terriers' only two Patriot League losses so far are single games to the United States Military Academy and Lehigh University.
Following their 2017 season, the Leopards hired a new head coach, Caitlyn de la Haba, and assistant coach, Corinne Ozanne. This is de la Haba's first season working as a head coach at the collegiate level and Ozanne's first season working as an assistant coach at the collegiate level.
BU head coach Ashley Waters said that since Lafayette's coaching change, the team seems to have more energy on the field.
"They're scrappy," Waters said. "They actually remind me a lot of Holy Cross in terms of just, they're just going to play, they're just going to find the bat and do everything they can to obviously get a W."
The Terriers have won all of their last 12 games against the Leopards, sweeping them in three consecutive shutouts in 2017 and a pair of shutouts in their three-game series in 2016 as well.
The Leopards have been unable to score more than two runs in a game against the Terriers since BU joined the Patriot League at the end of the 2013 season.
For Waters, the team will be working on its offense going into the weekend.
"I always think that we could be better from the standpoint of just continuing to chase good pitches, be aggressive early in the count and to look for that extra base and just being aggressive overall," she said.
BU boasts the highest batting average in the Patriot League at .291.
Junior catcher Alex Heinen currently holds the first place spot in the league for batting average with .388, while senior outfielder Emma Wong and junior infielder Madi Killebrew hold the third and fifth place spots with .362 and .336, respectively.
Heinen, Wong and Killebrew are also within the top four players in the conference for number of hits.
Heinen leads the league in RBIs, totaling 37, and Wong is currently first with 36 runs scored.
Senior infielder Brittany Younan follows close behind with 35, and senior infielder and outfielder Jilee Schanda currently holds third place with 27 runs scored.
For the Leopards, junior catcher Maddie Wensel currently has the highest batting average on the team at .300.
Wensel earned her 100th career hit during the second game of Lafayette's doubleheader against Manhattan College on Wednesday.
Freshman outfielder and utility player Paige Grover follows closely behind Wensel with the second-highest batting average for the Leopards, batting .282 on the season.
Lafayette currently holds first place in two individual categories — walks, which Grover leads with 26, and hit by pitch, which senior second baseman Samantha Sweigart leads with 17.
This is the third-to-last regular season Patriot League series for the Terriers, with games against rival Bucknell University, which currently sits in second place in the league, and Colgate University.
One aspect of play Waters said the team continues to focus on is putting pressure on its opponents to help the Terriers gain an edge during competition.  
"When you put pressure on teams, it makes them make mistakes," Waters said. "It's a matter of us staying within ourselves and hitting strikes and kind of making things happen."
Gabe Mossé contributed to the reporting of this article.