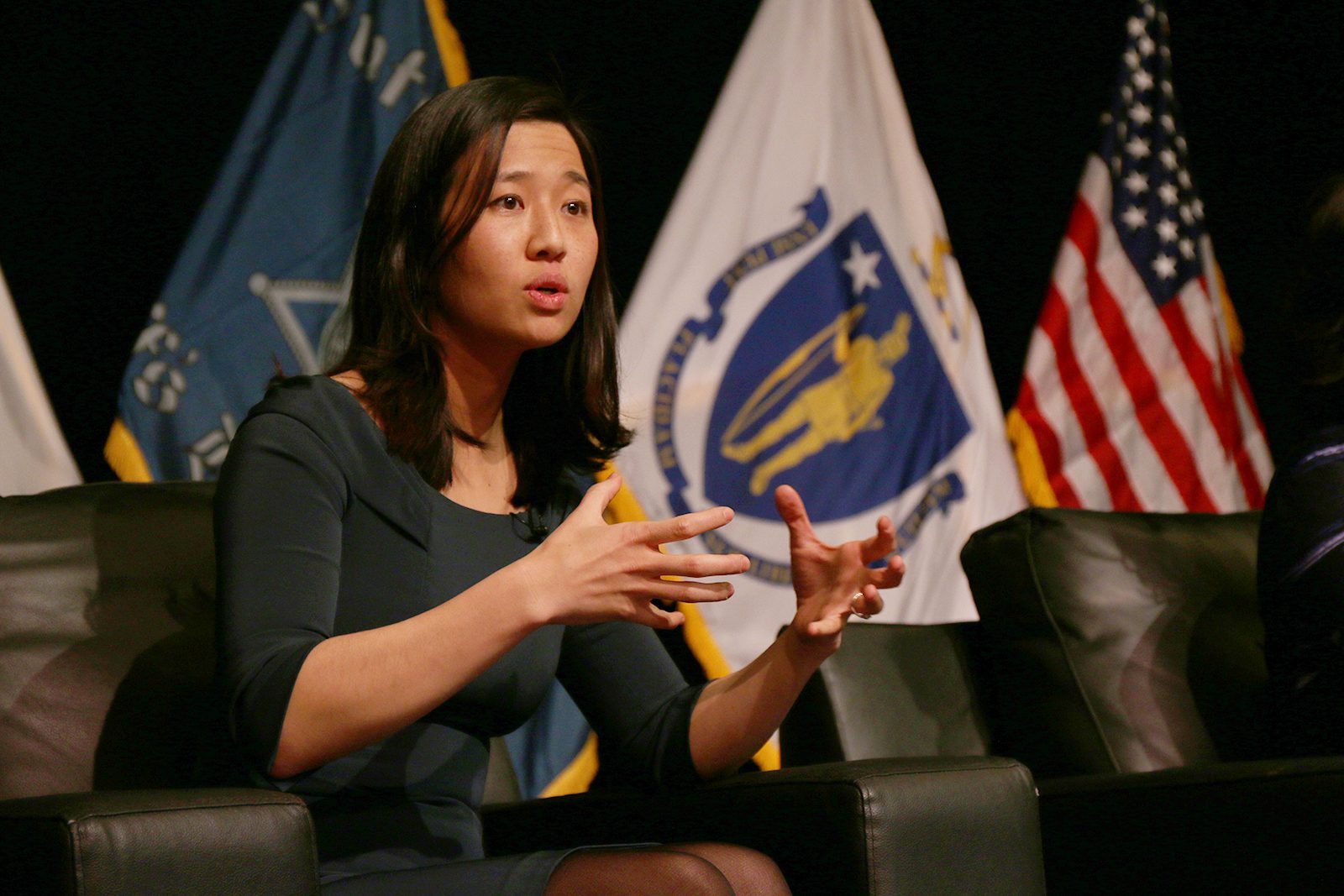 Airbnb threw a punch at Boston City Councilor At-Large Michelle Wu Tuesday. But now, Wu and her supporters have come back swinging.
The home sharing company, Airbnb, sent an email to an unknown number of its Boston area customers Tuesday, urging them to speak out against a proposal Wu made restricting short-term rental market practices. It's the latest development in the City's ongoing debate over how to curb the impact of short-term rental services on the housing displacement crisis.
Wu's proposal — made in conjunction with District 1 City Councilor Lydia Edwards — would amend Boston Mayor Martin Walsh's ordinance regulating short-term rental services. People voiced their support on Twitter for Wu and her proposed changes to the mayor's regulations.
Airbnb wrote in the email that Wu "has aligned with big hotel interests against the interests of regular Bostonians," and her proposal included a "restrictive" 30-day cap on stays in which the owner is not home. However, Wu responded on Twitter that she has never proposed such a limit.
"Not sure where you're getting 30-day cap, but spreading fake news doesn't bode well for credibility that you'll be a partner to the city as we work to address the housing crisis," Wu tweeted at the company.
Wu wrote in a later tweet that she and her colleagues have gotten several hundred emails in response in support of her proposed regulation in the aftermath of the Airbnb email "blitz."
"The unregulated status quo is deepening our housing crisis," she tweeted. "We're working on policy that balances benefits of homesharing for residents while closing corporate loopholes."
Crystal Davis, the press and public affairs manager for Airbnb, wrote in an email to The Daily Free Press that the company supports regulations on home sharing. She wrote Airbnb represents "thousands of residents across Boston who were concerned about where the regulations were heading."
"… we look forward to getting back to working collaboratively with the city to put fair regulations in place that will benefit Boston and the people who support themselves and their families every day through home sharing," Davis wrote.
Brion-Michael Rock, 26, of South Boston, said he thinks Airbnb's business practices have gone too far in making Boston's newest housing stock unaffordable.
"Airbnb needs to be reined in because it's just out of line," Rock said. "To attack Michelle Wu, who's been fighting for fair transportation and housing for everyone, just shows that they don't have Boston's interests in mind."
Joel Wool, the director of policy and media for Edwards, said the City is going to put in place regulations to clarify where short-term rental units are located, who is hosting them and who is accountable if laws are broken. Putting out false information, he said, has made Airbnb look "quite foolish."
"It's unfortunate that they actually needed to be dishonest about what the proposed ordinance would do," Wood said.
Airbnb's decision to directly email their customers about a controversial political topic is a rare move from a public relations standpoint, said Justin Joseph, a professor of public relations at Boston University.
Joseph said Airbnb could have asked an opposing politician or a third-party group to make a statement against Wu's proposed regulations. By doing it themselves, he said, Airbnb risks losing their customers' trust because they are asking their customers to take a political stance.
"You need those lessees and lessors to be on your side [and] to constantly champion you as a brand to the public," Joseph said. "When you start to lose that, it starts to affect you long term — that's when I start to wonder if it was a battle worth fighting the way [Airbnb was] fighting it."
Grace Holley, 27, of Roslindale, works as a community planning consultant with different organizations in Boston. She said while Wu's regulations are strict, Airbnb's framing of the proposed policies is misguided.
"I don't know what their PR people were thinking," Holley said. "… It seems like Michelle [has] gotten a lot of emails in support of her bill, so I think [Airbnb's email] backfired."