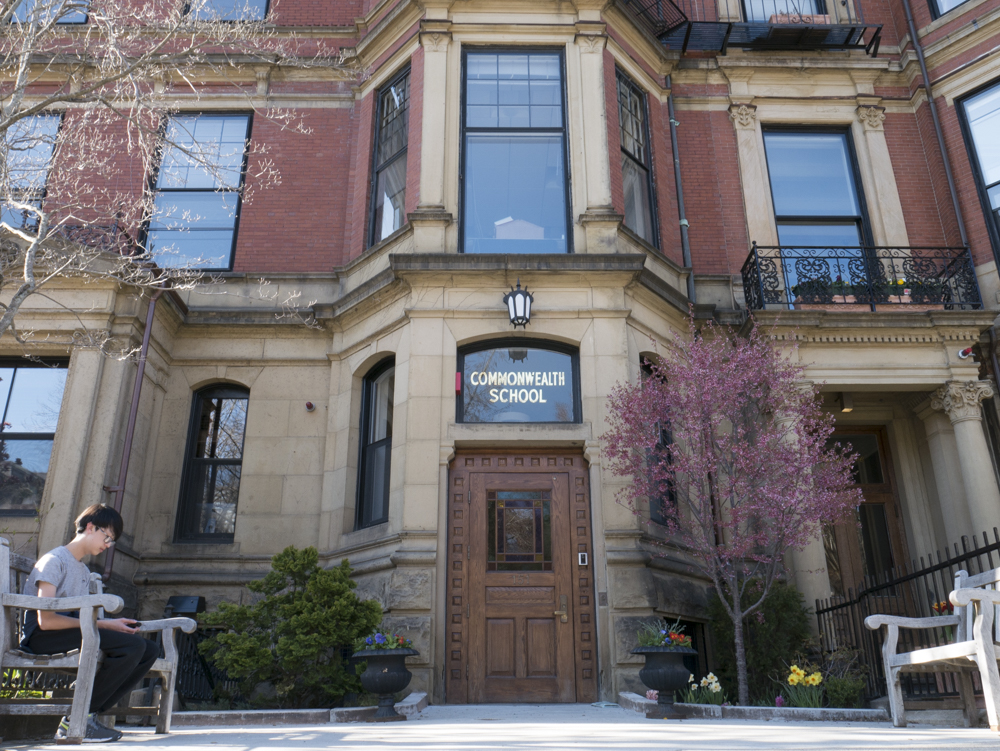 On the 19th anniversary of the Columbine shooting, students from schools across the United States, including several in Massachusetts, walked out in protest of gun violence Friday afternoon.
Small, local Boston high schools participated in the protest, such as the Commonwealth School and The Newman School, as well as larger colleges such as Harvard University and Boston University. These demonstrations were only a few out of over 2,600  protests against gun violence nationwide.
Alan Plotz, a freshman at the Commonwealth School, said his school participated jointly with the Newman School, located down the street. Student and faculty protesters gathered on the Commonwealth Avenue Mall and listened to speeches, poems and dialogues.
As an organizer of his school's protest, Plotz said he walked out because students across the country have an obligation to do so.
"We speak from a place of great privilege and for that reason, it's somewhat more of our responsibility to try to get involved," Plotz said. "Ideally, we'd be trying to uplift the voices of those most affected, but this is one way we think can help just a little bit."
Through agreements with their school, the students were allowed to walk out for an hour with minimal consequences, Plotz said. Several faculty members walked out with the students and supported them, and even the school's chef brought them snacks because the demonstration happened during their breakfast time.
Linus Glenhaber, a participant in the walkout and junior at the Commonwealth School, said he thinks students should use their privilege to instigate change.
"Understanding that this is a school with a number of very affluent families, being able to use [their privilege] for helping other people, being able to use the tools that are open and teaching how to make sure that we can actually influence [the gun violence conversation] is necessary," Glenhaber said.
Friday's walkouts began at 10 a.m., according to the National School Walkout website. There was at least one walkout that occurred in each state.
Elisa Owens-Savelli, a sophomore at the Commonwealth School, said participating in demonstrations like this help draw attention to the cause. Bigger actions like talking to government officials about legislation can be exhausting, she said, so smaller-scale walkouts are an alternative way to get involved.
"This is a good way for people of all kinds of backgrounds to participate in this movement and show their support which helps reenergize it," Owens-Savelli said. "A lot of people think that doing these walkouts won't help anything, but even small things like this is what helps bring energy to a cause."
The walkouts had a three-part goal: making students familiar with the political system, holding elected officials accountable and promoting ways to alleviate gun violence, according to the website.
Several Newman School students approached the administration and requested to participate in the walkout, Dean of Studies Andrew Nagy said. The students only missed one period of class and many of their teachers participated as well.
"We thought it was a good idea to engage in an opportunity to share their voices, so we thought it was a good chance for students to do so," Nagy said. "If you really want change, you have to go to your representative, you have to write letters and that's how you make change, despite having whatever speeches you want to have out there."
Jullian Montes-Pearson, a junior at the Newman School, said the gun violence he witnessed growing up in Dorchester influenced him to walk out so others don't need to go through what he did.
"It's one of the problems that people like to ignore and they think it's too huge of a problem to solve, but there's a lot of it going on," Montes-Pearson said. "It's a problem that we really need to bring forth because it's happening too much."