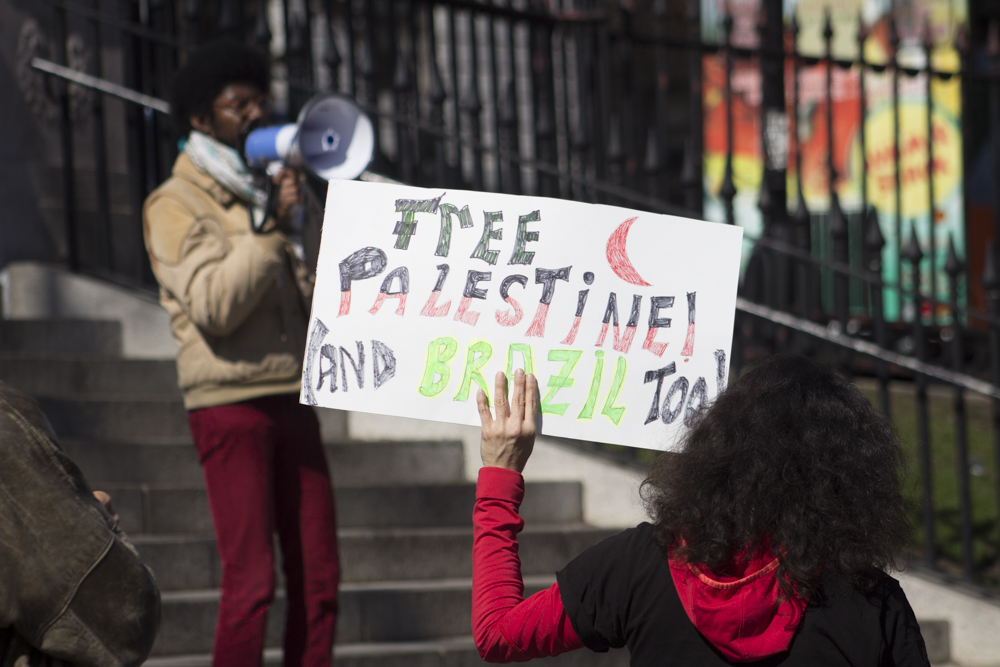 Members of Boston's Palestine Solidarity Network held a rally Saturday on the Boston Common to petition for Palestinian students' right to education. Affiliated groups from local universities collaborated to hold the rally in preparation for the release of a letter signed by over 40 organizations to show solidarity with Palestine.
The letter, which will soon be sent to Massachusetts government officials and the Cambridge City Council, is a show of support with Palestinian students on the eve of the 70th anniversary of the Nakba — the Palestinian exodus. It outlines the issues Palestinian students allegedly face, including limited access to school supplies.
"… we raise our voices and our fists in solidarity with our student counterparts in Palestine, who suffer daily harassments and deprivations at the hands of the Israeli occupation," the letter states.
The letter claims that although the United Nations has declared education to be a fundamental right, Palestinians are allegedly being denied this right.
In response to these actions, the letter ends with three demands: the U.S. endings its support for the Israeli occupation, Massachusetts ceasing its economic relationship with technology giant Hewlett-Packard due to the company's supposed involvement with Israel, and the immediate passage of a Congressional act that would prevent U.S. funds going toward mistreatment of Palestinian children.
Approximately 50 supporters attended the rally, which began as a walk through the Common and ended with a presentation by several speakers in front of the Massachusetts State House.
Shireen Akram-Boshar, a former member of Students for Justice in Palestine at Brown University and Boston University, spoke about the connection between the Israeli occupation and other groups fighting oppression in the Middle East.
"Our movement has made it impossible for public figures to ignore Israel's abuses and the oppression of Palestinians," Akram-Boshar said. "At the same time, we have our work cut out for us in building a movement in solidarity with Palestinians and all those struggling for freedom in today's counter-revolution in the Middle East."
The rally was important in creating solidarity between Boston's communities and those in the Middle East, Akram-Boshar said in an interview.
"We are all fighting for freedom, and we will be free only when we are all free," she said. "Our movements must build on our movement to create a movement in genuine solidarity with all those who are resisting oppression across the Middle East."
Brian Stanley, a rally organizer and Boston University student, said he thought the letter and rally accomplished the goal of bringing together different sections of the "leftist family," which do not normally interact, to rally behind Palestinian rights.
"We talked a lot about how to bring these groups together," Stanley said. "There have been real questions about violence and why we have the opinions we have. So, part of it is to try to bridge that gap and to realize this will only be resolved if we come together."
Susan Etscovitz, 72, of Brighton, volunteered and handed out informational pamphlets to people during the event. She said that, as a Jewish person, the event was important to her because human rights violations were being committed in the name of Judaism.
"Palestinians don't have equal rights or justice, or freedom from being shot, incarcerated and dis-possessed," Etscovitz said. "It's time the international community put an end to it and stopped being influenced by the Israel regime and the lies that have been told about who the aggressor is and what's happening."
Etscovitz said Israel's ownership of what she believes should be Palestinians' land is "a colonial settler project," which she said is not a reflection of her Jewish values.
"Palestinians have been ethnically cleansed," she said. "Their rights have been trampled. Their right to return to their homes doesn't exist, and we have to be a part of changing that."