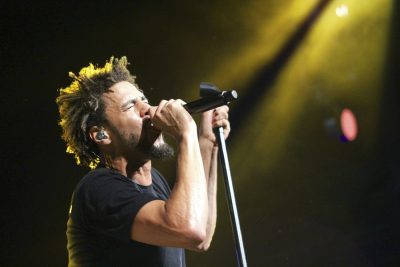 Everyone wants to be Kendrick Lamar. Fake deep rap songs and albums proliferated following his critical and commercial success. Signs of copycats are everywhere. Logic partnered with the National Suicide Prevention Lifeline to make "1-800-273-8255," but the best lyrics he could come up with were "I don't wanna be alive / I just wanna die today."
Then there's J. Cole. There are groups of people who think that Lamar should make a collaborative album with J. Cole, despite critics saying that the project would be a bust, considering that the two rappers are on completely different levels. Nothing J. Cole has released has even grazed the level of nuance Lamar has. And while fans may argue that J. Cole's "2014 Forest Hills Drive" and "4 Your Eyez Only" went "platinum with no features," that means nothing when Lamar has received more acclaim for albums that feature much better guest vocalists and producers.
Cole's new record "KOD" just isn't there. The North Carolina-based rapper tried to put together a cohesive concept album again, but instead made one without a solid focus. It's not unlistenable, but it's yet another sign that J. Cole is as uninventive as ever.
There's little discernible variation on this album's production. The beats are something between a tired boom bap vibe and modern trap. The first track, "Intro," sounds like it will be J. Cole's equivalent to Lamar's "To Pimp A Butterfly" — a mysterious saxophone riff accompanies several vocalists repeating the line "Choose wisely." Unfortunately, the production on the rest of the album curtails the possibility of "KOD" being an innovative jazz-rap project.
The mellow beats are the only reason J. Cole isn't referred to as a trap artist. His borrowed triplet flows and uninterested yet fast-paced delivery mirror those of Rich The Kid at times. The beats on "KOD" are just traditional trap beats minus arpeggiators and loud bass. Call them minimalist if you want, but they sound deliberately toned down so J. Cole's vocals can shine through. Still, the beats feel hollow.
The problem with making J. Cole's lyrics the focus is that they don't carry the first half of this album. The track "KOD" sounds like a young SoundCloud rapper tried to mimic Vince Staples' "Get The F*** Off My D***," but he's even more arrogant: "My s*** is gigantic / As big as the f*****' Atlantic, I'm lit, b****." If J. Cole thinks this lyrical content is going to save the lazy production, he's sorely mistaken. After seven tracks, "KOD" sounds like the rap album equivalent of chasing an Ambien with melatonin.
But when "BRACKETS" comes on, J. Cole gets interesting. The song addresses tax money distribution, and his concern is genuine. It's not spouted in a vitriolic fashion a la Cardi B. His argument is actually solemn and cogent. The second verse chronicles the story of a mother who lost her son, finishing with the lines, "Wiping tears away, grabbing her keys and sunglasses / She remember that she gotta file her taxes, damn."
This is one of the most impactful lines of J. Cole's career.
"Once an Addict – Interlude" follows "BRACKETS," and while three minutes is a bit long for an interlude, the lyrics continue to be hard-hitting. J. Cole expands on themes he explored on his 2014 single "Apparently," where he raps about how guilty he felt after leaving his mother behind in Fayetteville, North Carolina. Still, it sounds like his version of Kendrick Lamar's "u." Instead of leaving for a rap career like Lamar, J. Cole left for college. It's a powerful track but he communicates familiar themes in a manner that pales in comparison to Lamar's effort.
The second half of the album showcases J. Cole's problem: he doesn't know how to put an album together. The final songs on "KOD" are by far the strongest, but he leaves listeners with an unfinished shell of a concept album that so badly wants to be greater than it actually is.
There's no doubt J. Cole has compelling stories and ideas to share. But he still hasn't made one of his albums come full circle in a satisfying way. Granted, there are still going to be fans who place J. Cole among hip-hop's greatest names while neglecting innovative artists such as Danny Brown, Freddie Gibbs, Milo or Aesop Rock. J. Cole isn't as raunchy or controversial as XXXTENTACION or 6ix9ine, but is he one of the greatest? No.