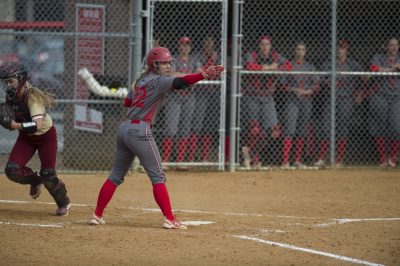 Talking about the Boston University softball team sweeping a series is becoming commonplace.
The Terriers (30-17, 10-2 Patriot League) accomplished this feat yet again this weekend, taking all three games against Lafayette College to push their winning streak to 12 games.
The surge is the team's longest since it garnered 13 consecutive wins in 2014.  
"It's a group of really great kids," BU head coach Ashley Waters said. "I love coming to practice every day, I love seeing them every day. They love seeing each other. It's a really fun group to work with."
The Terriers remain first in the Patriot League with a winning percentage of .833 in conference play, just ahead of Bucknell University who has a .800 win percentage and has already clinched a postseason tournament berth.
BU has been virtually unbeatable against opponents at BU Softball Field with a 7-2 record.
"They genuinely care about their performances and getting better at their craft and putting themselves in a position to be uncomfortable to get better," Waters said. "It's a special group. It's a special vibe and we have known that from the beginning."
This command was on full display in each of the three games against the last place Leopards (7-35, 3-12 Patriot League). The Terriers handled Saturday's doubleheader with 7-2 and 9-0, in five innings, wins before shutting out Lafayette 3-0 in the series finale Sunday afternoon.
BU was led all weekend by freshman pitcher Ali DuBois, who earned the win in all three tilts.
In the series opener, she lasted five innings, allowing two runs on three hits while striking out five Leopards. She bridged the gap to sophomore pitcher Lizzie Annerino, who garnered two shutout innings to close out the game.
"[DuBois] has done a great job of staying consistent, pounding the zone and trying to find things that work," Waters said. "We're just trying to get ourselves to a spot where we are executing our best pitches, we are hitting out spots, we are getting them to hit into outs and for her, we have been fortunate to have strikeouts in the mix every game."
DuBois' authority in the circle took hold in the final two contests.
In the second game of Saturday's doubleheader, she nearly notched a no-hitter, yielding one hit and one walk while striking out 11 in five innings. One day later, she spun a complete game shutout, relinquishing three hits and one walk in the midst shutting down six batters over 98 pitches.
"When we are keeping people off the base, it gives us confidence going forward," Waters said.
Sunday's shutout was DuBois' eighth of the season and she is now third in the conference with a 1.91 ERA.
The Terriers bats were also on fire all weekend.
In the first game, the high-octane offense struck for gold in the first inning. Senior infielder Brittany Younan singled to lead off the bottom of the frame before senior outfielder Emma Wong worked a walk.
Both came around to score on a two-out double by senior infielder and outfielder Jilee Schanda, who was then plated by junior infielder Emily Morrow on her own RBI double to hand BU an immediate 3-0 lead.
Lafayette squeezed the gap to 3-2 after a home run by sophomore pitcher and utility player Alexis Randall, but the Terriers put the game away in the bottom of the fourth inning. Senior infielder Kaitlin Sahlinger knocked in Morrow on a double while freshman infielder Marina Sylvestri scored from first on an errant relay throw.
After an RBI single by Younan, the result was sealed.
Later that day, the Terriers batters could not be tamed. An RBI single by Wong provided her team with a 3-0 lead in the second inning, and BU turned up the heat in the following stanza.
Junior infielder Madi Killebrew kicked off the six-run inning by reaching base on a HBP before coming around to score on a Schanda triple.
Junior catcher and infielder Alexa Ponce plated Schanda with an RBI single in the ensuing at-bat, and the Terriers soon loaded the bases with one down. Ponce scored when Younan fouled out to left, and Wong followed that up by coming through with a two-out, two-RBI double.
Following an RBI single by junior catcher Alex Heinen, it was 9-0 and BU held on for a shutout win.
The Terriers would also record the same result the following day, as they scored each of their three runs in the fourth inning.
Schanda jump-started the rally with a leadoff single before swiping second with two outs.
Sylvestri then took advantage of the gap on the right side, singling to score Schanda. She then crossed home on a Sahlinger triple, the 25th BU triple of the season.
In the midst of the same play, Sahlinger scored an unearned run on a throwing error by junior shortstop Brooke Wensel.
"We just want things to click at the right time," Waters said. "Everybody is working on all cylinders to get themselves to a better spot. Some are there and some are still working. I'm really happy about where we are at. It's really cool to be a part of."