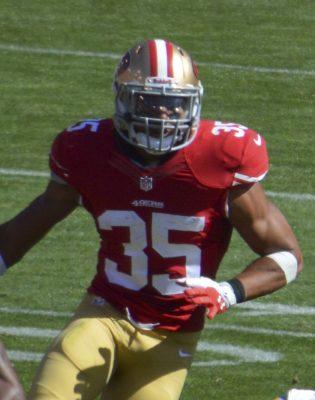 The National Football League is a big business. It may not be Walmart or Apple, but the NFL's $14 billion revenue in 2017 isn't anything to scoff at. Commissioner Roger Goodell even said back in 2010 that he'd like the league to reach $25 billion in annual revenue by 2027, and so far, he might be right.
So when it comes to decisions made by teams about the players they put out on the field, we're often led to believe it is a business decision.
When the Dallas Cowboys released starting wide receiver Dez Bryant, he admitted the move was a business decision. Danny Amendola and the New England Patriots: business decision. And the list goes on. Surely it's not personal, and sometimes it's not even about their play.
Instead, it's all about the price tag.
But while organizations continue spewing rhetoric about "business decisions," sometimes, it's actually not about the price tag at all, and situations are obviously about something more.
Two players who fall in the "something more" category are Colin Kaepernick and Eric Reid.
Both players began protesting during pre-game national anthems in 2016 to protest police brutality and racial injustice in the United States. Since that season, Kaepernick has yet to play, and after the 2017 season, Reid became a free agent and has yet to be signed by a team.
Some people will argue that Kaepernick's play in 2016 didn't warrant a starting contract. That may be true. Others say that his style of play and skill set don't fit offensive systems that teams currently have in place. But those who subscribe to this view are overlooking one of the most important facts in the NFL today: There is a void of competent quarterbacks in the league.
It's true, Kaepernick's best seasons came more than half a decade ago, but we are living in a world where the Houston Texans resigned 34-year-old Brandon Weeden to backup Deshaun Watson. Two other teams with mobile, athletic quarterbacks, the Seattle Seahawks and Carolina Panthers have Austin Davis and Garrett Gilbert backing up Russell Wilson and Cam Newton, respectively.
If we are honest, after two years, the door to Kaepernick's return is now closed.
But what about the man who knelt by his side, Eric Reid? Reid was a highly-touted prospect out of Louisiana State University and was drafted No. 18 overall by the San Francisco 49ers in 2013.
In 2017, he was the 30th best safety in the NFL, with an 81.4 out of 100 overall rating, according to Pro Football Focus. He is better at his position than Kaepernick is, and he is a very good football player yet he is still unemployed.
Reid recently visited with the Cincinnati Bengals, but after being asked by Bengals owner Mike Brown about his involvement with the protest, he remains unsigned.
This decision not to sign him comes from a team that is known to sign and stick with players who have had their share of distractions and legal troubles far more troubling than peacefully protesting.
So please, don't try to tell me that signing Reid would be more distracting or worse for public relations than drafting a man who was caught on camera punching a woman in the face.
If the Bengals didn't follow through, it is unlikely any team will.
Despite Reid saying that he no longer plans to kneel during the anthem in the future, he will continue to be an activist.
"I'm not saying I'm going to stop being active because I won't," Reid said. "I'm just going to consider different ways to be active, different ways to bring awareness to the issues of this country and improve on the issues happening in this country."
Before they knelt, Kaepernick and Reid spoke with U.S. Army veteran and former NFL player Nate Boyer to discuss the best way to speak out. Boyer's advice — kneel alongside your teammates to show respect, rather than sit.
But quickly, a peaceful protest that started with thoughtful consideration and respect was then twisted to paint Kaepernick and Reid as anti-military and anti-American.
So the primary reasoning for no longer kneeling is because of the change in the narrative. Many began to confound that Reid and others were protesting the anthem when they were protesting during the anthem.
But now, owners believe that when players kneel, it hurts their business, and in turn hurts the NFL's brand. It isn't a money issue in the terms of paying the players. Many teams still have plenty of available cap space, especially for players like Reid, whose skill set and versatility are only becoming more valuable across the league.
It is, however, a money issue when it comes to the idea of signing a player who some fans might not view in a favorable light.
It is clear that the action of kneeling offends some NFL owners and some fans, and it's offensiveness to those individuals is the reason why they are not on the field.
Patriots defensive back Devin McCourty even said during a criminal justice reform symposium at Harvard Law School, "We truly believe like everyone else, it's because of them being outspoken."
If anything Reid's unemployment is helping Kaepernick's collusion case against the NFL. So wouldn't the NFL be more inclined to sign Reid? He is a player worthy of starting, or at least being on a roster, and has never had any off-field issues. The only plausible explanation for his unemployment is his participation in the protest and this could become a problem for the NFL.
I'm not here to argue that a team should just sign Colin Kaepernick or Eric Reid because they have taken a knee. Or because they have said they won't kneel anymore. I'm here to say that teams should pursue them because they can play — and teams should care more about winning than their players political views.
So while NFL owners sit back and pat themselves on the back for giving $89 million toward causes considered important to African-American communities, they will also, continue to blackball two players who helped bring those same issues to light.