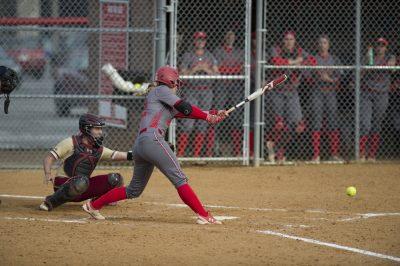 The Boston University softball team will play its final four games of the 2018 regular season on the BU Softball Field this week, with only seven games remaining until Patriot League tournament play begins.
The Terriers (30-17, 10-2 Patriot League) will play the first of these final games Tuesday afternoon against Providence College in its final non-conference matchup of the season.
This week, BU has the chance to clinch a spot in the playoffs. For Terrier head coach Ashley Waters, she said a key to doing so will be the team's offensive play.
"Our offense plays a massive role," Waters said. "If we can put runs on the board, we play defense with a little bit more confidence, and we pitch with a little more confidence."
The Terriers have not seen defeat since their 8-5 loss to Lehigh University on April 7. The team's most recent weekend sweep of Lafayette College extended BU's win streak to 12 straight games.
During the regular season, the Terriers had a 4-1 record in non-conference play.
The last two games BU played against Providence (11-26) were in 2016 and 2014. Both games yielded the same result: a 10-2 win for the Terriers.
The Friars are currently in the lower half of the Big East standings as the team has lost five of its last seven matchups.
Providence sophomore pitcher Miranda Trinidad is ranked sixth overall in the Big East with an ERA of 2.92.
BU senior infielder Kaitlin Sahlinger leads the Patriot League with 336 putouts.
Sahlinger and senior infielder Brittany Younan lead in fielding double plays with 16 and 13, respectively.
The Terriers will close out this week's play with a three-game series against Bucknell University  starting Saturday.
The Bison (23-19-1, 12-3 Patriot League) hold the second place spot in the Patriot League and are the only team so far to clinch a spot in postseason play.
BU freshman pitcher Ali DuBois is currently third in the Patriot League for pitching. Her 22 wins are the most out of all Patriot League pitchers, and her 1.91 ERA is third in the conference behind Bucknell's sophomore pitcher Raeanne Geffert.
Geffert is currently second in the league with an ERA of 1.88. Her 17 wins are also the second-highest in the league.
Despite BU and Bucknell's competition for first place in the Patriot League, Waters said this weekend will be no different in how hard the team will work for a win.
"I think every weekend is a test. To beat a team three times is incredibly difficult," Waters said. "It's a tough game, so I think for us we're doing a really great job of just kind of focusing on ourselves and playing our game. If that's enough to win then great, and if it's not, we kind of go back to the drawing board and figure it out."
The Bison currently boast a five-game winning streak, defeating Lehigh  (15-22, 7-5 Patriot League) twice and then sweeping their recent three-game series against Colgate University.
Bucknell infielder senior Meghan Kovac currently leads the league in slugging percentage with .682 and junior Lauren Hadley holds the second place spot with .637.
The pair is also first and second in the league for home runs this season. Kovac has scored 12 for the Bison this season and Hadley has scored seven.
Bucknell's series against BU will mark the end of the Bison's regular season.
Waters said her team is excited to play Bucknell in what will be the the Terriers' penultimate Patriot League matchup before conference playoffs begin.
"This is what conference play is all about: being at our best and playing really great teams," Waters said. "For us, it's trying to find that ability to take two games from them or take three games from them."
Josh Rothstein contributed to the reporting of this article.