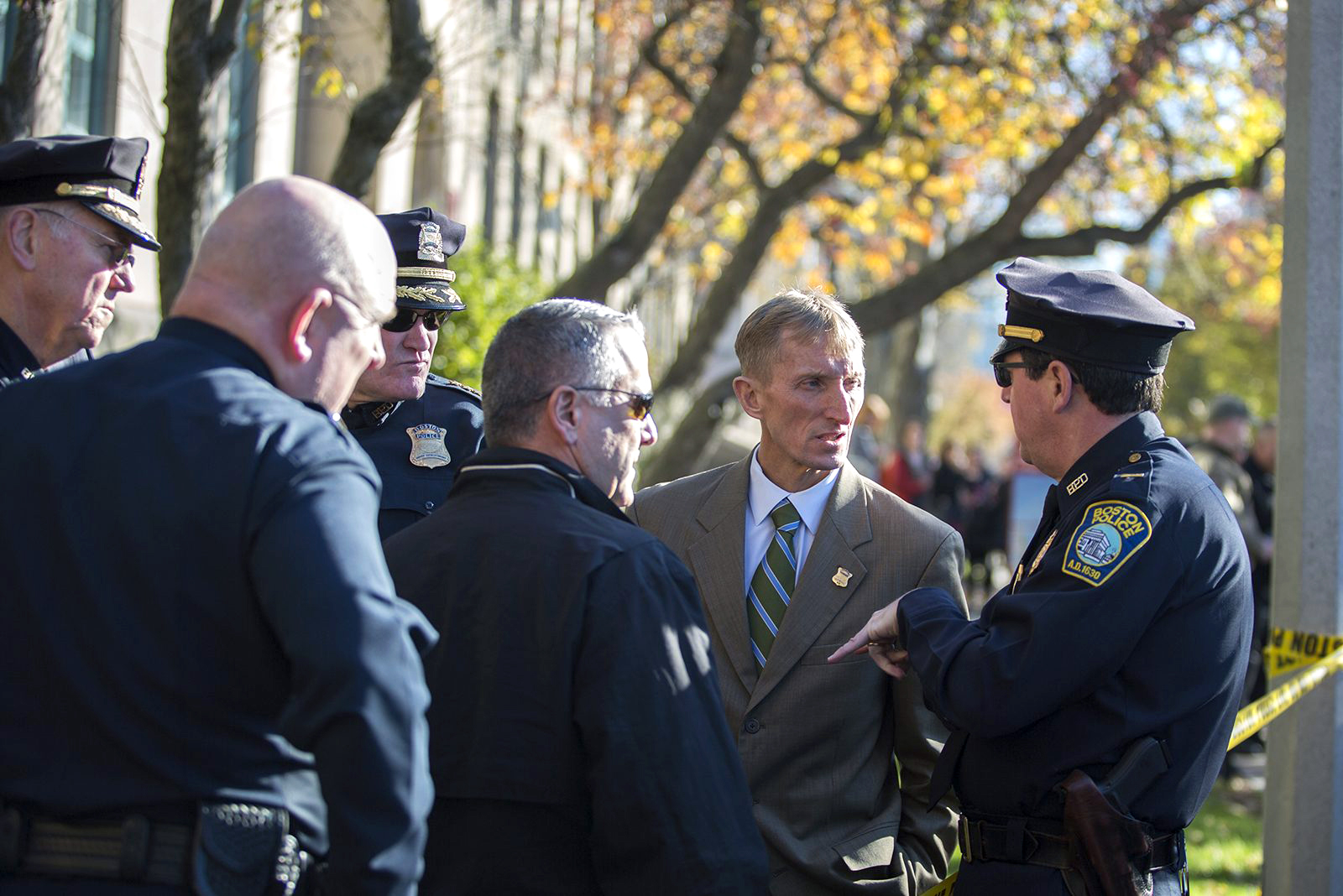 Law enforcement officials across the country, including Boston Police Department Commissioner William Evans, are pushing back against a federal bill allowing gun owners who are licensed to carry a concealed weapon in one state to carry their gun across state lines.
In a letter from the International Association of Chiefs of Police, police departments nationwide said passing the provision would undermine state efforts restricting gun ownership in the interest of public safety.  
Massachusetts, for example, has strong gun safety laws, said Janet Goldenberg, a chair of the Massachusetts Coalition to Prevent Gun Violence. Police chiefs in the state exercise discretion about whether an individual can receive a license to carry a concealed weapon, based on the person's history.
"[The police chiefs in Massachusetts] know their officers have been called out to help a number of times, but perhaps no one has pressed charges," Goldenberg said. "If that person applies for a gun, there would be nothing in the national database that would necessarily bar them, but our chiefs know because they are careful in their communities."
Other states have more relaxed concealed carry policies. For instance, Alaska allows any adult 21 or older to carry a concealed weapon without a permit.
If Congress passed the current concealed carry provisions, Goldenberg said, people who were not screened before receiving their weapon would be able to legally carry in Massachusetts, where gun laws have proven to increase public safety. According to the Centers for Disease Control and Prevention, Massachusetts has the lowest rate of gun death in the United States.
If concealed carry permits are to become valid like driver's licenses across state lines, then there should be stricter requirements individuals must meet before receiving such permits, said Daniel Kin, a Brookline resident.
"I'm not afraid of people owning guns at all," Kin, 34, said. "I just think we should be weary of who we give them to and make sure that people know how to use them, the way we do with cars."
Miller Mark, a resident of Lynn, said he would urge Congress to respect state regulations while considering the implementation of concealed carry reciprocity.
"If a single state happened to not allow concealed weapons, then people should follow that state's rule and not bring them, or if each state has different rules about how you can conceal your firearm, then you follow those protocols," Mark, 40, said.
With more guns on the streets, law enforcement would face greater safety risks, Evans said in a press release.  
"During traffic stops and other interactions with the public, our officers would have to be familiar with 50 different state's laws on conceal carry permitting," Evans said. "Given the split-second decisions our officers frequently need to make, this is nearly impossible and can foreseeably lead to violent confrontations."
However, Jim Wallace, executive director of the Gun Owners' Action League of Massachusetts, said Evans' concerns are politically motivated. Ultimately, the right to bear arms is a civil right that should not change when people cross state borders, Wallace said.
"As a country, we have a set of civil rights and the right to bear arms is one of those civil rights, and states should not be given the authority to restrict civil rights based on political whims," Wallace said.
Wallace said the government must remove dangerous people from society to address gun violence in the state.
"When you look at all the major crimes and mass shootings that have taken part, all of those have been an abject failure of government to do its job because none of those people should have been walking the streets to begin with," Wallace said.
The divide between members of the federal government on concealed carry provisions reflect tensions between public safety and gun lobbying interests, Goldenberg said.
"This is law enforcement against the [National Rifle Association], Goldenberg said. "This is: who are you going to listen to? Law enforcement people who protect our lives every day or the NRA who wants to sell more guns?"