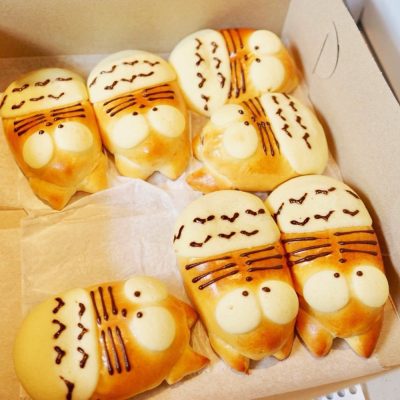 Three students, a Japanese flag and a couple of empty boxes surrounded a table at the George Sherman Union Friday afternoon. One by one, students came up to the table asking for the sweet bread they had seen advertisements for. They turned away disappointed –– the sellers were all out.
The Boston University Japanese Student Association was selling a Japanese favorite, Totoro bread, April 17 at the GSU and April 18 through Friday in the lobby of the Sargent College of Health and Rehabilitation Sciences to fundraise for Omatsuri, their main event over the weekend.
Omatsuri is the annual spring festival the JSA puts together. This year's event took place Saturday night in the Metcalf Ballroom and featured Japanese food, games and performances.
Momotaro Nakamura, a junior in the College of Arts and Sciences and JSA president, said the bread is made to look like the fantasy creature, Totoro, from the famous Japanese movie "My Neighbor Totoro" directed by Hayao Miyazaki. The movie is about two sisters who move to the countryside to be with their mother and encounter fantasy creatures like Totoro.
Nakamura described the bread as sweet with a chocolate cream filling and a crunchy cookie crust.
"You know the brûlée on a crème brûlée? The burnt sugar on the top?" Nakamura asked. "It's kind of like that."
JSA purchased these treats from a bakery on Beacon Street called Japonaise Bakery. According to E-board member Ray Akamatsu, a freshman in the CAS, the bakery has been around for a long time.
Akamatsu shared that her parents would eat at the bakery when they lived in Boston about 20 years ago. The bakery is often overlooked, she said.
"No one really knows about it because it's kind of hidden," Akamatsu said. "As [the] JSA, we wanted to introduce [the bakery] to the BU campus."
Nakamura and Amatsu explained that character-themed food is very common in Japan.
"It's not just about the taste –– it's the appearance, too," Akamatsu said. "They put in so much time."
Wooju Chong, a CAS and College of Fine Arts freshman and a JSA E-board member, said she was intrigued by the substantial time required to make the treat. Chong is from South Korea, but she said she had never tried Totoro bread before and that she was motivated to taste it because of its appearance.   
"The cuteness definitely played a part in it," Chong said.
Anais Han, a sophomore in Sargent, said she hadn't tried this character-themed bread before and did so to support one of her friends involved in JSA. Han commended the association for selling the bread in Sargent.
"This was the first time I saw a snack being sold there that did not include quinoa and/or kale, so that was really eye-catching," Han said.
Han said the bread reminded her of a croissant.
"It was delicious, really fluffy and had a bit of a crunch on the outside, but the inside was very soft and chewy," she said. "The bread had the perfect amount of flakiness … [and the filling] was sweet and had a Nutella-like consistency."
Despite never having tried the bread before Friday, both Chong and Han had seen "My Neighbor Totoro," a movie which Chong said has a unique style.
"[The movie feels] very organic because everything is hand-drawn, so it feels more like someone actually made this rather than [it being] computer-generated like the Western movies that we see today," Chong said.
Han said she grew up watching and appreciating the film.  
"Totoro is such an iconic part of my childhood," she said. "My family just loved the Studio Ghibli movies and anything by Hayao Miyazaki."
Han recalled that the animation, storytelling and "fun and lovable" characters initially drew her to the film.
"I always asked my mom to get me Totoro 'plushies' and stuff when I was a kid," Han said.
CORRECTION: A previous version of this article misgendered a source. An updated version reflects this correction.