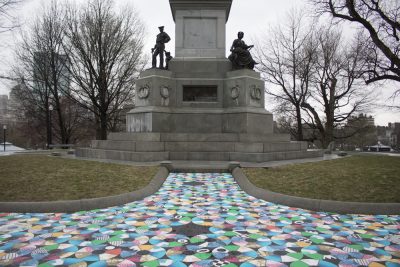 Bright colors lit up the Soldiers and Sailors Monument on Boston Common starting Wednesday as "Pathways to Freedom," artist Julia Vogl's newest installation, added vibrancy to the park in the spirit of spring.
After conversing with 1,800 people in the Greater Boston area about freedom, Vogl installed the project that will remain up until May 2. The installation features the stories of the Bostonians in the form of small, symbolically decorated metal circles installed in the ground.
"I think for many people, it was a point of reflection," Vogl said. "They haven't really thought about these issues before and really had to dig deep in processing how they answered the questions."
Vogl worked on "Pathways to Freedom" in partnership with the Jewish Arts Collaborative, a local organization seeking to showcase Jewish art in the Boston area. She explained that although the project is inspired by the Jewish holiday of Passover and its Exodus story, it also serves as a reminder of a societal need to contemplate freedom and the reasons why many people still lack it.
"I think that word, [freedom], gets used really liberally, and we don't define it as much as we should," Vogl said. "Based on contemporary political and societal issues going on in America today, I think it's especially relevant to bring that discourse up."
Vogl began gathering stories from the Boston community on March 20 at venues including City Hall, the University of Massachusetts Boston and the Massachusetts Institute of Technology.
Vogl said she heard from immigrants, families and students of all backgrounds and nationalities, and that she challenged them to reflect on topics such as diversity and immigration. They were asked to answer each of her questions four times, Vogl said, prompting deeper contemplation.
"It was a great experience to be able to hear so many people from so many different walks of life," said Caleb Hardwick, Vogl's project assistant. "It was also kind of an interesting psychological experiment to see the way people respond differently to these questions."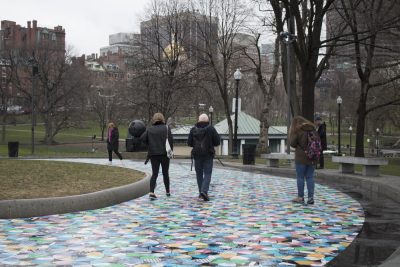 Hardwick said he created the audio component of the installation. Keywords scattered throughout Vogl's floor mural will correspond to recorded interviews on the Jewish Arts Collaborative website. More than 100 participants were interviewed anonymously over the course of a few weeks, of which 44 were selected, he said.
Hardwick recalled one particularly memorable interview that he conducted with a former U.S. Marine.
"You could tell that there was a deep fear and a deep sense of uncertainty in the way that he looked upon the country's current position and circumstances," Hardwick said. "He got a little emotional because he really loves his country and is also deeply disturbed by what he sees now."
After the interview concluded, Hardwick said that the veteran asked another member of Vogl's staff if a psychiatrist was available.
Jim Ball, director of communications at the Jewish Arts Collaborative, said that the emotions captured in the interviews expand on the impactful storytelling of the installation by adding another dimension beyond the visual.
"We believe that ['Pathways to Freedom'] sparks people thinking about freedom and immigration in a new and interesting way," Ball said.
He said the collaborative sought out Vogl because of her successful artistic works of social protest and commentaries. Ball said they hope Vogl's newest installation will follow suit.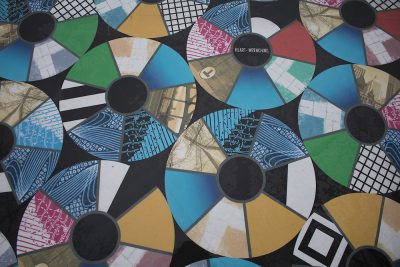 Ball worked alongside Vogl and Hardwick to select the installation location, plan the logistics and introduce the artist to local Boston culture. He also said that he looks forward to the impact of this project because it involved many participants and he felt that its message applied to the entire community.
"I hope that it will at once bring [people] joy and be a nice surprise, but I also hope that it will make them think," Vogl said. "I hope that it will make them engage with friends, strangers and family, and bring these subjects up—whether it be investigating their own family's history in Boston or understanding what holds them back."
Vogl said she completed her own personal journey of self-reflection as she worked on the project through conducting research into her own past as a first-generation American, spending time to integrate herself into the Boston community and volunteering to help refugees in Lesbos, Greece.
Even now, as she opens the installation to the public for its weeklong exhibition, Vogl said she is still reflecting on what she has learned.
"In many ways, this project is not over for me," she said. "It's been really inspiring and empowering to hear so many people share their stories with me. I didn't know that people would open up so much and be so open to share, and that was really rewarding. I'm excited to share those with the public."