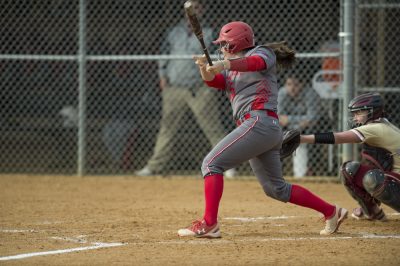 Three pitching performances over the weekend against Lafayette College brought the Boston University softball team's winning streak to 12. A sunny Tuesday afternoon matchup on BU Softball Field against Providence College gave the team a chance to push that streak to 13, and it did just that.
Up against Providence (11-27), who has dropped to a 6-12 record away from home this season and lost six of its last eight, BU (31-17, 10-2 Patriot League) was expected to take the role of the aggressor coming off two shutouts and continued the trend — beating the Friars 7-0.
Junior catcher Alex Heinen started the game off on the right foot. She picked off a runner in the top of the first and hit a single in the bottom half to move senior outfielder Emma Wong into scoring position.
BU would then execute a double steal, sacrificing Heinen to bring Wong home for the Terriers' first run of the game.
On the decision to double steal with runners on first and third, BU head coach Ashley Waters made her intention clear.
"You have to make them make plays," Waters said. "With Emma Wong at third base and Alex [Heinen] at first, Alex doesn't have a lot of speed. Emma made a great read… and Alex did her part to let Emma score."
Heinen secured her first RBI of the game in the third inning — a triple to right center scoring Wong her second run of the game. The San Clemente, California native followed that up with two more RBIs in the bottom of the fifth with a bases-loaded shot down the left field line.
That set up senior infielder and outfielder Jilee Schanda's second home run of the year; her three-run blast to left field scored both Heinen and Wong.
Waters noted the importance of Heinen's performance this season following the game.
"Alex is essential," Waters said. "When she's seeing the ball well and hitting gaps, we're a really tough team to beat. We're going to need her every weekend from here on out, and it's just a matter of her getting good pitches that she can drive."
Sophomore pitcher Lizzie Annerino got the win, allowing only five hits and walking one batter in seven innings of shutout work.
She needed only 95 pitches to take apart Providence's lineup.
Providence senior catcher and infielder Julianne Rurka and junior outfielder Emma Lee, who lead the Friars with a .348 and .306 batting average respectively, were held in check at a combined two hits for six at-bats.
While not the ace of the BU pitching staff, Waters said she thought Annerino put together an impressive showing.
"Coming in and throwing a full seven innings today was huge," Waters said. "When she can keep people off balance, she'll be very effective. We need someone to come in and take ownership of that next spot, and she wants that to be her. Today was great proof she has capability of doing that."
The Terriers now improve to 20-13-1 all time against Providence, including 6-0-1 in their last seven meetings.
BU finishes out its regular season in the next two weeks with two three-game series against Bucknell University and Colgate University over consecutive weekends.
The upcoming set against Bucknell holds a lot of importance for Waters and the Terriers, as the winner will be aiming to capture the regular season Patriot League title and enter the Patriot League tournament as the first seed.
"We have to be sharp and score some runs," Waters said of the upcoming matchup. "Offensively, one through nine, we're a really tough team to get out. If we have that same approach going in, we'll put up some runs and put pressure on Bucknell. We're just going to do our best and try to come out on top."