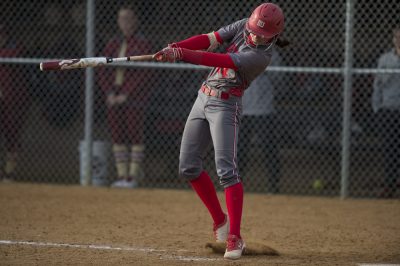 On any given day, any player of the Boston University softball team could provide an offensive spark.
The Terriers (31-17, 10-2 Patriot League) lead the league in batting with a .294 team average, .017 ahead of Bucknell University, who sits directly behind BU.
The Terriers don't have just one player constantly ranking in the Patriot League. They have four of the top eight in batting average, led by junior catcher Alex Heinen who is hitting .384 on the season.
"Our one through nine, that is a tough lineup to get through for any pitcher," BU head coach Ashley Waters said. "Every single person has the ability to drive in runs, get things going and hit a gap. We really have some kids who have a lot of power, but also can drop a bunt or get a single."
The Terriers also lead the league in triples with 26, twice as many as second place Bucknell (23-19-1, 12-3 Patriot League).
Senior infielder Brittany Younan has a league-high nine and leads the nation with 0.19 triples per game, meaning she's notching one in about every five games.
Waters said she likes what she sees from her offense, but is still looking for everyone to put it together, as she knows they will be a force to be reckoned with.
"If we can hit on all cylinders, where one through nine is hitting, I think we're an impossible team to beat," Waters said. "For us, we have to find that consistency. Every single week, it's three or four kids, but we could get everybody going [and] we'll be in great shape."
Young pitching strong now, but only getting better
BU has used five pitchers this season. All five are underclassmen, and the two pitchers who have thrown the most innings are freshmen.
In their first years with the program, freshmen pitchers Ali DuBois and Cali Dolfi have headlined the rotation with a team ERA of just 2.31 that tops in the Patriot League.
All four of the players, who have appeared in more than three games, are comfortably within the top ten in league ERA.
DuBois leads the pitching staff with 29 starts in 48 games this season and made 10 additional appearances.
The native of Torrington, Connecticut, also leads the team with an ERA of 1.91, which puts her third in the Patriot League. Dolfi ranks fourth, followed by sophomores Lizzie Annerino and Kali Magane at fifth and seventh, respectively.
Waters said she looked to inject some youth into a pitching staff that needed some fresh arms, and is excited for now and the future.
"When you have depth in your staff, people that can keep games at bay, that gives us the best chance to win," Waters said. "It starts in the circle. You win or lose in the circle. We're excited where Ali [DuBois] is at right now and we just need to do our job one pitch at a time."
BU three wins away from hosting league tournament
With a weekend series coming up against Bucknell, the Terriers can clinch the regular season crown with a sweep.
And while BU could clinch this weekend, it will still have an opportunity to do so the following weekend against Colgate University.
If the Terriers win 2-of-3 games in the upcoming series against Bucknell, the Patriot League regular season title and right to host the postseason tournament will be on the line when BU travels to Hamilton, New York.
The Terriers are looking to host the Patriot League tournament for the first time since they joined the League in the 2014 season.
Waters said she hopes her team performs, as she knows the importance of home field advantage and what it would mean to the team, especially to the seniors.
"I think we play great at home. When you have the pride of your city there and when you can sleep in you bed at night, that's an advantage," Waters said. "I think it would very cool for the senior class to be able to host the Patriot League tournament at their place and have teams have to beat us on our own field."